The Alaskan malamute is an amazing dog species and is also one of the oldest Arctic dog breeds. The Alaskan malamute is strong, large, and powerful that is basically built for stamina and high strength. The Alaskan malamute is a super-intelligent dog breed and has leadership qualities in it. So you need to keep them quite busy and their minds preoccupied so that they are easy to handle and maintain.
But the best thing about this dog is that it is not only strong, large, powerful, and intelligent but is also an easily trainable dog so that is why it is an apt dog for keeping as a companion.
But the Alaskan malamute has high shedding issue and also they need large spacious places to live a comfortable and happy life.
In this article, we will discuss how to train the Alaskan malamute so that they can understand their owners and also know how to behave according to their surroundings.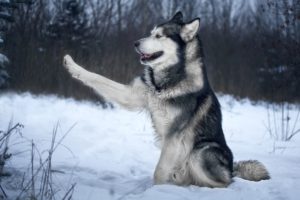 Why is it important to train an Alaskan Malamute?
We need to train any pet that we are keeping so that they can easily mix with us and even understand us and also so that they behave in a particular manner.
As we know Alaskan malamute is an intelligent dog and even a loyal one so we need to train them accordingly as they are strong and powerful in nature. Alaskan malamute is a strong, powerful, and aggressive dog which means that we have to train them from their childhood so that they get used to the training and do not create any sort of fuss for their owners.
Alaskan malamute is known as a good guarding dog so we need to socialize them properly so that they can understand that who is a threat and who is not so that they do not attack everyone entering the house.
They should be taught how to be comfortable if there are many people around and do not become aggressive. Alaskan malamute becomes very aggressive when they see dogs of same-sex you need to train them for that also and even proper training should be given to them especially if you are also having another pet at home so that they do not attack them and accept them as their companion.
You need to train your Alaskan malamute in a proper manner so that they behave properly and also so that they can understand you.
Also so that Alaskan malamute can socialize with people around and also with other animals and do not create any sort of mess for anybody. As a good owner, you should make sure that the Alaskan malamute is at peace with everything around and is harmonious with their environment.
How to train Alaskan Malamute?
You should start to train your Alaskan malamute at an early age because at that time they can be easily trained and also they can get easily used to the things that are taught to them.
You should teach them lots of various things so and also encourage them by giving them rewards so that they will be interested in doing the various tasks that are set by you.
Another important thing while you are training your Alaskan malamute is that you should give them time and teach them without any sort of distraction so that they can be obedient and also you both will spend time with each other which will help both of you to build a bond with each other and also understand each other better.
You should break your training session into parts so that the training becomes easy for your Alaskan malamute and no problems occur.
Socialization
If you are keeping an Alaskan malamute as a pet you would be knowing that they are very aggressive in nature and they do not like many people or animals around.
So in order to make them behave properly in front of people and also other animals you need to socialize them at an early stage so that they can get used to such an environment and do not get aggressive in such situations. You should take them around for a walk where you can find strangers, various other animals so that your Alaskan malamute can get familiar with such situations and do not get aggressive.
This will help them in understanding that how should they behave in front of other people and also if they find some other animal they should not become aggressive and attach them.
It is said more an Alaskan malamute will interact with other people or animals more socialized they will get and a social dog is a well-behaved dog. You can put a leash on them in order to control them if they get out of control.
Starting the training
When you start their training it sometimes becomes difficult where to start with so as a firm master the first thing that you can teach them is to obey the basic things like how to sit down or how to stand up and when you call them they should respond.
You can start with these basic training and then lead to the complex one so that your dog does not get confused if you start with intense and difficult training sessions. Sometimes you need to be harsh on them and sometimes you need to be very calm with them so that they are trained well.
You need to be very calm and patient with them. Try teaching them various skills and also teach them how to understand the various signs or signals.
These skills will help an Alaskan malamute to understand the humans better and also their master. By teaching them the basic commands they will easily get to know that what their master is telling them to do. In this way, both the master and the dog will be able to connect with each other even better.
Try to leash the dog
When you tame a dog it is very important that you should leash them because it is quite easy to control the dog when they are leashed.
In the beginning, the Alaskan malamute will resist the leash but you have to take control of them and leash them so that they can be in your control. Try to make your Alaskan malamute get used to the leash and start with taking them on small walks with the leash on them.
Also, you can reward them with treats after completing the task so that they can get motivated. You need to also make sure that the dog is able to understand your actions when you are leashing them and what are your expectations from them. The dog can even get aggressive when you will try to put the leash on them so you need to be very calm with them at this time and make them understand that leashing them will not hurt them.
Give them rewards
You should know that in order to motivate the dog you need to give them rewards so that they will feel excited and in the greed of getting rewards they obediently finish the task.
You need to give them treats in the form of rewards so that they would love to do what you say and this will help them to motivate them. They will obey your commands and will do as you will guide them this is one of the best ways to train the dog and even motivate them.
The Alaskan malamute will also behave properly when they will know that they will get a reward if they will obey every command and will not misbehave in any form that will upset their master.
You should be quite creative when you are giving them rewards and treat them with different rewards every time to keep them, excited and surprised, and even interested while they are going through the training session. This will improve the bonding between the two and also the training sessions will be more interesting and not monotonous.
Exercise
The exercise is a very important part when you are training an Alaskan malamute. As we know that Alaskan malamute is a strong, powerful, and even highly active and aggressive pet it clearly means that you need to channelize their energy in a positive manner.
The Alaskan malamute needs lots of exercise because the dog is highly energetic and while making them exercising it will not only help in channelizing their energy but will also help in staying fit and healthy.
They will release the energy while exercising which is a positive and healthy way to do so.
So exercising is an essential part of the training session and you should be quite firm with your dog at the time of exercising so that they can be fit and healthy and their aggression is channelized because otherwise they will be quite destructive and they can create a lot of problems for their masters at home and also outside.
Play with your dog
You should be able to give time to your Alaskan malamute so that they are happy and excited to stay with you and to spend time with you. Try to build a relation at this time with the Alaskan malamute and play with them that makes them happy and seeing them happy you will also feel good and satisfied. Take them for a walk, play with them in the park or the backyard of your house.
You can even indulge them in various games so that they can release their energy in a positive way and also playing with you they will understand your commands even better and will get attached to you.
The dogs usually love to play with people around and as a responsible owner you should also take out time from your busy schedule to play with them it will help them to train in a proper way. In this manner they will obey you even more and give them, rewards every time possible to keep them motivated and excited.
Motivate to play alone
Sometimes it is very important that your dog should know how to spend time alone. So it is recommended to give them toys so that they can play with them when they are alone and do not have anyone around to play with them. As it is not possible that they will have someone to play around with every time.
They should know how to entertain themselves when they are alone because they cannot be so dependent upon their owner for playing. You need to train them for playing alone so they are not much dependent upon.
Also keep them busy by providing them with various toys, games, and treats so that they do not get destructive and channelize their energy by playing with them.
You can also give them puzzles to solve as Alaskan malamute is an intelligent dog they will use their brain to solve them as this will excite them. Playing is essential for your Alaskan malamute as this is a part of training where they can use their strength, energy, aggression, and intelligence in a positive manner.
Train obediently
The dog should be trained in such a manner that they should become obedient to their owner and a proper schedule should be made for a training session.
This will help you Alaskan malamute to get used to the training schedule and with time they will not have any sort of issues when they will go for a training session. In some situations, they will also start enjoying it. You need to focus on basic things first and then go for complex training. You should also stick to the schedule and be obedient and only then they will be obedient to you.
Final thoughts:
The Alaskan malamute is an amazing dog breed not only because it is strong and powerful but also because they are easy to train.
You can train them accordingly so that they can obey you and also understand you so that both the owner and the dog live happily and at peace with each other under the same roof.
Spend more and more time with your Alaskan malamute so that they can build a strong connection with you and enjoy each other's company and also be each other's amazing companions by understanding the feelings of each other.
More: