Dog lovers of modern times almost swear on having American bulldogs which are perfect dogs to be kept at home with other family members. These dogs are friendly and they also act protectively towards the kids and seniors at home.
With their formidable look, many owners think them to be one of the best guard dogs. In this guide, we will discuss the fact and will inform you about the reality.
Can American bulldogs be good guard dogs?
If you go by the appearance then a bulldog can be fearsome. Those who are not much aware of the temperament of the bulldogs can be scared in the presence of such a dog. The bulldogs can earn another brownie point by the strength of their body.
They are terribly powerful and with the strength, they can actually attack the enemy. Also, they have a strong body and strong features. But when it comes to judging strangers, they are not very good at it. So they cannot be trusted to be a good guard dogs unless properly trained for this purpose.
Do the bulldogs have natural instinct of guarding houses or property?
Yes, American bulldogs have a strong guarding instinct towards the owner and his or her house. They are usually quite fond of humans and can be trained to become a valuable guard dog. They are also very good at following directions and obeying orders given by the master.
They were earlier used to do various chores so they are genetically formed in such a way that they can participate in activities like managing the herd of sheep, carrying loads, and driving small carts. So they can be guard dogs and can watch over your property and family members as well.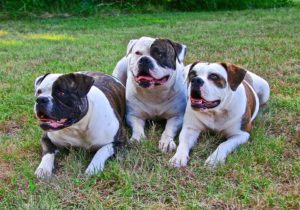 Are there any differences in the temperament of male and female American bulldogs?
Many owners cannot decide if they should get a female American bulldog or a male when they need a guard dog at home. To be honest and specific, American bulldogs are naturally strong and brave. They are usually quite powerful and thus can scare away the trespassers.
When it comes to acting as guard dogs, male ones will be more useful, as it has been found that the male American bulldogs act more seriously when given some task. Also, they are more playful than their female counterparts and will be acting as better friends with the kids at home. However, all dogs, including American bulldogs can be intimidated by very few triggers, and the people around them should be careful about those situations.
Do the American bulldogs have a strong bite?
If you judge the American bulldogs by their physical features, then they are quite scary and strong. They have a strong jaw along with a big head and wide chest. Also, their body weight is good so if they wish, they can bite strongly on any object or person. They seldom get aggressive and when they do, they can be really serious about harming the enemy.
The American bulldogs are one of the hardest breeds to train and so, it is up to the owners if they choose such a breed to train them to become a good guard dog. They are intelligent and often think independently. So it will be a problem if they are not well trained. Their temper can be managed and channelized with proper training.
Are American bulldogs smart enough to become the guard dog?
As we have mentioned already, the problem with the training of the bulldogs is, they are intelligent and independent thinkers. So the intelligence can be used to behave them smartly and identify the enemy or intruders.
According to a study, the rank of the bulldogs in respect to the intelligence quotient is 77, thought the French bulldogs rank 58 in the same category. But when it comes to following the human blindly, or obeying the orders, without much training, the bulldogs rank at the lowest position.
They are good at understanding commands, though. They are quite habituated to living together with humans and also they accept us to be their master. Thus following the direction or commands are easy and comes naturally to them.  Understanding new commands take a bit longer for this breed while following the repeated old commands is easier for the American bulldogs.
So when it comes to being trained as guard dogs, bulldogs can be trusted and chosen for that purpose.
How can you discipline a bulldog to become a good guard dog?
The training schedule that you will use should be pre-planned and well researched. If you decide to make your bulldog a good guard dog, then start training it as early as 2 months. When it is a puppy, it will pay more attention to your words and action, which in turn will make it a trained guard dog.
You have to become and act authoritatively with the dog. You have to maintain the bossy attitude always before the dog, so you can build its trust and it starts to follow your command.
Do not leave the training midway. Do not skip any day. you have to be persistent to make it work. It is not easy to train a breed like American bulldogs but only with the zeal and continuity can you make it work.
It will take a long time to train the bulldog. Also, you have to be patient. Do not be slow or lenient, but keep the spirit up. The assertion is the key. You can make the dog work as per your wish only if you act with consistency and strong will.
For bad behavior, you have to be strict. No punishment should be given but you need to distract the dog when it is acting naughtily. Try to redirect the misbehavior into some positive act.
Do not give in to its demand. It will be spoiling its temperament and thus it will learn to demand. Use treats carefully and sparingly.
Are American bulldogs lazy to be the guard dog?
The nature of the dog always depends upon the individual. There are many types that can fit one breed and yet are seen in other breeds too. So when it comes to generalization, American bulldogs are lazy and do not act spontaneously when left alone. They prefer to stay calm and do not run or jump along with the house.
But you need to motivate them to be active as that will be a good exercise for them. Being physically strong is not enough if the fitness level is low. Also, this dog has the tendency of becoming obese easily. To keep it fit and ready for action, you have to work it out hard and make it run or walk at least for an hour a day.
At what age did the American bulldogs become perfect for guarding?
This breed of dog usually is not aggressive, but provocation can make them act in such away. You have to make the dog calm down and that is possible after it attains a certain age. Socialization is an important part of their training as that will make the dog easy in the presence of other unknown people and dogs.
When the American bulldog becomes four years old, it will calm down and it will become fully matured, both mentally and physically. You need to use this maturity to work on it and thus it will become a formidable guard dog.
More: