American Eskimo dogs are loveable and they are adored by their owners due to their cuddly look. They are not counted as good guard dogs as they are too friendly with even the guests and friends of the owner which ensures their temperament is cool.
American Eskimo dogs have a reserved and conservative nature towards the unknown human. They have a keen sense of hearing and watching. They can be trained to become good guard dogs, but the lack of aggression in their nature makes them less protective of the property and people that they are guarding.
How aggressive can the American Eskimo be?
As we mentioned that American Eskimos are good with guests and neighbors they can be quite different with strangers. They are shy and somehow restricted among absolutely unknown people, so they can act aggressively with the strangers around them.
They may not like the adoring or contact of the new people, thus you should keep the dog away from the proximity of the new people so it does not get anxious and show aggression.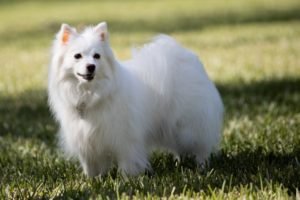 Does the American Eskimo show aggression always?
American Eskimo dogs act much more friendly with various people. They are actually quite loveable as companions and always prefer to stay in a happy mood. It has a big dog attitude which means they are outgoing and friendly with the family members. They do not show aggression to the kids of the family and in fact, love their company. So they can be called many friendly dogs though being medium in size.
Does American Eskimo bite out of aggression?
Biting comes as a natural instinct to them but they are not fearful when it comes to aggression. When they are young they may have the urge to bite on things around them, the furniture, tapestry, or anything that they can reach. At this phase, they also bite the hands of their owners.
But once they grow up, they do not become as aggressive as to bite people whom they find to be harmful. This is not a very serious thing as they can be prevented from doing such a thing when there are owners or other family members present to whom the dog will listen to.
What to do when the pet American Eskimo bites someone?
Do not punish the dog as they do not understand the way of punishment and it often makes them more suppressed and aggressive. You may take it away to another place and let it be alone for some time. It will calm down soon. If it is a puppy then it may bite out of its instinct. You can ask it to leave, and let it learn the meaning of that command.
Are American Eskimo dogs aggressive to seniors?
American Eskimos are not really harmful to seniors and you can safely keep this dog home if you have senior members at your apartment. Your family will be safe and protected as American Eskimos generally care about nature.
In fact, if the seniors are active and can take the American Eskimo for a walk it will be a much more delightful incident and the bonding between the seniors and the dog will become strong.
How do you train your American Eskimo to not become aggressive?
The training should start from a very early age, you need to keep the behavior of your American Eskimo in check. To ensure that it does not bark or show aggression to random unknown people, you need to socialize it.
Take it to Dog Park and other places where it gets to meet new people. Gradually it will come out of its shyness and it would become friendlier with humans who are not known to it. If it barks do not shout but command "quiet" in a firm voice by taking the dog to another place.
When it learns to meet new people and not bark at them, give it some treat so it recognizes that this is good behavior and it should continue to behave this way.
Are American Eskimos aggressive towards kids?
American Eskimos are fond of their family members and thus, they do not bark at kids of small sizes as most dog breeds do. When they are brought up with some kids in their own family then they do not segregate them from the adults and love to play with them.
When they see some random kids on the roads they may shy away from them. They usually do not show any aggression like barking or jumping at them. If you have kids at home and your places to adopt an American Eskimo you can safely do that. The problem may arise when the kids, from the neighbors or of your own, start some kind of tantrum with the dog.
It may not like the kids pulling their tail or some other behavior. So the kids, as well as the dog, should be mature and understanding well enough to behave with each other. In any case, you should always keep an eye on the kids. After both the kids and the dog are accustomed to each other's presence, you can leave them alone to play.
More: