The owners of the ball python often view some different behaviours which are not seen in other reptiles. Not all behaviours are understood or explained to them. Only with time and patience can one decipher the meanings and causes of the behaviour of a ball python.
Sometimes, all of a sudden, the ball python starts to strike at the glass. This is confusing for many owners as they may think that the pythons are doing so because of hunger or some unknown reasons. Also, some owners panic that the snake is undergoing some physical pain.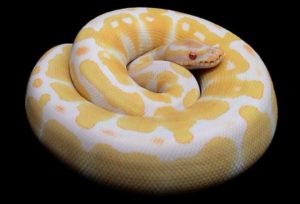 Why Ball pythons is striking at the glass?
Ball pythons are usually a creature that prefers its privacy. They will stay in the hides most of the time, will play when it feels like and will eat the food when it will be given. Other than this, most of the time the ball python stay calm and composed.
When it feels that the heat is too much or the lighting is too harsh for it, it goes to a hiding spot. But if the heating source is not working effectively or maybe it is feeling cramped up in the small tank. You should check the elements that are adapted in the terrarium and also arrange for a larger tank.
Striking at glass also is seen as a common indicator that it is feeling hungry. The feeding schedule of a snake is pretty different from other pets. They eat once a week, but if you miss the particular day or if the ball python is growing, then it may feel hunger more in the usual time frame. In that case, you can try offering it live food when it strikes at the glass. Maybe it is trying to gain your attention by striking the glass.
Another possible cause of striking the glass of the tank is, shedding. In this phase the ball pythons, not all but some of them feel restless. They go through some sensation which they want to express in their way. This restlessness is shown by the knocking or striking at the door since they cannot emit any sound or call.
Why the ball python strikes the owner?
When there is no hide in the terrarium of the ball python, it makes them self conscious and also makes the insecure. There should be at least two hides in the tank of a matured ball python, as hiding is a natural process of ball python's day. They often take shelter in their natural habitat, to keep them away from the heat or just for the sake of privacy.
When we create the environment of the natural terrarium, we must abide by the natural rules of the atmosphere. If we do not offer them a proper and natural environment then there are high chances that the ball python will be stressed and as a result, it may attack the owner.
Why the ball python snaps at the owner?
The ball python, when in fear of getting attacked, like it is when it is free in the wilderness, tries to snap at the opponent. Also, it feels like snapping when it sees some small creature like mice is moving around it.
This can happen when you are keeping the snake squeezed in a small cage. Also if the snake is stressed for some reason, it may start thinking of its owner as its enemy. The oppressive atmosphere makes it stressed and it may try to snap at you.
Also, your handling mistakes can lead to this condition. If you are holding the ball python by its neck or tail, then it does not get hurt but it feels that it cannot move as per its wish. That is when it will feel like attacking you to become free.
How to understand when the ball python is about to strike?
If you are the owner of a ball python and have been living with it for more than a few months, then you can pretty well understand the change in its behaviour and body language. When it is stressed it acts differently than when it is happy or content. So a ball python, when it is about to strike at you, will be seen in a more tightened position.
It makes its body rolled in a coil and takes the shape of a spring. The head will be slightly raised form and it will be lifted from the substrate or base. The vibe it will be giving will be of suspicion and at a certain point in time, it will strike the attack.
This posture will be known to you when you will be living with the snake for a longer time. You can be adequately alarmed and take precaution to be away from the snake's reach.
Conclusion:
Ball pythons, like other pets, need attention, love and affection. When it is acting difficult, striking glass or being aggressive, you should not disturb it. Wait till it calms down, and then dedicate some time to it. Take it out from the tank and make it easy by holding it properly. Make it trust you so it does not act aggressively and become your friend.
More:
6 Best Heat Lamps For A Ball Python