Choosing the best pet is always a tough job for a reptile lover. There is an array of reptiles available that you can keep for pets. Most of them are pretty docile in nature, takes little space and also can be managed by spending few bucks.
Though there are certain varieties of reptiles available, like iguana or anole, but there is quite a close competition between leopard gecko and bearded dragons, as both are equally viable to be the pet of your house. So which one should you choose to keep a pet or can bearded Dragons Live With Leopard Geckos?
Can Bearded Dragons and Leopard Geckos be together?
The answer lies in the behaviour and nature of these two reptiles. You can segregate these two creatures on the basis of their attitude and adaptability to the new household when they are brought as a pet.
So you may think of adopting both of them and keeping them together in the same cage. This way you will enjoy the company of both these reptiles and have fun with them.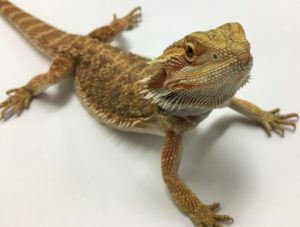 Nature of bearded dragon
Bearded dragons are gentle in nature, but they are inquisitive and try to prod on any new things that come in their vicinity. They stay much active during the day but prefer to stay calm during the night. They love to get attention from their owners.  They are not much friendly with other reptiles and even two male bearded dragons in the same cage do not live peacefully.
They are passive by nature, but there are differences in them. Not all dragons act the same way. They are not defensive until they find some reason to become irritated. They take a long time to get attached to the owner, but once they are fond of him or her, it will start seeking its attention.
They breed after one year of their birth and their beard turns black when they are tensed for some reason.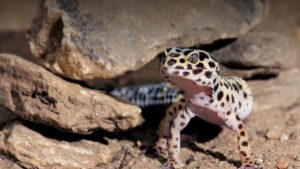 Nature of leopard gecko:
The first thing that one should notice about the leopard gecko is, it prefers to live alone. They are often seen living in a group but the group mostly consists of a single male. They are territorial and do not like to share their cage with another male leopard gecko. Even they are not much fond of the gecko of other sex unless it is the time of mating.
They are nocturnal creature, which means, they stay more active when it is night. They have a well-developed body and stout limbs, with the help of which they climb the branches of the trees. They store the excess fat in their tails which helps them to survive through many days without eating any food.
They are typically calm in nature, but sometimes they can bite when they are in a bad mood or are distressed. They show their affection towards the owner and behave in a friendly manner after spending quite a few days with them.
Differences between leopard gecko and the bearded dragon
Though these two are the most common and popular pets, there is no chance that they can be kept together in the same terrarium. There are certain issues that may make the staying of both bearded dragon and leopard gecko impossible.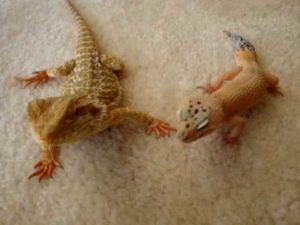 Both the creatures are territorial:
Reptiles, especially the male ones are territorial. There are no instances where you can find two male reptiles are sharing the same area, not even in the wilderness. They get pretty aggressive and that may result in a fierce fighting amount the two.
If you are an experienced reptile owner, then you may think of taming or training the leopard gecko and the bearded dragon to make them cohabit. But there is no way you can calm these two reptiles in the same vicinity, as they are genetically built that way.
The brain functions signal them to fight the male reptile, may that be of the same species or different ones. The basic need for gaining an advantage in the area of their belonging will initiate the fighting spirit in them.
Size of the tank
An adult leopard gecko and an adult bearded dragon are much unlikely to match my body size. The leopard geckos are a much smaller creature, and when they reach maturity, they are barely 9 inches. But a bearded dragon is a much larger creature when it comes to mature age. The length is nearly 2 ft. and they need a larger and wider space to live in.
A full-grown leopard gecko can survive by a 20-gallon tank which is much smaller than the tank of the bearded dragon. If you force the leopard gecko to live with a giant-sized reptile-like bearded dragon, it surely will be stressed out and fall sick.
The interior requirement
Both these reptiles come from different habitat and thus their need for the environment is much different. Bearded dragons are originated in the dry woods of Australia. Plenty of heat and light is needed to keep the bearded dragon happy and healthy. A UVB ray emitting bulb is needed to keep the digestive system of the dragon working well. Also, they are diurnal and they stay active in the daytime. The night is the time for their resting.
The nature of the leopard gecko is just the opposite of it. They are nocturnal creature and they stay active during the night time. They prefer to rest in the afternoon which is the time of highest activity for the bearded dragon. The need for light is also marginal for them. They do not need any artificial lighting, if you can provide some natural light to the cage; it will keep them in good health. As they rest in the daytime, they do not need UVB ray for better metabolism. The albino geckos often face problems if you keep them under UVB radiation.
Both these creatures are territorial by nature, and they will possess a threat to each other 24×7. Even if you keep a constant watch on them, there is no guarantee that they will not harm each other. As bearded dragons are huge in size they can attach the small gecko anytime. Also, their sleep cycle and activity time is different, which gives them more chance to attach to each other.
Getting infected by parasites
Both pets can be affected by different kinds of parasites. There are certain ailments that affect a particular breed. You can treat the gecko for some parasite and it may affect the dragon later. Also, the parasites are sometimes more dangerous to the other breed than they are on the primary host. So this way you will be running into the threat of affecting both the bearded dragon and the leopard gecko.  Even if one is infected, the other can stay healthy, if they are not kept in the same terrarium.
Conclusion:
Bearded dragons and leopard gecko should not live together. You need to arrange for two separate tanks if you choose to keep both pets. Actually, these two creatures are too territorial and aggressive to even keep the same species in a single tank.
You may not make the mistake of keeping a large tank as that will not help in this case. Even if you dare to keep them in a single terrarium, you will soon realize your mistake. Either of them would be found affected. Finally, they must be kept in different terrariums.