If you want to give your Bearded dragon enough room to play and explore then you should take care of providing them with a suitable tank of appropriate size.
If the tank is small and not of enough size then your bearded dragon can have stunted growth and the can also appear to be depressed.
To find out the best tank size for your Bearded dragon you should go through the article below.
Bearded dragon tank
While you are thinking to shop the best tank for your bearded dragon you need to first consider their age.
Once your dragon is fully grown only then you can determine the best size that would suit.
The baby bearded dragons can easily accommodate in tanks of about 20 gallons to 40 gallons.
If your adult is young then it should be of about 55-75 gallons.
If your bearded dragon is large and is about 20 inches then a tank of 75-120 gallons will suit the best. This size will help them to roam around easily and even exercise a bit.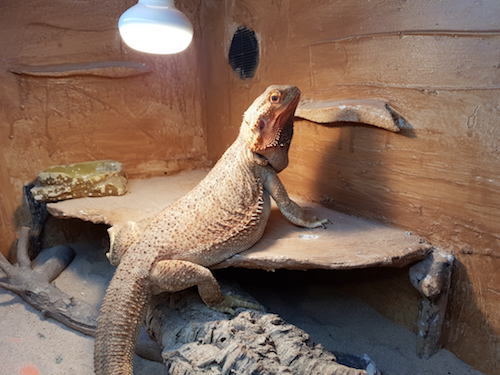 For the bearded dragons which are very large a tank of 120 gallons would be the most suitable.
Baby bearded dragon tank size
If you are having a baby bearded dragon which is of 10 inches then a 20 gallon tank size would be the most suitable. Baby Bearded dragons do not need a lot of space and if the tank is very large then catching food becomes very difficult for them.
The baby Bearded dragons live very happily in the tanks which are around 20 gallons.
All the creatures need time to gain health and there should be enough space for your baby pet to grow.
When you house your pet in a tank keep an eye on it and observe how your pet catches and eats food. If they are struggling to catch food then you should feed them on your own.
Bearded dragon tank sizes explained with chart
Note: Sizes are measured in gallons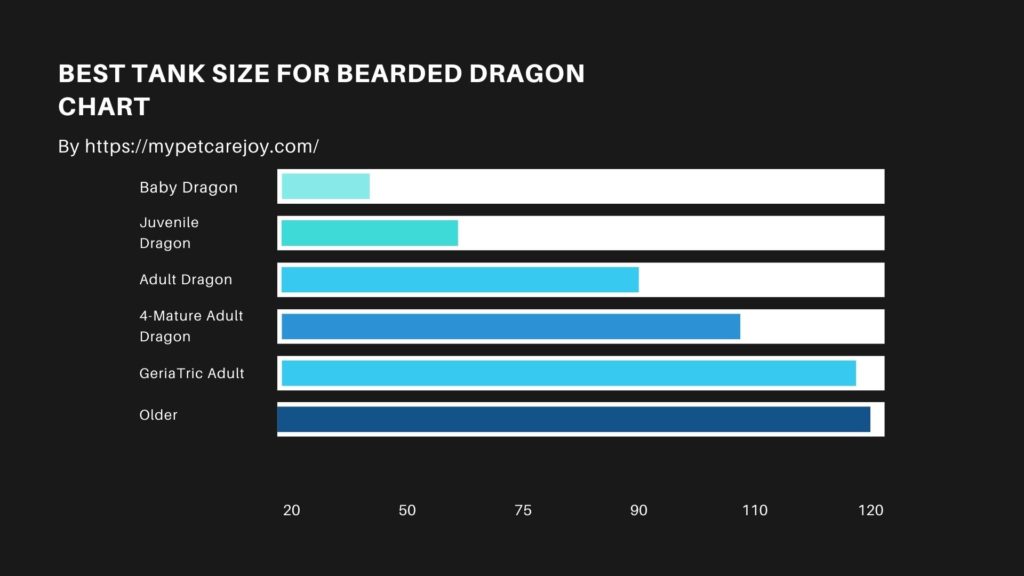 Best Tank size considering dealing with temperatures
More the size of the tank,  more number of variations you can offer your pet. If the enclosure is very small then it will be very hot. And the other drawback would be that your pet wont be able to escape the heat in time when it needs to.
As a result your Bearded dragon might become unhealthy. So the size recommendation for this would be 36, 18, and 18 inches. In this size you can easily get varied temperature for your bearded dragon.
Monitoring the temperature
The basking spot can be prepared with hot temperature of 32-42 degree Celsius based upon the age, along with that you do need to leave a cool side too. The temperature for the cool side should be 24-29 degree Celsius.
The height of the tank will help in predicting the thermal regulation. If your tank is tall then the dragon can move away for more distance during basking. As the temperatures rise, a larger enclosure would be better for your beardie than a smaller one.
The minimum height would be 46 cm and 61 cm would be the ideal one. The tall ones provide wide range of temperatures and also help your bearded dragon to get more room to climb.
Things to consider while choosing bearded dragon tank size?
Since the bearded dragons spend a lot of time in the bushes giving them a spacious enclosure would be one of the ways through which they can stimulate their habitat. You need to ensure that you make the artificial home more and more like the natural one.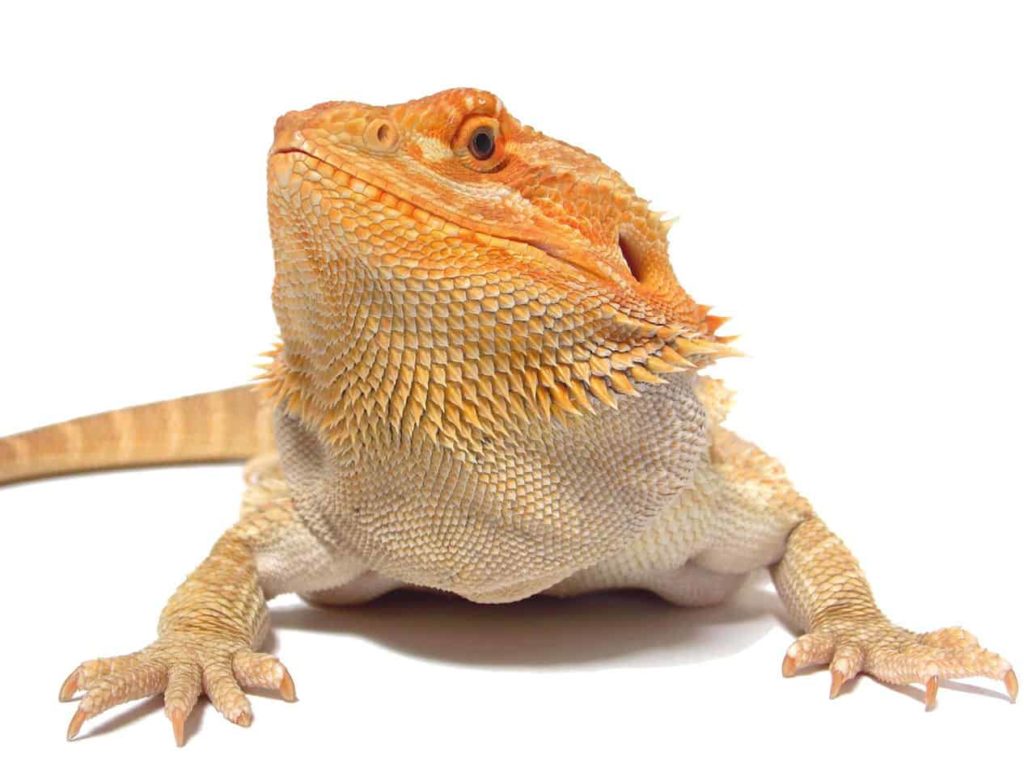 Bearded dragon lighting
You need to provide a UVB basking bulb for your pets tank. This bulb should be about 50-75 watts. This will help to provide artificial effect of sunlight for your pet.
It is best if you use a dome shaped lamp as it can be situated directly above the screen. You can also choose the hanging lamp. The temperature of the basking spot should be around 90-100 degree F.
It also needs a UVB light that is coil shaped. You should feed your bearded dragon at the start of the day so that it can digest food before the lights are out. Infrared lights will not be recommended as they disturb the basking.
Humidity
The Bearded dragons need low humidity levels because of their habitat. The ideal level goes from 30 to 40 percent.
If there is very high humidity then your bearded dragon can have respiratory or medical issues. If it is less than 30% the bearded dragon is likely to dehydrate.
You can easily know that your bearded dragon is dehydrating as it gets a wrinkled skin at that point of time. They will prefer soaking during the time when they are shedding or dehydrating.
If you want to maintain the humidity levels you should keep a water dish in the tank. This can either be a plastic container or a dish which is large enough to occupy their body. You need not fill the dish with too much water.
The beaded dragons do not drink water from the dish as they get a lot of water content from the good they eat.
Substrate
Sand is one of the major part of the life they live in the wild. The desert sand is very different from the commercial one. In the native habitat the sand is hard.
When the bearded dragons feed in the wild they do not ingest the sand. But commercial sand can get in the food and even in the eyes. You can get Best Sands For Bearded Dragons
These particles are small and can cause a lot of medical issues for your bearded dragon. The issues are related to the intestines or can lead to impaction. Impaction is a serious issue and might even lead to death of the bearded dragon.
If you can provide carpet then it will be the best substrate. Choose the one which is made of fake grass or appears to be desert ground.
You can even use the ceramic tiles to cover the tank. This will helping in cooling the temperature of the tank.
Since bearded dragons live in the wild so try to provide them a landscape that is similar to it. Also know How to Clean a Bearded Dragon Tank properly with sand?
Our pickup for perfect enclosure
Bearded dragons are one of the fun reptiles that have simple requirements.
The perfect enclosure would involve:
75 gallon tank
50 watt basing UVB bulb.
Reptile carpet
UVB light
Dish for water and food
Plants and décor.
When you are buying these make sure they are safe for your pet. If you have followed all the steps mentioned above then surely you will provide your pet the perfect surrounding. Do take them out for daily handling as well.