Bearded dragons are somewhat different than other pets and people are getting curious as this is yet not deciphered the meanings of all its body languages and its characteristics. This reptile is not much fond of friends and thus they mostly live alone in their natural habitat. When they are left on their own, they prefer to live by themselves.
But when you keep on in your house within the terrarium, you can expect certain behavioral change. One dragon is usually kept in a terrarium, but if sometimes needed, some owners keep a male and a female dragon at the same terrarium. Does that mean there will be problem?  Let us probe into that matter.
Bearded Dragons And Other Reptiles
Bearded dragons need lots of space to live, thus they need a large terrarium, even if they are living solely. Even when they are in the wild, a large area is covered by one single bearded dragon.
They are quite possessive about their territories. If any other bearded dragon or any other reptile attack or come within their area, they get aggressive. This happens when they are living in the wild, and they inflate the beard in order to express the agitation.
Also they cross the boundaries or predate on each other's territory when try to find mate. Hissing, biting the other or attacking is some of the common features which show their anger.
When the males are protective about their territory and mates, females fight too, to protect food or access to it. But still you can keep two matured female dragons in one terrarium, and that will be less risky than keeping two males together.
Expert Tip: You must take extra precaution when you are keeping more than one bearded dragon in the terrarium.  Keeping the healthy and clean atmosphere is a must or else there will be chance of breeding parasites like hookworm that can build on the dirty atmosphere of cage.
If you own a bearded dragon and wish to keep another one in the same terrarium then we will ask you to follow a few protocols. If the terrarium is large enough, approximately 100 gallon in size, then you can keep two bearded dragons at the same terrarium, but make sure that both are pretty docile in nature.
If one is dominating and the other one is calm, then the chance is, the calm one will be dominated and it may affect its health and eating habit due to stress.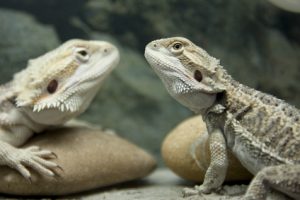 One more caution is, do not keep two bearded dragons in a case if they are in the adolescent period. At this period the calm reptiles like bearded dragon gets aggressive and tends to attack the other reptiles present in the cage. This is a passing phase and once they get matured, they will learn to behave calmly.
Do not keep two male bearded dragons at a cage if possible. This is not a good idea as the male ones get jealous of each other and can attack. The bites and scratches can be severe and lead to serious health problems.
If you think of keeping other reptiles, then you must be cautious. If you choose reptiles from similar habitat like dry desert region, then it may be possible. The other one should be of same size and nature.
There are several other reptiles that you can put inside the terrarium other than another bearded dragon, those are turtles, shingleback lizards or blue tongue skinks that are originated in Australia.
Turtles –
This is a very strange creature when it comes to cohabitate. They are normally rather calm in nature and there is less chance of attacking the other habitat of the cage by a turtle. This calmness comes from the confidence that the turtles already live within the shell, thus they are less bothered about the territory. Though you must keep the cage big enough for the turtle and the bearded dragon can move comfortably within it. The leopard tortoise and spurred tortoise can cohabit with the bearded dragon.
Lizards –
A special variety called nocturnal lizards can be kept peacefully at the same terrarium with bearded dragon. The reason behind this calm cohabitation is, as less the interaction will be between two creatures living in the same space, there will be less chance of friction or agitation. Nocturnal lizards stay awake at night while during daytime they sleep away. There are different varieties of nocturnal lizards and geckos who can share the space with the bearded dragon.
Frilled dragon –
This is another calm natured reptile that can live with bearded dragon and will not act ferociously. So if you can arrange for a really large space where these two creatures have enjoy their own space without disturbing the other, then they can cohabitate peacefully.
There are certain factors which need to be remembered when you are planning to keep different reptiles together in a singular unit.
Ample space is needed to keep the peace the two animals separated. They should not feel crunched. If they feel too close to each other, they may feel threatened and the submissive one may feel anxious. Large enclosures are the best to keep two pets together.
As we have already mentioned above, cleaning and maintaining the health and hygiene inside the cage is a must. You must also check for the droppings. As there are two reptiles living at the same cage, you may need to check the droppings for 2 to 3 times a day.
Also you need to keep the bodies of the reptiles clean. Bearded dragon needs to be scrubbed and same will follow for the other reptile. The terrarium needs to be cleaned from surface to the furniture or toys that are kept to keep the creatures busy and entertained. Walls as well as the surface needs to be cleaned more than twice in a month.
Learn more:
Conclusion:
A pair of bearded dragons is often kept together which leads to breeding. If you keep them intentionally then also, you must keep a check on them to see if one is teasing the other or being harsh.
Bearded dragons are not friendly creature and thus they do not prefer to share the space. So if you are taking the risk, you may also stay prepared to move one out anytime if any accident happens.