Ball pythons have occupied the hearts of many reptile lovers, and when they are morphed, they even become more attractive. Those who are seriously into the reptiles would have known about the various beautiful morphs of the ball pythons. The morphs come with some added glamour and twist in the plain look of the ball pythons.
How to define a lesser ball python?
There are varieties of morphs available for a ball python, and lesser ball pythons are one such kind of morph. This kind of morph is a base one and it is a co-dominant morph. So there can be other dominating genes found in lesser ball pythons along with this one.
When the lesser ball python is a homozygous morph, the characters found in it will be blue eye. This will be leucistic, so that makes them called by the name BEL for short. Butter, Mojave, or Phantom morphs are similar to these lesser ball pythons in complexity. After one or two breeding of lesser ball pythons, the colour intensifies on their body.
This morph type offers the base gene and it lets other genes work on to create any other different type of morphs.
What is the difference between butter and lesser ball python?
In terms of appearance, the similarity between butter and lesser ball pythons are visible. Especially the lesser platinum ball pythons are much similar to butter morphs of ball pythons. But they are originated from different sources. The sources of butter morph of ball pythons are often found from a random bloodline that is collected wildly.
They are very pretty and named so because of the soft caramel-coloured body and velvety texture. Also, there are yellow coloured markings on the body, which gives it a soothing and smooth look.
What is the price of a lesser ball python?
The price of the lesser ball python is much more than the regular ball pythons. It was earlier even higher, as the cost was rocketed to 30,000 USD per snake. Now it has reduced and the availability has also increased.
The blue-eyed leucistic ball pythons are available for 700 to 1000 USD though these are difficult ones to breed.
Differences between regular ball python and the lesser ball pythons:
There are quite a few morphs that are popular but we would like to compare the lesser one with the regular one as that will be an interesting study of the base morphs with the original features of the ball pythons.
Size:
The regular, as well as the lesser ball python, is 6 ft. long when they are fully grown. However, the female ones are longer and bulkier than their male counterparts.
Colour and pattern:
The typical pattern of the ball python is pretty easily seen in the ball pythons as well as the lesser ball pythons.
However, the colour is much different and that is how you can easily guess the differences between these two.
The colour of typical ball pythons is mostly dark. It can be black or dark brown, with some light brown patterns visible on the body. Sometimes you will see the ball pythons with light shades of cream.
But the lesser ball pythons are mostly light-coloured. They have a yellow or ivory coloured body. There are the ones which come with the light brown coloured body too. There are dark brown patches or patterns seen on their body.
Genetic differences:
Regular ball pythons, while bred, offers regular baby ball pythons. But the traits of the lesser ball python make the morphing colours more prominent and the blushes become more vibrant in the offspring.
The lesser ball pythons contain the gene that makes them work as the base morphs. When it is bred with other coloured ball pythons, the less dominant genes for colour get expressed.
The unique colouration is seen thanks to this lesser ball python morphs.
How the lesser ball python can be used?
The lesser ball python can be used in the same way as a phantom, butter or Mojave morphs. For serious and professional breeders, lesser ball pythons are valuable as they can be successfully used with other kinds of morphs to get a nice variation in colour and pattern.
For the amateur breeders also, lesser ball pythons are safe as they can be bred with other morphs to get the less dominant genes to come out vivaciously.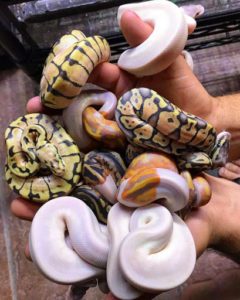 Why the lesser ball python is so popular among breeders?
Lesser ball pythons are more celebrated among breeders and not so much common among the usual reptile pet owners. The reason is, they do not showcase much great difference in colour or pattern. So apparently they are pretty dull in look. There are other morphs that are more famous for their glorious colors and extraordinary patterns.
But lesser ball python morphs are more important to the breeders who, with the help of this morph can bring out any less dominant morph's colour and other physical aspects into a more specific form.
How potential are the lesser ball pythons financially?
As it has been seen that the demand for lesser ball pythons is high, most of the breeders are focusing on the breeding of lesser ball pythons. This is a reason their price has been dropped and they have become more available.
But on the other hand, butter ones are bred less and thus they can become pricey. To date, the butter and the lesser are priced at a similar range.
How to identify the morphed ball pythons?
Not all can understand or recognize morphed ball pythons. So if you have bought one ball python and are unsure of which one is morphed and which is original then check then you may need to follow this trick.
Tracking the parents is one sure-shot way of checking if the offspring is morphed. When the parents are both from the morphed community then the baby must be a morphed ball python. Also if either of the parents is morphed then there can be a chance of getting a morphed baby.
The colour of the morphed ball pythons is difficult to recognize at a very young age. Even after a year, the colour does not become much prominent to guess the ball python to be morphed or not. Only when the morphed ball pythons are fully grown, can they be recognized by the pattern or colour of their body.
Recognition of ball pythons:
Though amateur breeders or sometimes professional breeders breed new morphs, which are not regular or recognized morphs, those would not be considered as true morphs. Only the listed morphs are scientifically recognized as morphed ball python variety.
The lesser ball python varieties:
There are a few very interesting varieties of lesser ball pythons like cinnamon lesser pinstripe pastel yellow belly, blackhead ghi lesser red gene, lesser bee, black pastel lesser Huffman, lesser pastel spot nose trick, banana lesser pastel pinstripe spider, enchi leopard lesser pastel pinstripe, banana ball butter lesser, banana cinnamon lesser pastel etc. most of them look exquisite and sober.
Conclusion:
The different variations that come from the breeding of lesser ball pythons are extremely satisfying, so if you think of keeping any of this as a pet, and not for breeding purpose, that is totally fine and understandable. The smooth and glossy texture and pale yet sober colouration make them one of the most beautiful morphed ball pythons.
More: