Coonhounds are a great breed of options that were earlier adopted for hunting purposes, but now they have also become quite popular as general house dogs. These breeds of dogs have some distinct features but before adopting one, you should be aware of all the features, nature, and habits of any breed of dog.
Do black and tan coonhounds bark alot?
When black and tan coonhounds are kept in shelters, they are shown much aggression. They have this barking habit which, when starts, does not stop soon. Other than barking they also keep on jumping and moving or running in small places. They can also show signs of anxiety when they are kept in small places and as a result, they can become uninterested in their food.
Does black and tan coonhound bark even after being trained?
Black and tan coonhounds are usually patient and sober-natured dogs when they are mature and well-trained. They are not much friendly with strangers but they adore the company of their family and owner. They should be properly trained and well-groomed and then they do not bark at every occasion.
How the owner should behave when their black and tan coonhounds are barking?
As we mentioned black and tan coonhounds are pretty decent in their behavior, they need to be handled with care and seriousness. Their owners need to keep patience when they see their dogs barking incessantly. There are many circumstances that can make the coonhounds agitated.
The owner needs to remember that keeping calm in a distressing situation is the only answer. One needs to be taking hold of the mood and in the case of the dog and its owner, it is obviously the latter. When the black and tan coonhound will see the owner behave with such gravity, it will automatically get calmer.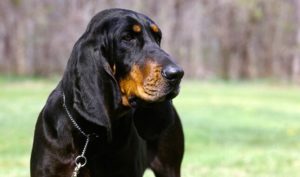 Is the barking of the black and tan coonhounds annoying?
The black and tan coonhounds have a deep voice, and when they shout at that voice, it becomes quite a noisy thing.  In case you are living in an apartment, which is in any case, not the right condition of adopting coonhound, then the sudden barking and shouting of the coonhounds may disturb the neighbors. Also if you have small kids or seniors in your family then it can be sometimes bothering for them.
Why does the black and tan coonhound bark?
The barking of the black and tan coonhound is often known as baying.  This is a natural habit of the coonhounds as they worked mostly as hunting dogs. They try to inform their owners about the location and condition of the prey when they get one around their vicinity. So barking comes as a part of their daily task. When you adopt a coonhound and let it stay indoors, it becomes hard for you to manage with so much noise.
Though this is a hard thing to put up with, according to the vets and dog trainers, sometimes boredom leads them to bark. Black and tan coonhounds love activities and they are genetically designed to be hardworking and stay busy all the time.
So when they do not get any chance to be busy and they are compelled to stay idle for hours, they get bored. That is what makes them annoyed and they start barking to let the tension out.
How can you stop barking of your black and tan coonhound?
Making the black and tan coonhound stop barking is not much critical a process but you have to keep trying. This will not work in the first instance and may take some time. Do not show any agitation or shout at your coonhound when it starts barking. Rather you have to imply discipline by saying "quiet" in a firm voice. Do not use a loud voice as that will make the dog misunderstand your mood.
The dog will not stop barking at once, but after a few times of trials, it may stop for some time. Praise the dog by saying some pleasant words and pat it on its head. Also, offer it some quick treat to make it feel calm. This way the coonhound will understand that stopping the barking is a process that can be rewarding.
How long does the coonhound take to stop barking?
When the black and tan coonhound is taught barking, it does not follow immediately. This breed of dog is self-dependent and quite intelligent at times. Also, they are free-willed and follow their own notion about their task. So until they are taught to be submissive they will not be able to follow your directions promptly.
You need to be consistent in your practice. You have to instill the habit of keeping calm and not barking at any random occasion to your black and tan coonhound. This training process needs to be continued from a very young age and that should be continued for at least six months.
Does the barking of black and tan coonhound make them a good guard dog?
When the coonhounds are more on the barking side, it does not mean that they can be a good guard dogs. They are trained to be a partner in the hunting process and that is why they shout as their barking helps the owner to identify or locate them when they are in the dense forest.
When they are trained to become quiet, they learn it with time and thus they behave much more maturely. But if you plan to keep the barking quality intact and use it as and when some unwanted person intrudes, then it would not be successful.
They are not bred to act aggressively towards strangers, and they do not show their temper to unknown people. They do not take much friendly notion towards any random person but on the other hand, they are not very alarmed at the appearance of the random people.
At what age do the coonhounds learn to stop barking?
When you start grooming the black and tan coonhound puppy from a young age, they start learning the nuances of manners. But until they become fully matured it is not possible for them to act and execute accordingly. Their nature demands time and attention to learn a skill that is not part of their genetic design.
Barking is one such activity that they practice when they are involved in the hunting session. When they are trained not to bark and keep quiet they will be able to grab this information when they become at least 2 years of age. This is actually a late time for the dog's maturity but they need more time to get mature as well.
Can you punish the black and tan coonhounds for barking?
When training the black and tan coonhound you have to remember that punishment does not give good results among dogs. The process of training the dog is much different and punishing does not leave any positive impact upon the dog's psyche.
When you shout at the black and tan coonhound for barking, the dog is not able to understand that you are prohibiting it from doing the task.
Rather it gets impatient and becomes more stressed at seeing the rage of its owner. You have to remember that the dog is barking become it comes naturally to them and they think it to be the most natural thing to do at that moment. Rather offering them a treat after they stop barking makes some sense and that way it will understand the importance of not barking.
More: