There are some creatures that are liked not because they are cute or beautiful, but because they make us curious about the differences in their looks and lifestyle.
Iguana has become one of the most popular reptile pets in the USA, due to its docile nature and exquisite look. They are mostly huge and often kept in open spaces for a long period of the day. There are various misconceptions and myths regarding this creature, which prevent the possible owners from getting them adopted.
Common misconception- do they have teeth or not?
One such issue is: does this huge reptile have teeth? And do they bite? We would like to answer this question with every minute detail that may assure the reptile lovers to decide whether they need an iguana at home or not.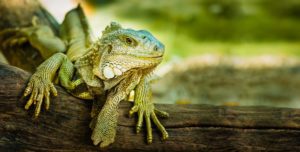 Does the iguana grow their teeth later?
Unlike most mammals and other creatures, which are born without teeth and bare gum, and later the teeth start growing after some months or weeks, iguanas are born with teeth. This is a rather uncommon and lesser-known fact about iguana which may make you curious.
However, the teeth, when the iguana is born, are translucent. While it grows up, the teeth get wider, stronger, and opaque.
Do iguanas' teeth shed?
This is another curious fact about iguanas. Their teeth are shed throughout their lifetime. The teeth shed and new teeth come up at the base of the tongue to fill the empty space of the gum. Iguanas have Pleurodont kind of teeth, which indicates that the teeth contain long roots and these are lightly attached to the jaw. This kind of teeth does not fit into any socket and there will befall and re-growth of such teeth for the lifetime.
As the iguana has this pleurodont kind of teeth, there are hardly any chances of dental problems among this reptile pet. The teeth keep falling and growing sooner to get damaged by bacteria.
Iguanas' teeth get replaced within a short period of time and so, within a year, a juvenile iguana replaces a maximum of 500 teeth.
The look of awe
This creature does not look actually cute in regular terms. They have a stout and rough appearance, which sometimes makes them look fierce. They are mostly found in the jungle of central and South America along with Caribbean islands. They move pretty fast on the land which may seem aggressive to the new owners or those who are not aware of their manners.
Inside their strong jaws, they have a set of very sharp teeth, and yes, they are able to bite humans or any other creature if they wish to.
Attitude and behavior:
Iguanas are herbivorous and do not eat flesh or meat. However, along with leaves and vegetables, they also consume some flowers and fruits.  They stay calm at the night and mostly become active during the daytime.
How to tame and yet not get bitten by an iguana?
Taming them is a bit challenging and this is the phase the new owners mostly fear getting bitten by the iguana. They have a strange habit of getting calm at the first instance when they are brought to a new place. This is somehow unlikely as most pet creatures get agitated when they are brought to a new place, and later they become accustomed and friendly with the owner.
In the case of iguana, it is just the opposite. They stay docile and submissive while brought to a new home. This is because they take time to get adjusted to the new place and atmosphere. But once they are used to the new place, they can show signs of aggression. This is the phase the owners need to be cautious and also show a maximum level of patience while handling the creature.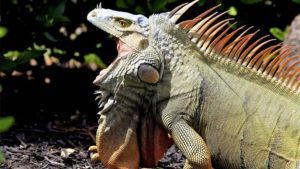 Does the iguana bite often?
No, to be honest, iguanas do not bite any human or any other creature unless they are threatened. Self-defense is the reason which compels them to bite the nearest attacker or predator. Their teeth are sharp because they need to tear the plants and leaves while eating in the jungle. So you can be relieved to know that they will not suddenly cause you any harm by biting your hand.
Which signs show that they would bite soon?
As we already know that the iguanas bite when they are agitated, you can expect them to show some sign of their irritation by some unusual behavior. Those are, stamping of feet, or leaning forward as if checking the attacker closely. Also, head bobbing is a common action seen among iguanas at the time of agitation.
Can they defend themselves only by biting?
They have a set of sharp teeth but those are not the only arms them. They also have a long tail which takes up almost half the length of their body. This tail is covered with hard skin which makes it very sharp. If they hit the human body part with this tail, there can be cuts and scratches.
Their claws are also pretty sharp as they stay on rocky areas or hard ground. So if you are trying to tame an iguana, beware of all these body parts which can act as attacking too for this reptile.
How do iguanas locate their enemy before biting?
For a reptile, iguanas have superb eyesight. When they see the predator or the human they feel threatened from, near them, they gauge the position quite accurately. This detection ability helps them to attach to the enemy and bite.
Can the iguana bite a finger of a human off?
If it is an adult iguana, then there is a possibility that the iguana can cut the finger off clearly. So do not try to come near an iguana when it is seen in a bad mood or roaming fast before you. Their teeth are small but sharp, and they are many in numbers. Also, the upper part as well as the lower jaw has a set of teeth which makes the cutting or tearing of any object easy.
How many teeth are there in the mouth of an iguana?
Though there is no specific number has been given, according to the herp vet, the iguana can have 80 to 120 teeth when they get matured. The teeth are much sharp for a creature that prefers to eat vegetables and fruits over nonvegetarian items.
What happens after an iguana bites you?
As the teeth of the iguana do not contain any harmful venom, there will be no chance of acute poisoning when the creature actually bites you. However, there are atrophied venom glands in the body of the iguana which produce mild venom. This is a weak kind of venom that may cause mild sensation or irritation when the iguana bites on the fingers or wrists of the owner. For some small creatures, this venom can act seriously and cause severe harm.
Conclusion:
Scientists say that the teeth of the iguanas have become stronger and sharper with time so that they can gain the maximum nutrients from the environment. They are mostly herbivorous and they need to tear the leaves and vegetables from the wild in huge amounts. Also, they have a big body that needs a good amount of energy, and that can be maintained only if they eat a good amount of greens, leaves, and fruits.
More: