Chinese water dragons can be a nice pet to anyone who likes to keep a pet in a small apartment. The settings for this pet are not very decorative, and nor do they need much huge space to live. They can actually manage in a small area and thus you can make them happy when offering them a nice 50-gallon tank at any corner of your house.
Not many reptile lovers are sure of the body size of the Chinese water dragons. In fact, some actually have confusion over the size of a fully matured Chinese water dragon, as there are various different species of the Chinese water dragon, and their growth rate, as well as size, varies hugely.
How huge can a matured Chinese water dragon be?
The average size of a male adult Chinese water dragon will be 2-3 feet from nose to tip. They can manage to live in a 40-gallon tank but a 50-gallon tank will give it sufficient room to move around. If they are healthy and have grown well then this 3 ft length will be the right size of their body. Including the tail, their length can be 36 inches. They weigh around 1.9 to 2.2 lb but the male ones weigh more than their female counterparts.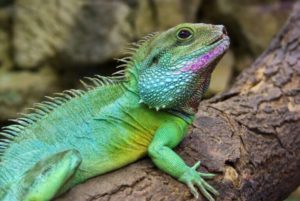 How long does the Chinese water dragon take to grow to full size?
Chinese water dragons grow slowly. They stay in their juvenile stage for way too long. The new owners should not worry as a baby Chinese water dragon will take at least two years to grow and become full in size. The time is measured from the time of their birth.
Does the adult male Chinese water dragon grow similarly to the female ones?
The male Chinese water dragons grow larger than the female ones. The male ones usually are born 12 to 20 cm in length which is similar to the female ones, but in later months the male ones grow faster than the females.
How large should be the tank of the matured Chinese water dragon?
The tank for the Chinese water dragons, when they are fully matured, should be 50-55 gallons. Even if you keep two or more matured Chinese water dragons then also it will be wide enough for the pets.
What can you feed to the Chinese water dragon so it grows big?
Chinese water dragons love to eat various kinds of insects like crickets, roaches, calciworms, superworms, hornworms, and earthworms. All these contain a good amount of nutrition which makes them healthy.
If you feel that their growth is startled by not eating their food in an adequate amount then you can go for some supplements as will be advised by your vet.
Some owners prefer to feed their Chinese water dragons with frozen and thawed food which you can offer them twice a week. Pinky mice or the common variety of goldfish is also suitable for their consumption.
Does your Chinese water dragon grow well when in captivity?
Yes, Chinese water dragons are easy pets and they can be quite healthy even when in captivity. They need to enjoy a similar kind of atmosphere as they enjoy in the wilderness. If you are able to replicate the same kind of environment with the right balance of humidity, temperature and light then it will grow as much as it would have been in the wild jungles.
The usual life span of the Chinese water dragon is 12-15 years and when in captivity, they can live up to 20 years. This shows that when they are kept as pets, their health does not deteriorate if they get an ample amount of food and other nutrients along with the right treatment.
Are the fully grown Chinese water dragons available in pet stores?
For some odd reasons, fully grown and matured Chinese water dragons are not easily found in pet stores. You can communicate with the store owner and he may have arranged for some baby or juvenile Chinese water dragons but the matured ones are rarely found in such shops.
How long is the tail of a fully matured Chinese dragon?
The male adult Chinese dragons measure around 3 ft as we have mentioned earlier in this guide. The female ones come up to 2 ft only. But their tails are pretty long and sometimes their tail measures to 1.2 to 1.5 ft, which makes most of their length.
How can you check the growth rate of the Chinese water dragons?
When you are keeping any pet, you need to be sure that the growth rate of the baby pet stays perfect. You have to ensure that the pet is having proper nutrients from the meal that you are offering. Also, you have to make sure that the baby pet is measured regularly and stays in perfect shape.
When measuring the growth rate of Chinese water dragons you can check if the male ones are having a broader head, larger crest, and wide neck and tail. The female ones are comparatively smaller in size.
The growth rate or speed is moderate in the case of Chinese water dragons. They reach their full size by the age of 24 months or approximately two years. They do not get sexually active unless they reach the age of 3 years. Their growth rate is shown through the spurts at 6 to 12 months of age.
Do the Chinese water dragons grow their tail even after losing it?
Chinese water dragons contain a long tail that covers up the maximum length of their body. However, sometimes they lose their tail due to the defense mechanism. When some other creature holds them by the tail, it falls off and later it re-grows from the cartilaginous rod.
How can you make sure that the growth rate of the Chinese water dragon is accurate?
If you are providing the creature with the right kind of environment and food, then you can be assured that it is growing at a regular rate. A 55-gallon tank, food two times a week and proper ambiance containing heat, humidity, and light will be sufficient for healthy growth.
It will also need 10 to 12 hours of UVB light as it helps them to stay healthy and grow well. Unfiltered sunlight is another way of providing nutrients and vitamin D to the Chinese water dragon. In case of unavailability of sunrays, the owner can arrange for mercury vapor lamps or fluorescent bulbs in the shelter of the Chinese water dragon.
Why my Chinese water dragon is not growing?
There are several reasons that can be the cause of improper health and growth rate of the Chinese water dragon. If there is something wrong with the diet of your pet then it will not have the necessary nutrients and as a result, the Chinese water dragon will not grow adequately.
Among other reasons, there can be improper lighting and heating arrangement which also stunts the growth rate of the Chinese water dragon. One foremost reason for the stagnant growth rate of Chinese water dragons will be, fighting and bullying with the other cage mates. If there is more than one Chinese water dragon then one may act dominantly and that one may be the cause of other dragons' deteriorating health.
There can be some kind of illnesses that will cause the Chinese dragons to not grow well at right time.
Learn More: