Corn snakes are a lovely option for first-time pet owners. But we need to know the right way to keep them healthy and happy. Unless they can fall sick and eventually die. When they are not taken proper care of, they show some signs of illnesses which can be understood by some symptoms. If you are caring enough, you can check for those signs and be aware of the condition of your corn snake.
How Can I Tell if My Snake is Sick & dying?
Stress is a vital issue when it comes to the health of your corn snake. Their environment, handling, or difficult diet may put them to stress. Also if you are not taking proper care of your pet and it is living a hazardous life, it can be stressed and fall sick.
A large habitat is another reason for stressing the corn snake. You can get a large habitat thinking you do not have to change it when the snake will grow up, but that is not how it works. The open and empty space around them is enough to make them stressed.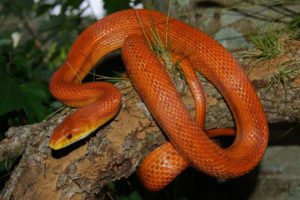 Unwillingness to eat:
This is a proper and lethal symptom that can be seen only if the snake is not fine. You can check it if you see that the snake is not having its food even when you offer it after seven days interval. Maybe it is not feeling well due to stress or any physical pain that is troubling it. Get it checked by the vet and also check the source of heat and light to make sure these equipment are working properly.
Willing to escape:
When you put your hand inside its cage and see that the snake is restless or trying to come out through the opening, then you can be sure that it does not like the environment there inside the cage. You must be serious about its issue and check the enclosure thoroughly. Also, you can see that the corn snake moving around the sidewalls and not going to the middle of the cage. This is another sign of its will to escape the cage.
Body language:
You can see your corn snake rattling its tail, making hissing sounds, or squeezing its body all too often. Any or all of these signs show that it is not comfortable within the shelter and something is wrong with its health. Also rubbing the nose is another sign, which is a sure way to understand the discomfort of the snake. You can see it rubbing its nose against the wall of the shelter, though it is a painful and unusual behavior in corn snake.
These signs can be due to the uneasiness of the corn snake while it does not like its habitat. But it also can be a sign of not liking the handling of the owner or the presence of too many people around its enclosure. If you see these conditions, make sure to leave the snake alone for a day or two to see if any change takes place in its behavior.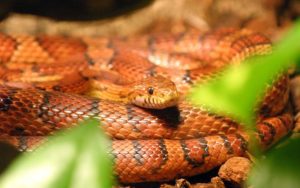 Causes of stress in corn snake:
The condition of the habitat as well as the outer environment can cause stress in the corn snake. Your pet should have a life of comfort and that should be ensured by you. Corn snakes are usually much calm and docile creature that does not show much aggression or emotion even when it is not feeling comfortable.
So it is hard to decipher when it is not feeling well or having any problem. We have discussed the signs that may help you understand when and how you can be alarmed about the snake's condition and prevent its untimely death by visiting the vet.
Now if you can be aware of the issues and situations that cause them discomfort or stress in the corn snake then you should be ready to omit them.
Enclosure of difficult size:
When the enclosure is too small or too wide, it can cause suffocation or anxiety for the corn snake. You must not keep a matured corn snake in a small or medium-sized enclosure or vice versa. Then it will try to escape the shelter, or stop eating, which in turn will cause its death.
No hideouts:
This is a serious issue for any corn snake. They are private creatures but if they do not get much space to stay hidden then it can affect their health. You must arrange for one or more than one hideout in the shelter of the corn snake and those should be properly placed. Do not keep too small hideouts as that will not be sufficient for the corn snake.
Look for the symptoms of illness:
If you find the snake moving very slowly, or not moving at all, take it out of its shelter and check for any kind of bacterial or parasitic scar. Also, it can be that there is some wound inside its mouth. These can be the cause of less eating and tiredness, which, with time, can worsen its health.
Too much handling:
Though this is not directly linked with the cause of death of a corn snake, still it can stress your corn snake out. Do not handle the snake at all if you see it moving less and showing no energy. Extreme handling often results in an increase in stress levels. Snakes do not like to be handled, as they do not usually enjoy the human touch. So stop handling it if you wish your snake to stay healthy and in good condition.
Individual enclosure:
Some owners love to keep more than one corn snake and they often put them together in one enclosure, thinking it will not make much difference. But this is actually another cause of stress for the corn snakes.
Corn snakes are not much social and they prefer to stay alone, even when they are in the wilderness. Unless they are in their mating phase, they would never move along with another corn snake. So when you keep two corn snakes in a single housing, the docile one will be frustrated and the dominant one will be aggressive towards the other. This may cause the death of one corn snake.
Make the corn snake feel relaxed:
You should know what ingredients are needed to keep the snake relaxed in its habitat. Arrange for the adequate substrate, the proper source of heat, light and UV rays, the right kind of food, and some hideouts which will be helpful when it comes to keeping the snake healthy and sturdy. Corn snakes are much strong and long-living creatures, so you get to spend a long time of your life with them, only if you take proper care of this pet.
So here we would like to inform you about the signs that, if diagnosed your corn snake with, should be taken seriously.
Conclusion:
As we have discussed, these reasons are enough to cause stress to the corn snakes, and later, the stress can kill a corn snake. A healthy snake will gradually stop eating and moving, and if not taken proper care of, will die. However, if you are caring enough, it is not much difficult to diagnose the situation and rectify the condition. Snakes can survive a long period of time without food, so you should be able to understand the difficulty and make changes in the environment or lifestyle of the corn snake, to give it a long and healthy life.
More: