Redbone coonhounds are smart and quite adorable dogs, and there are plenty of people who wish to adopt this dog. Now we can offer you some helpful information before you proceed to buy one such dog.
Are redbone coonhound dogs good as pets?
The breed of redbone coonhounds is pretty fascinating when it comes to their friendliness. They can be really good family dogs as they respond well to family members. They are hunting dogs and thus, they would have that preying instinct in them. So you need to be cautious about the small pets or other creatures that play around this dog in the house or in the backyard.
How clingy are the redbone coonhounds to their owners?
Though redbone coonhounds are pretty loving and adorable, they are not much attached or clingy to their owners. They are independent thinkers and smart in their own way. They prefer to have someone from their family at the home but they would not prefer to stay near the family. They rather prefer to live outdoors which means they need time to play and spend time alone.
Are redbone coonhounds aggressive by nature?
When we say that redbone coonhounds have prey instinct, we do not mean that they are aggressive or attacking by nature. They are quite docile in general and never attack anyone for no reason. They need proper grooming and training when get adopted. The training session should start from a very young age and then only it will act socially and become friendly to other dogs and humans.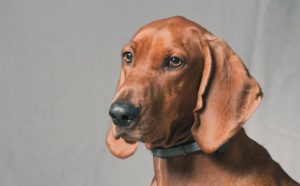 How much does the redbone coonhound cost?
Redbone coonhounds are pretty costly when you compare their price with other usual dog breeds of medium size. They can cost 500 to 800 USD when you buy them as a puppy. The breeders should provide you with the proper information about the parents of the dog as well as any inherent disease or genetic disorder if any.
Are redbone coonhounds easy to train?
This breed of dog comes with a unique combination of laid-back personality along with outward nature. They can become well-trained housedog as well as a good partner for hunting when grown up. This dog can be trained much easier as they are genetically designed to follow the human's direction and thus, they would not be much agitated when you start training them from the puppy stage. They can be handled easily as well, patience and cool temperament is the key to managing the behavior of a redbone coonhound.
How long does a redbone coonhound live?
Redbone coonhounds usually have a pretty good lifespan. They can give you company for at least 11 to 12 years if kept well and maintained all along.
How much grooming is required for the redbone coonhound?
Redbone coonhound dogs do not need much grooming. The beginner ones who are not much accustomed to grooming or taking care of their dogs would be rather happy with the company of this breed of dog as they seek little attention and little care or time from their owners. Only they can suffer from hip dysplasia which is a problem when this breed of dog gets aged.
Can you leave the redbone coonhound dog alone at home?
When working people wish to get a dog they seek the breed which will be able to take care of themselves at home alone. As the working hours will demand an absence of long 7-8 hours from the home and in most cases there is no one to look after the dog, the breeds which are self-dependent and manages to live alone for this much period are preferred.
Redbone coonhounds are otherwise great when it comes to living alone but they have preying instincts and they can damage any small animal when they see them around. Also, they are much outdoor kind of dog and prefer to stay outdoor playing in the sun. If you choose to get a redbone coonhound in spite of being a working one, then you should leave it at a dog crèche as that will help the dog to stay under some supervision.
Are redbone coonhounds loyal to their owners?
Yes, redbone coonhounds are much loyal to their family and they would love to stay committed to their owners all their life. They love to please their owners and thus managing them is not a very tough job. They are pretty friendly when it comes to the owner and his or her family, though strangers or friends are not always welcomed by them.
Though the redbone coonhounds love to hunt, they also love to play around in the household in the presence of their owner. They have the gratitude that can be seen in their behavior when they are with their family. They are not very needy or demanding and thus you can just let them be when you will be doing your own chores.
How good are redbone coonhounds with the kids and seniors?
As the redbone coonhounds are hunting dogs, many probable owners refuse to adopt them from a shelter as it seems to them that they may hurt the seniors or the kids of the family. But the nature of the redbone coonhound is not harsh and they act much calmly with the seniors and the kids around them.
Though they are not the best nanny dogs, they can be a good companion to your kids. They love to play and thus they would be friends with the kids.  They are much tolerant of the kid's behaviors until the kids start annoying them or irritating them. It is advised to keep the kid well-behaved and the dog groomed before keeping them together without any attention from any other person.
Are redbone coonhounds too noisy?
Redbone coonhounds are not very noisy or bark regularly when they are given proper exercise and attention. As they are hunting dog by breed, they need to be well exercised so their energy level stays down. If you have adopted one redbone coonhound you have to make it work out for half an hour or have to let it play in the backyard. When the dog will be exhausted it will feel tired and thus, will not bark too much.
Whining is also seen among redbone coonhounds and that is often a symptom of their attention-seeking tendency. When they are near the owner and they find that the owner is busy with his or her own schedule then they feel depressed or anxious. Thus they whine to be aware of the owner of their presence. If you can start reinforcing good behavior from the puppy stage within the coonhound then it will be well-groomed and will stop whining the moment you will direct it to.
How much exercise is needed for the redbone coonhound?
Redbone coonhounds are highly energetic dogs and they need a good amount of exercise to stay in shape and also in a peaceful condition. They need to be exercised for an hour daily and that will be good for their bone condition as well as energy level. They love to walk, run and also sniff and hunt. All these activities can be included in their exercise schedule.
How much does the redbone coonhound shed?
Redbone coonhounds have a short and flat coat that needs moderate grooming and brushing. The maintenance part is rather short and they can be kept well-groomed without much effort. They do not have a great shedding problem, but they shed at some typical time of years. However, if you feel that your dog is shedding more than usual, you should get it checked by a vet to know if it has got some skin problems leading to excessive shedding.
Does the redbone coonhound like to cuddle?
Redbone coonhounds are much smart and hunting lovers. They love to be in the company of their master and also prefer to play around them.
As we have mentioned, they are not much clingy or needy in nature, they love to be petted but are not always cuddled. There are different and individual nature of dogs so some of them can be satisfied with the cuddling, but they would not mind if the owner do not cuddle or handle them frequently.
How long does a redbone coonhound take to be matured?
They are late bloomers and redbone coonhounds may need more than a year to fully mature, precisely they need one year and a half to get matured. They take longer than other breeds to grow up and the owners should be aware of the fact beforehand.
However, after one and a half years they may look fully matured, they need at least two years time to become mature mentally. So you have to give it that time and patience to have a matured and well-groomed redbone coonhound dog.
Does the redbone coonhound dog suffer from separation anxiety?
This is actually an interesting fact about redbone coonhound that, being a hunting dog, they suffer from separation anxiety. They love their family and the owner too much to leave them for too long. If you are leaving the dog back at home or even in a kennel before going on a trip then the dog may get anxious and sad in your absence.
They seek attention and care from their family and unless you train them to live alone or arrange for some crèche it is hard for this dog breed to manage in absence of yours.
When and how can you train the redbone coonhound?
Redbone coonhounds have a prolonged puppy stage. They get matured after two full years after they are born, so you can start training them after they become six weeks of age. There are various things that you can begin with at that young age. Walking and running, sitting, and mixing with other dogs should be taught at that age. When they gradually grow up you can start giving directions like fetch, play, jump, and such directions.
Giving them treat and praising them often will imbibe a positive impact upon their mind and it works perfectly when they are getting trained. With proper way and attention, your redbone coonhound can become a well-trained dog when it gets adult.
Does redbone coonhound have webbed feet?
This is another unique aspect of redbone coonhound that, they have webbed feet. They can swim well and they act with much courage when they are in a swamp. They use the webbed feet much cleverly when they are in need of picking a dead bird or some captured small prey from the watery area. They can move around smartly in any swampy or marshy zone when hunting.
Are redbone coonhounds nocturnal?
For most dog owners, the sleeping hours of the dog are a matter of worry. If you plan to adopt the redbone coonhound then you have to accept that this breed of hunting dog is nocturnal. They would stay awake at night and can rest sometime in the midday.
However, they are also known for being very sleepy during the daytime. In fact, they are so energetic when they are active; they compensate for it by being laidback and sleeping or resting for long hours during the daytime.
How often do redbone coonhounds go into heat?
The cycle for the female redbone coonhounds allows them to get heated once every six months. However, this is a general statement, which can differ in the case of every individual redbone coonhounds. The owners should keep a track of the heating period to make things easy.
The heating starts from the age of 24 months approximately, which is also the age of their maturity. When they start getting the heat, the cycle does not work accurately but with time, the frequency and interval time get regularized.
Does the redbone coonhound like water?
Yes, as redbone coonhounds are hunting dogs, they love everything about the outdoor. They love to be in the water and can swim with their webbed feet. They can even climb the trees as they do so when they are in the hunting sessions.
However, you need to keep an eye on the coonhound when it goes into the water, to avoid any kind of mishap.
More: