Thinking of adopting a bearded dragon? You must know that this one is really an interesting creature which you would love to pet and keep at your house. But do you know enough to get its affection? Usually dragons, unlike their names, are quite timid creature by nature. But sometimes they act moodily, and you do not know how to communicate with them, or know what is wrong.
If the pet does not like its enclosure, or the surroundings, or maybe the presence around it, then it can act nastily. You will see its tantrums if you do not give it proper attention. Like any pet animals, bearded dragons also need to be handled with care and love. So if you wish to tame it, first build a good relation with it.
Ways of taming the Bearded dragon:
Interacting with the dragon is the first and foremost condition of the taming process. Soon after you bring it to your home, you have to show your affection for it. But do not rush, as it needs its own share of time to settle down in a new environment. Within two weeks it will get fully adjusted with the place and then only you can start interacting with it.
Petting
Petting is a nice way to begin with. But before you start actually taking it out of the enclosure and pet, you should insert your hand or a finger inside the enclosure and move it. See how it reacts to such movement. Sometimes it may alert it or it may jump out of excitement.
Do not repeat the same on that day, but do try it the next day. It will slowly recognize this as a gesture of friendliness. After a few weeks of such activity, you can touch it within the enclosure and see if it reacts. Later when it becomes relaxed with you in its surroundings, you can take it out of the cage and pet it or make it sit on your hand.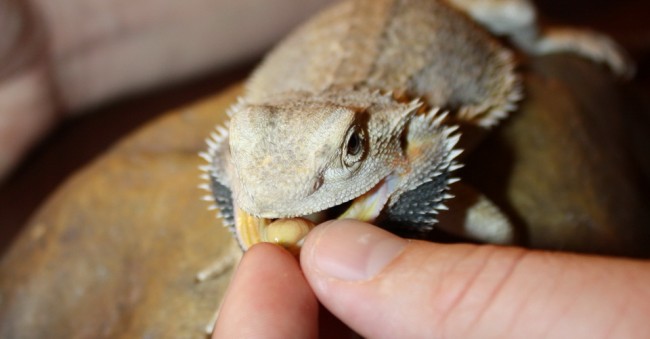 Feeding to Tame a Bearded Dragon
Feeding by hand is another gesture which brings the dragon and you closer to each other. It is obvious that when you feed some pet by hand, it builds the bonding that is much stronger. It shows affection and care for the pet and it understands the bond as well.
For this too, you need to give the dragon some time. When the dragon is okay with you putting your hand inside the enclosure and dropping food pieces inside, you can try feeding it small pieces of fruits or vegetables to it.
But be cautious, as sometimes the dragons act ferociously. If it is not a shy one, then it may feel defensive and try to bite your finger. So when you see any sign of aggressiveness in it, just pull your hand out and take a break of a few days before trying this gesture again. Also you can try to feed it by a long tweezers to make it feel trusted. In this case, you will also do not have any danger or getting bitten by the pet.
Easing into Touching
The ultimate sign of trust between the dragon and you is, it stepping on your hand. Once you are comfortable feeding it, try to take it out of the enclosure and make it reach for your hand. To do that, you can simply put the food piece on one hand and let it hold other hand of yours.
The dragon has to reach to the food by crawling on your free hand. If it is nervous, you can try holding its belly section cautiously and bring it out of the enclosure. Then keeping it on a free space you can practice this activity. Soon it will love to reach for your hand and will sit comfortably on your hand or other body parts like shoulders.
More:
You must keep a friendly disposition all the time and have patience with this little creature. As bearded dragon is calm natured reptile, it will respond to your love and affection a little slowly. Try to befriend with it and you will be rewarded with its trust and friendship soon.