Now after you have done all the arrangements to make your pet comfortable in its enclosure, bought him the required stuff, provided the UV lights and also the branches.
Now, when you have to play with it you might get confused with what you should use as a toy, or the toys are safe for your pet, or do they really need toys or not? All your doubts will be cleared by going through the article as we have discussed everything n detail.
Iguanas are not so playful and are not so intelligent too as like the dogs. The dogs will play with a toy and will have every sort of fun with it but if you give your baby iguana a toy, it will not know how to play with it or will give absolutely different reaction.
Iguanas are not used to toys and might not give any reaction at all. They do not understand the concept of a toy, but yeah they can be trained to play with it.
Can Iguanas be trained?
The iguanas which do not have any contact with the humans might get aggressive. So, in order to develop your iguana to be social, you have to start training it in that way from a young age.
Start by showing them that there is no harm when they play or they too can have fun. For this, you first need to build a strong connection with your pet.
The two activities which your pet will like is climbing and swimming too. You can start socializing your pet later but first, let it have fun with you and let it climb your body and also play with you in the bath.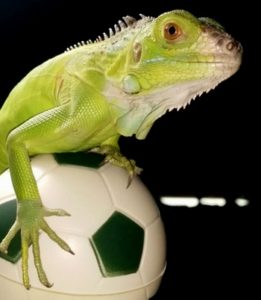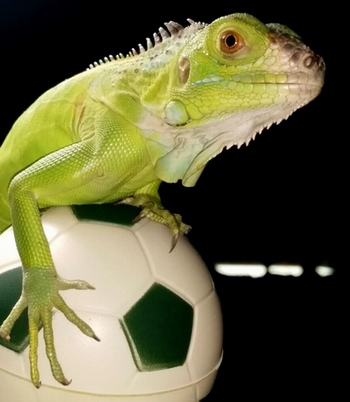 When should you play with Iguanas ?
One thing that you should be aware of is that your pet is not surely going to have a mood to pay with you always. It might get grumpy sometimes. Do you need to estimate for exactly when your pet will be in the mood to play with you?
Try to play with your pet at different times and different situations and analyze how it reacts to it. If your pet is not in the mood then do not forcefully try to play. Only play when your pet is willing to and leave him when he is not willing.
Which type of toys can you give to Iguanas?
There are no specific toys as such that you can prefer and give your pet. But as per research, it is seen that the iguanas seem to have some attraction for the green colour.
Try to get some iguana toys, prefer the colour green. Now when your pet is enjoying in the bath give him some toys, let it take time to play with these and climb on them. Usually, you should try soft toys as they will not harm your pet and they are good too.
Watch the reaction of your pet on seeing the toy. Do spend some time with your pet every day and know about it in detail. A tip that we have seen the iguana expert refer to is that rub your pet between the eyes, it is soothing for them and it may sometimes go to sleep while you do that. This will help in developing a good bond with your pet.
Iguanas are not fun characters they are usually serious and follow their daily routines. But you would want to have fun with your pet. So once you bond with your pet, you would want to do some activities. We will see what you need to do and how you should play further.
Does Iguana Play?
Most of the iguanas are not aware of the toys and will not find any interest as like the other pets. But if it is tamed then it can still show some interest in playing with toys and when you do some activities together. The iguanas are sharp and if you enrich them then you could enjoy the company.
Also, you need to be sure that your pet enjoys your company and it is in the mood to play with you. If it is not in the mood then you should leave it alone. Now, since you live with your pet you should know at what time of the day it is active and lively.
For your iguana to be calm and also interested in you have to spend more time with it. For this, you can also refer to the article which gives information regarding how to tame with your pet.
Things that you can consider as a toy
Once you have arranged the environment for your pet, you have to then see what objects it finds interesting and what you should get for it in order to make it comfortable and playful for your iguana.
The objects can vary as per the availability at your house or the ones you have brought from the store. The iguanas have different tastes. So before ending up at one toy you first have to try many of these and know which one will be most suitable for your pet.
Some of the pet stores provide stuff that is for iguanas only these would include hammocks, soft toys and much more. Since iguanas like the colour green, they might get attracted to the green colour toys.
Try to put the toy or splash it into the iguana's bath at a time when you feel your iguana is relaxed.
Your iguana might take interest in some other green coloured products that might be present around your house. Items of clothing or inflatable toys, soft toys or maybe some other stuff for which your pet might get attracted. You might find your pet sleeping on these or lying around such items. They find fun with such items when there is no one around. It is their way of claiming items for themselves and expanding their territory.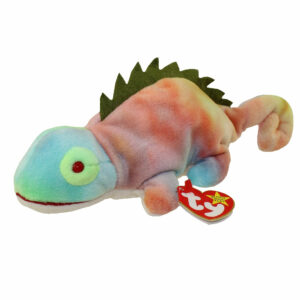 Best toys for iguanas
A lot of iguanas are happy with their owner's dogs and cats. They accompany each other in their pass time, napping and watching people pass by through the windows. In some cases, they do some unusual things that make you think that they behave like each other toys.
Igor The Iguana
In some cases the owners find their iguana licking the car, and in response, the cat jumps back. Also, some owners be a playground for their pet.
Iggy The Iguana Stuffed Animal Plush Toy
goDog Amphibianz
8 Piece Mini Rubber Lizard Set
The iguanas love to climb on the owner and use them as a platform. If you are wearing something textured like a sweater then it is much better for the iguana to climb. Some other activities that you might find interesting are visiting your pet again after some time in a day, spending a quiet time.
Sometimes it is not necessary that you always talk or play something, you could just stare outside the window, or read a book, watch movies or do something friendly with your pet. Spending some time with your pet will help you develop a bond with it. Feeding it will also make it feel that you are its friend and it might end up playing with you soon.
Preventing harm to your pet
If your iguana loves to jump into the water or cliff drive then you need to ensure that it doesn't get hurt and is safe while playing. Before you make your pet take bath in a tub check out the tub of water if it is safe. Check the tub should be big enough that it could be used by your pet and it doesn't get hurt. Also, ensure that the area around the tub is smooth and water-resistant.
If you have more pets then bring them too in the bath. But make sure that you are present when your pets are interacting. You might not know about their mood and things might get worse if they encounter something.
If your pet loves to swing or hang around then you need to be sure that there are no harmful things around which can cause harm to your pet. The curtains and fabrics should be fixed properly on the top so that your iguana does not fall.
Also, see that the curtains are away from stuff that you don't want your iguana to touch or crash into.
Also, if your iguana is fond of jumping then you can add some padding to the stuff that he can use for jumping. In the wild, the iguanas prefer tree branches and moist soil for their fun activities. However, your pet is at home make it comfortable for it so that it can have fun there and can enjoy jumping or swinging as it wants to. Wrap the platforms with blankets or something else that won't cause harm. Use a pillow or rugs for it so that it can jump on it and have fun.
You can also bring them some plants. But be sure that they do not have sharp parts that could cause harm to your pet.
Avoid your pet from hanging onto the plants as they cannot carry weight and your pet might get hurt.
Some activities you can try
You can for sure get a pool for your iguana. It can swim in it and can have fun. The iguanas love to swim and they love it when they are in the wild. The iguanas do swimming even when they are in the wild. They are natural swimmers.
The swimming activity would be really fun in the summers and you can even place the inflatable pool in the backyard. Your iguana can have fun swimming in the heat.
You can do this while your pet is in the bath but might be your pet likes to have a nice bath than playing in the bath. Most of the iguanas are scared of bathing.
Faqs:
How to know if the iguana does not like something?
Some common behaviours of your pet will tell that it does not like the stuff, such as leaping, running, making postures, biting or even thrashing.
If you notice such behaviour you need to know that your pet does not like that particular stuff so does not force it to have fun with it.
How to let it play?
You need to first observe your pet for some days or weeks. You need to know what it likes. Only then you can encourage your pet to play something or have fun. You can provide your pet with a hammock or a toy. Be sure that the stuff you are providing is safe and does not hurt your pet.
Is bringing another iguana safe?
It is not suggested. If you do not have enough space then housing two is not a good idea. Also, if one of your iguanas is dominant then the other might suffer.
Conclusion
We see that first, you need to know about likes and dislikes of your pet and then bring stuff for its playing. Do interact with your pet and have a fun time with it.
If you have bearded dragon, you can consider looking at best toys for bearded dragon as well.