The pet lovers who are in search of unique pets must have heard and researched about fancy bearded dragons. This is a special kind of bearded dragons who need attention and care much more than the regular pets. So if you are planning to get a fancy bearded dragon in your home, it is better to have detailed information about this special creature.
Some pet owners seek for bearded dragons which come with specific color combination or different patterned scales.
As this is not available in regular bearded dragons, these special kinds are dragons are bred specifically. They are rare and expensive breed so only the keen ones seek for them. These special dragons need to be taken special care as well.
How are the fancy bearded dragons different than the regular ones?
The usual bearded dragons look much different from the fancy bearded dragons. The color of the body of fancy bearded dragon comes close to the red shade and the regular ones come with yellow shade. They are more leaned towards tan shades.
The scales on the body of the regular bearded dragons are much rough, where the skin of the fancy bearded dragon feels smooth.
Care:
The eating habit of fancy dragons is not much different than the regular ones. They live on a diet of vegetables and grass. Also they take up chicken and mealworms as part of their non-vegetarian meal.
The bearded dragons prefer dry habitat as they are originally from the deserts of Australia. So the enclosures should be dry with some substrate and a good source of heat within it.
Lifespan:
When bearded dragons live in wild they do not survive longer than 12-14 years. But when kept in captivity, with the care and proper diet, they can live up to 20 years. In case of fancy bearded dragons, the life span decreases to 8 to 12 years.
Price
The price of fancy bearded dragons is much more than the regular bearded dragons. The common ones are bred in lots and no specific care is taken other than the regular incubation. But only the specialist breeders can bred fancy dragons and the effort they put is equivalent to the price of the fancy ones.
Size
The size of fancy bearded dragon is usually smaller than the regular bearded dragon. A fully matured male fancy bearded dragon will be up to 24 inches long where a female one will be up to 20 inches long from tip to tail. However the sizes vary with diets and different kind of breeds.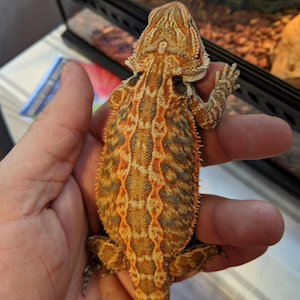 Learn more:
Different types of Fancy Bearded Dragon?
Based upon the scales fancy bearded dragons can be divided into quite a few different types.
Hypomelanistic
One of the most popular types is hypomelanistic dragons which come with lighter shade of scales and their nails as well as eyes have least melanin.
Translucent
There are translucent bearded dragons that are named after the special characteristic of their scales and skin. The light sheerness on their skin and scale is the reason of this naming.
There are het hypo bearded dragons that have some quality strongly imbedded in their genes but is not seen apparently. This kind of bearded dragon is alluring to the breeders as these ones, when bred, can produce some fancy bearded dragons with unique features.
Hypo Trans bearded dragons
Hypo Trans bearded dragons come with light colored scales, skins, nails and eyes. Also they have a light sheerness in their body parts. They are most coveted among the fancy bearded dragons.
Het Trans are those that have the quality of transparency in their gene but are not apparently seen. They are equally attractive to the dragon breeders.
There are other types like trans het hypo, hypo het trans and double het categories of fancy dragons which often produce interesting and attractive looking baby dragons. The colors which can be seen among fancy bearded dragons are various shades of red (blood red, ruby red, sunburst red) and orange (citrus, tangerine, sandfire). Also various shades of yellow are found among the fancy dragons like gold yellow, lemon yellow and citrus yello.
The process of breeding fancy dragon:
Selective breeding is the process through which the fancy dragons are bred. This is actually up to the breeders which kind of look they wish to see in the bearded dragons.
So they select a pair of bearded dragons, one male and the other female with certain physical features, like color of skin, scale patterns etc. the pair needs to breed as long as the breeder does not get the exact kind of bearded dragon he wished for.
The quality of the bearded dragons get richer with every generation and that is how the different look among the bearded dragon is created.
Fancy bearded dragons are result of breeding for consecutive three or four generations of specific breeding. This is the reason the price of the fancy bearded dragon is so high, as it takes much time and labor to produce one.