Akita is a strong and powerful dog that is also known for its intelligence. They are independent in nature which makes it quite tough to train them so it is not recommended for beginners to keep them as a pet.
Akita is a large dog so it can be quite aggressive if you do not know how to handle them and that can only come if you have experience of handling dogs. In this article, we will discuss whether the Akita is good with kids or not and will know everything related to this.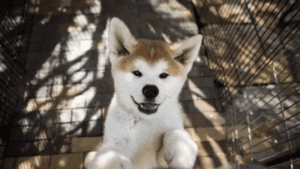 Are Akita good with kids?
As we know that Akita's are quite aggressive and also powerful dogs so we should be careful while keeping the dog with the kids. As it is very important to lots of research before leaving an Akita with your kids. You have to also learn how to train An Akita to not be aggressive?
As an Akita's behavior usually depends upon how they have been raised and how they perceive the social interaction.
An Akita is not one of the best breeds that can be kept with the kids, but also it does not mean that we cannot keep them with the kids, we can but it all depends upon their behavior and how they are raised.
You will notice that if the Akita is raised with the kids they will not create any sort of problem for them and if they are not used to the kids they will not be comfortable with the kids and they may also cause some sort of problem for them.
If they are raised with the kids they will be protective of them and will take care of them by keeping a watch on them. You should be careful when you keep an Akita that is not used to the surroundings where there are kids and they need to carefully socialize around the kids.
When you are keeping a dog that is huge, powerful, and intelligent like an Akita you need to be quite careful while raising them as they can be dangerous if they are not trained properly and are not socialized in a particular manner. As you will notice that an Akita who is poorly socialized it will create lots of problem for the owner and also they will not be able to invite any people around as the dog will not be comfortable.
When your Akita is a puppy so within some months you should socialize them and make them aware of the people around and most importantly the kids.
As there are a variety of kids, some will be scared of the Akita and some will want to go close to them and play with them. So your Akita should be prepared for such a situation and you need to make sure that your Akita should behave properly in such a scenario so that they do not create any issue or hassle for anyone around them.
As you know controlling kids is not so easy they are quite unpredictable and you do not know what they will do with the dog when they are playing around. So it is very important that you should make your Akita prepared for such a situation so that everything is under control.
If there are kids in your family you should encourage them to interact with Akita as much as possible because then they will get used to this environment and will also enjoy while playing with the kids.
At this time you should also train your Akita in such a manner that they should be obedient to you and also to your kids, which will help them to grow in a proper way and also a good and a friendly environment would be created in your home.
Also not only let them interact with the kids at home but also with other kids in the neighborhood so that they do not cause any sort of harm to kids too and they should be friendly with them too.
So socialization is the key to overcome the fear of leaving the Akita around the Akita so that there is no problem created and both the kids and the dog interact with each other quite well.
How should kids behave around Akita?
In order to create a good environment, it is not only the Akita that should be trained but also the kids should know and understand how they should behave in front and also with the dog.
The most important thing is that the kids should never ever take the food away from the Akita because they are quite possessive about their food and can get very aggressive if their food is snatched from them and this may result in a dangerous accident that would be regretted later.
The kids should not poke or irritate the dog especially when they are sleeping as this can be too dangerous and also we do not know how they will behave in such a situation. They can also be in attacking mode if they are poked suddenly or if they are awakened suddenly. So such situations should be avoided.
Things like pulling the ears and the tail of Akita should also be avoided because this can provoke the dog and these kinds of actions of the kids can be quite traumatic for the Akita. So avoid torturing the dog with such behavior because this can be quite dangerous for the kids.
Also do not shout in their ears as they are too sensitive or shout on their face this will instigate the Akita and they will try to attack you because they will not understand what just happened and this will be their natural reaction to such situations.
So it is not only the dog that should be trained but also the kids should know and understand that how they should behave around the Alita so that there is no problem when they both are together and both of them need to be careful.
If the kid feels scared while interacting with the Akita do not force them.
If there is a baby in the house do not let the Akita be around them because we know that Akita sheds a lot and their hair can create allergies or other issues to them.
If possible never leave the Akita with the kids alone because you never know that what will happen next, the fault cannot be only of the dog but sometimes even children can behave notoriously.
Interaction between the kids and the Akita is very important so that they can stay with each other peacefully and happily and also so that they can enjoy each other's company.
Conclusion:
The Akita is an amazing dog that is known for its power and also protection and everything and their behavior clearly depends upon the fact that how they are trained and how they can socialize with the people around as most of their behavior depends upon it.
Akita is good if they are trained in such a manner but if they do not know how to socialize with the kids that it can be very dangerous.
Also, you should supervise the whole situation when the kids and the Akita are interacting with each other because you cannot take risks with any of them.
Try to understand your dog and also the kids then see whether they can get along well or not. As Akita is not one of the best dog breeds that are good for the kids but is fine with them.
More: