The redbone coonhound is a perfect family dog and that is why it is a popular pet because many people prefer them as a pet. The reason is that they do not only bond well with the owners, but also with the whole family. Even they are good with the children and even other animals and due to this nature, they are perfect pets. But on the other hand, you should also be aware of the fact that if the dog is so good even you have to be good for them and take proper care of them.
In this guide regarding redbone coonhound, we will discuss the topic that how to wash a redbone coonhound. As we know that maintaining hygiene is very important if we are having a pet so that both the owner and the pet do not face any type of health issue due to poor hygiene and that is why you need to groom your pet properly.
Why do you need to wash a redbone coonhound?
The redbone coonhound is a strong, active, and smart dog which is also the reason that they are found outdoors most of the time as they like it. So they will get dirty when they will play outside and lots of dirt and even germs will be there on their body. So in order to get rid of all the dust, dirt, and germs, you need to wash them regularly. You need to maintain proper hygiene and by washing them you can do so.
Also as lots of germs can get entrapped in their hair that is not visible with the naked eyes that cause lots of health issues not only to the dog but also their family members and that is another reason you need to wash the redbone coonhound. So whenever needed and possible you should wash the redbone coonhound for their well-being and also because they do not have to face any sort of health issue and also so that they do not become the carrier of any type of disease.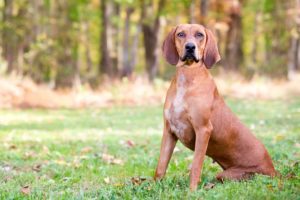 You also know that the dogs undergo shedding and to overcome that you need to wash and brush them so that you can deplete their shedding due to washing the shedding decreases and that is why washing the redbone coonhound is very important. No owner wants that a dirty dog should be roaming in the house because they will then use the furniture at home which will double the clearing work for the owners, so it is best to wash the redbone coonhound on a regular basis so that they can live a clean and a healthy life with their owners and their family.
How to wash the redbone coonhound?
You need to properly wash the redbone coonhound and for that, you need to follow the steps that are listed below so that you can wash them easily without any sort of issue:-
The first and the most important step is to keep your redbone coonhound calm before taking them for the bath because as we know that the dogs usually do not like to take bath.
After calming the redbone coonhound place the inside the tub of warm water (Lukewarm) and let them relax and make sure that they do not create any type of hassle for you.
Once they are relaxed you need to first wash them with clean water all over the body and do that properly and make sure that nobody part is left.
Another step after that is when your dog is fully clean with visible eyes and fully wet you need to apply shampoo on their body.
Rub the shampoo properly onto their body and make sure that it lathers properly but be careful near their eyes and the nose area because those are the sensitive areas.
Gently massage them with it all over the boy your redbone coonhound will feel relaxed when you will massage their body.
Now after properly applying shampoo throughout their body, you need to rinse their whole body and make sure that there is no shampoo leftover their body after rinsing it.
After rinsing off the shampoo the next step is that you can apply conditioner to their body so that their hair can be soft and even shinier. The conditioner is optional but if you have time and if you want to take a proper bath then you can apply the conditioner.
After applying conditioner to the body of the redbone coonhound let it just rest for 2 minutes then rinse it thoroughly and make sure that it washed off properly as the dog licks their body and you do not want that they should even lick the conditioner.
Now wash them properly with warm water and slowly remove them from the bathtub and take them somewhere to a dry place.
Now take a clean towel and wash them with that so that you can dry them up properly some people also use a hairdryer so that the hair dries up at a faster pace but make sure does not hurt your redbone coonhound in the process.
After drying them take let them rest and sleep if they want and you will notice that after washing them they will appear to you neat and clean and you will enjoy their sight.
Also while washing them check the wax in their ears and clean them and if time washes their paws and claws properly so that there is no dirt stuck in it which will cause issues for the redbone coonhound.
You should also brush their hair coat so that their hair does not get tangled or there is no dirt left in it and it can be maintained in a proper manner.
The redbone coonhound will relax after this because taking bath for them is a big task and they do not like it so you will notice that they will sleep after this.
These are some of the common steps that you should follow when you are washing your redbone coonhound so that you do not face any issues while you are washing them. The redbone coonhound is an amazing dog and that is the reason that you should take proper care of them and also make sure that they do not have to face any kind of problem when they are living with you. If you will notice a happy redbone coonhound you will also be happy and will love to be around them.
Final thoughts:
The redbone coonhound is a pet that enjoys playing with its owners and also loves to spend time with them and they love the attention of its owners.
Even they are known to be good companions of their owners and spending time with each other will help in building a strong bonding between the two. You should make sure that the redbone coonhound should live a happy and healthy life with their owners and that can only be possible if you take proper care of them and also they do not face any issues while staying with you. The redone coonhound is an affectionate pet and that is why they need a loving and a caring owner too.
More: