Iguanas are adopted when they are in the juvenile stage. The owners can manage to keep the baby iguanas in a 20-gallon tank as it will be no more than 5 feet at that stage. You need to shift it to a larger cage when it grows.
The mature iguana can be up to 6 feet of length and they definitely need a larger space. The place should have enough comfortable area for the movement of the iguana. So the right kind of substrate must be there in the terrarium on which the iguana will happily move and run to stay fit and healthy.
Types of Substrate for Iguana Terrarium:
Particle substrate:
Substrate for their cage needs to be chosen with care.  If widely discussed, there are two kinds of substrate available for iguanas. Some are of particulate types, like black chips, sand (both of calcium carbonate and play sand category), lizard litters, coconut husk or any kind of gravels.
Particulate substrates look good on the terrarium floor. These are smooth and stay scattered evenly within the terrarium floor. But the problem with this kind of substrate is, as these are small and dust like in texture, the iguana can ingest this material and can fall sick.
Sickness due to ingestion:
When the iguana ingests the substrates which are discussed above, there can be various kinds of problems. When the dusty substrate chokes the guts of this reptile, the flow of nutrients and food will be choked. The iguana will not defecate due to this obstacle. Also, the food that is stuck at the guts will perish and will pollute the bloodstream. The result is fatal.
The other kind of problem the iguana may face is more dangerous than the previous one, as the symptoms are not identified immediately. This happens when the iguana eats the substrate in small amount but daily. As the amount of ingestion is small, they will defecate normally. But as the substrate will fill their stomach and make it eat less, it will suffer from starvation.
It will become weak slowly and the ingestion of substrate into its stomach will turn poisonous, as it will not come out with defecation. If you are alert enough to understand the situation, it can get checked by the vet and probably you can enjoy its company for the rest of its life.
Non-particulate substrate:
Now we will be discussing the type of substrate which is called the non-particulate substrate. This kind of stuff will never be ingested by the iguana and thus it is less risky for this reptile pet. Large river stones, newspaper, ceramic tiles, paper towels, reptile carpeting or linoleum sheet flooring comes under this kind of substrate.
These kinds of substrates are not visually appealing and may not make the terrarium look interesting as the ones from the range of particulate substrate. But these are low maintenance and easy to clean. Also, some of the items like paper towels or newspaper are a pretty economical choice for the enclosures. Some are permanently fixed onto the floor like tiles.
This option of the non-particulate substrate is now liked by most of the pet owners as this item possesses least or no chance of danger for the pets. However, we are here offering suggestions on both solid and particulate substrates, for you to choose from.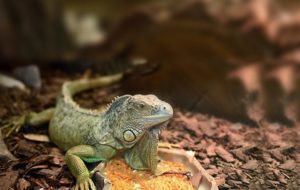 Best Substrate for Iguanas
1. Zoo Med Eco Earth Compressed Coconut fibre substrate
This is a solid substrate for the enclosure of iguanas. These are fibre bricks made from coconut fibre so it is completely natural a product. This is solid and it can be tossed within the enclosure, and it will be scattered over the floor easily.
The feel of this substrate is soft and it will never make your iguana uncomfortable. Even if the iguana swallows a part of it, it will not choke them or cause them any internal problem. Most of the pet owners are happy with this substrate as the pets are happy with this one on their enclosure.
This coconut fibre does not attract bugs and thus it will not be an issue with the pets. However, do not dry this fibre into the sun as it will cause this thing to be filled with dust, which can be inhaled by the iguanas and may turn them sick. That can also be the reason of their breathing problem. This coconut fibre bricks expand a lot, so you if you keep a chunk inside the terrarium it will soon expand to fill the whole floor of the place.
This way it is a rather pocket-friendly and economic choice for the substrate. Also, spot cleaning is easy with this substrate. As this is a dry substrate, you can easily pick the spot out of the flooring. The airy nature of this substrate helps to control the odour which is a great help while cleaning the spots. Some users have complained that after opening the pack they have found mites on it.
To prevent the mites to harm your iguana, you can keep the package in the refrigerator for two days. This will kill the mites automatically and you will be able to get a danger-free substrate for your pets. The substrate has an earthy consistency so it will be loved by animals that prefer to walk on the ground when in natural habitat.
Pros:
Easily available
Odour-free
Pocket friendly
Not harmful to pets
Cons:
Messy
Some users complained about mites
2. Zilla Alphalpha meal
While discussing the particulate substrate, we have mentioned that most of them are harmful to the ingestion of pets. But thankfully, there are some options available which do not cause any kind of harm to the pets.
This particulate substrate available from the reputed brand Zilla is best for the iguanas as this is natural and completely digestible. This alphaalpha meal is nut-free and that is why it will never choke your pets. For the herbivorous pets as well as carnivorous pets it is completely safe. You need to put it in maximum 2 inches deep to make the perfect bedding. This bedding never causes germ build-up neither does it allows bacteria to grow here. So this is a safe option for reptiles. This bedding is easily digestible so it will not make the iguana sick.
The users apparently love this bedding like their pets. This substrate does not initiate moulds to grow on it unless your iguana spills water drops on it or the bowls are wet underneath. That way it will be growing mould if the outside weather is humid too.
A regular check on this matter will help you to stay away from such nuisance easily. The users who are using this alpha alpha meal instead of sand are pretty happy as, unlike sand, this substrate will not stick to the body of the iguana. It will also take away the odour of defecating which is not possible for the sand.
Pros:
Safe for iguana
Easy to clean
Removes odour
Cons:
3. Zen Garden PZG artificial grass patch
This grass patches looks and feels like the original grass and is quite suited for the iguanas. It does not feel coarse and is quite heavier than the usual artificial grass patches available. This patch looks luscious and the iguanas would love to sleep on it as well as play and run over it.
This grass patch is made to look more original with 4-tone colour and the length of the grass patch is 1.7" which is wide enough to cover the floor of an enclosure. No filler is required to make this grass patch fuller as this is already much original in its look and feel. This is also pretty much safe for the iguanas as it is not to be torn easily and thus will not be eaten by your pet.
Also, the manicured look of the sheet makes it comfortable for the pets. High graded polyethene is used to create this grass patch so it will be resistant to UV lights. The use of UV ray emitter is normal in the enclosure of iguana as they need an ample amount of this ray. But this emission will not damage this bedding, nor will it be damaged by wet bows or pee from the pet. So you can say that it is water-resistant too, to a small degree.
Mould or bacteria are not likely to grow in it as this is an artificial material and nothing organic is induced in it. This one looks so similar to the original grass layers but the best part of using this bedding is, it is quite low maintenance.
You do not have to water it or use fertilizer or pesticide on it to keep it intact and in good condition. This way you will be avoiding the use of any chemicals on this patch, which in turn can affect your pet's health. This is totally a toxin-free option for bedding which will make your life easier as you can wash it once in a week to keep it clean and bacteria-free. This patch is lightweight and thus you can spread it within the enclosure or take it away for cleaning.
Keeping a spare grass patch handy is required as you can use that when one is getting cleaned. This is pretty much durable and your pet will not be able to make a hole on it or tear it easily. The black rubber base makes it waterproof too. There are various sizes available for this product so you can buy the right size based on the size of the pet enclosure.
Pros:
Looks original
Easy maintenance
Non-toxic
Durable
Cons:
Cleaning defecate can be problematic
4. Zilla reptile terrarium substrate liner
This is another idea of low maintenance substrate and it will meet all the needs of the reptile pets. Moving it and using it is an easy business, as you can just roll the mat and spread it wherever you need to use it.
Also, you can cut it according to the size, so buying a big sheet and using it in pieces when you need them for a baby iguana is fine. The biodegradable enzyme is used on the liner so it does not stick even after the iguana poops on it. Easy cleaning offers suitability for the owners as it does take little time and effort to maintain this liner.
It cannot be torn and so, you should have no fear of eating the liner by the iguana in pieces. Also, this is made from non-toxic material and thus will not cause any harm to the pet. There is no chance of growing mites, bacteria or any bugs on it, as this is made from artificial material and not a biological one.
Do not use hot or warm water to wash it, as cold water and the liquid soapy solution is enough to clean this liner. After washing, you need to dry it well under the sun before spreading it on the floor of the enclosure. Keeping a replacement of this liner is necessary, as it can be used when one is being washed and dried. This liner is available in different sizes and thus, you will be able to get the right option for the terrarium size you own.
The material is non-abrasive, so it will not cause the iguana any scratches or cuts when they will be running or sleeping on this liner. As this liner is made from synthetic material, it will not create the odour when the pet of yours will defecate. You will be able to clean the liner without bearing much stink.
Only one downside of this liner is, the claws of your pets can get stuck to it, so you must keep the nails of the pet clipped so it does not become a painful affair when you try to release it from the hold of this liner.
Pros:
Easy maintenance
Looks nice
Easy to clean the defecate 
Cons:
Nails of pet get stuck sometimes
5. Exo Terra Plantation Soil
The pet owners, who prefer to keep the substrate natural, may find this Exo Terra plantation soil interesting. For the tropical reptiles, this soil is an ideal solution. It feels and looks natural, as it is a natural product. The pet will love to roam on it. Humidity is maintained through this substrate as this product can retain moisture.
Also, it is a good stimulus to keep the iguana activated. The soil allows iguana to continue with its natural digging process, which is prohibited if you are offering liner or grass patch on their terrariums. The material is completely safe for the reptile pets as there is no toxic element mixed with this soil. Also, it will not cause any bacterial infection which may cause irritation or itching to the skin of the iguana.
A little amount of this substrate fills up large space so that way it works economically as an option for terrarium filler.  You need to take a block of this soil and soak it in water so it gets broken into dust. You need to spread it on a flat surface to dry it before you put it inside the terrarium of the iguana.
The feeling of this material is softer than the wood shavings and it is more close to the original soil so your pet will surely love this for the wandering and roaming purpose. This substrate will keep them healthy and happy. Keep the substrate 3 to 4 inches thick on the floor of the terrarium to make the pet feel comfortable on it. This material does not get clumped up or get moulded easily so it will be useable for a long time.
Pros:
Liked by iguana
Natural
No toxicity
Cons:
6. Vinyle floor tile
This is somewhat out of the box option for the flooring of your iguana. But you can surely be benefitted when you put a vinyl flooring tile on the terrarium of the pet. Primarily, this is safe for your iguana. There is no chance of toxic element harming the pet, nor can the tangle of the mess damage the nails of the reptile pet. This is a permanent flooring option which comes with self-adhesive.
All the droppings can be clearly seen immediately and you can easily wipe out all the dirt and defecate from the smooth surface with a wipe cloth or paper napkin. It will also offer a secured layer which does not contain moisture or bear it from underneath.
The tropical reptile-like iguana will never face any issue related to wetness if you plant this vinyl flooring tile on the terrarium. The fixing process is pretty easy as all you need to do is taking the strip at the back out and fix it at the bottom floor.
This is also a very safe option for the bearded dragons as they will not try to eat parts of it. There are various colours available on this range so you can pick your choice regarding the colour and pattern. This is also a pocket-friendly option for the iguana cage flooring and you need not be worried about changing it often. This simple solution for the cage will keep the iguana healthy and happy.
Pros:
Easy to apply
Hassle-free maintenance
No toxic effect
Cons:
Iguana Substrate Buyers guide:
The substrate that you choose for the home of the iguana must be easy to clean. The flooring needs regular cleaning or else it will have the chance of breeding insects or bacteria on it.
It should be non-toxic as there can be such a situation when the iguana ingests some part of it. It should not cause any threat to your pet.
It should not be aromatic, like cedarwood shavings. The aromatic oil present in some of the woods is harmful to reptiles.
While choosing a carpet for your iguana's home, you must keep another spare carpet, which can be used while one is soiled and need to be washed. It should be cleaned once a week and it must be washed with soap or diluted bleach and water.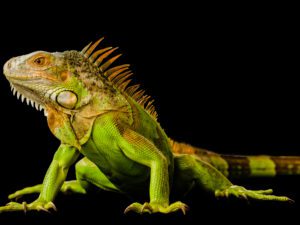 FAQ:
What are the best options for iguana substrate?
Items that are not toxic and not messy are best for iguana substrate. There are several buying options whereas you can think of some pocket-friendly options like newspaper, paper towel, tiles etc.
Does the defecate odour the substrate?
In case of some substrate, poop releases odours and when it gets heated from the heat emitter in the terrarium, the situation gets worse. However, choose substrate which absorbs the smell and does not pollute the air.
Should the substrate hold the humidity?
The substrate should not hold the humidity and it should stay as dry as possible. The wetness should be prevented from within the substrate.
How wide the substrate mat should be?
There are various sizes of mat available for the terrariums. So you must check the size of the floor of the terrarium and then get the accurately sized flooring mat for the terrariums.
How will you understand that the flooring is not liked by the iguana?
When you will see the iguana resting more than half part of the day or being lazy, after you have changed its substrate, or refuse to move on the surface, then you should take the clue. The substrate may not make it happy and comfortable and that is why it is refusing to walk on it.
Conclusion:
One of the most unique pet animal, iguanas, are quite a different looking reptile. Their food habit, nature and body language, everything is far different than the usual pets. When you plan to keep one at the house, you must do thorough research on the likings and disliking, wellness and illness and overall health issues of this reptile.
Keeping a proper substrate can make a pet happy or sad, so choose wisely. There are various options available on the internet, but you must know which ones can make your pet happy. Also, you should discuss with people who have experience in keeping iguana as their pet. They can provide you with the right information from their first-hand experience which will be useful for your pet care.
More: