For any pet owner, having a healthy pet is a reason for joy. The owners of iguana often complain to their vets that their pets are not growing in size or weight as expected.
There is a variety of size charts which is explained by the vets and they say that different species of iguana grow in different ratios and with different lengths of time.
How To Make Your Iguana Grow Faster
However, most pet owners commonly adopt green iguana, which is easily available and also more pocket friendly than other categories. The question of their growth comes to the mind of the owners when they need to arrange for an adequate sized residence.
Also when they see the matured iguanas in a healthy state, they compare their own juvenile ones and started worrying about the growth rate.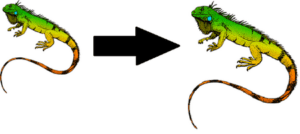 How long do iguanas grow?
Regular green iguana grows up to be 4 to 7 meters when they are matured. They grow fast within the first 3 years of their birth. Later the growth rate slows down. It weighs up to 8 kg after reaching a mature age.
The different species of iguana grows at a different speed and also becomes differently sized when they are matured. You must know the species of iguana you are adopting, so you can be aware of how much it will grow and what to expect with its growing age.
How long Small-sized species of Iguana grow?
Some pet owners prefer to keep smaller ones and they are cute enough to be loved and adored. Also, they are much easy to be put inside the enclosure. If you have adopted any of the below-mentioned Iguana, then expect the moderate size and weight of a matured one.
How long Desert Iguana Grow?
They are inhabitants of America and they mostly stay in the arid region. They are pretty small, a matured one grows up to 16 inches. Within this length, one-third of the parts are taken by its long tail.
How long Spiny-tailed Iguana grow?
They look ferocious from the spines at their back, but this species of iguana from Mexico and Central America is 40 inches long and is quite a docile pet.
Fiji crested Iguana – not possible you will be able to adopt or buy this species of iguana as they are by now has been claimed as endangered. They are found in the forest of Fiji and that is a dry area. Growing barely up to 30 inches, this species weighs 300 gm which shows this is a small species of iguana.
How to measure their growth?
There is an interesting fact about iguana which is not known to many. Iguanas are dimorphic in origin, which results in bigger males and smaller females when both genders reach the age of maturity.
When they get mature, the size is measured in different ways. One is called SVL, which is the length of their snout to vent, and the other parameter is STL which is measured by the length of the snout to the endpoint of the tail.
Iguanas grow really fast, if you bring a baby one at home or breed one at home, you will be amazed to see how fast it grows. Within a couple of years, it reaches to mature state.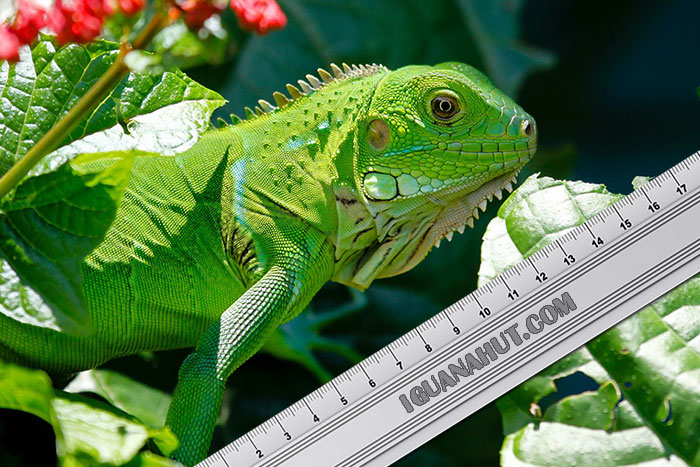 What factors determine the growth rate of Iguana?
As with any living species, the growth rate is determined by gender, species, and diet. Also, the general health condition and other stimulus affect their growth rate. Here we shall be discussing the major and minor factors affecting iguana's growth rate.
Feed your iguana best Diet
This is one of the prime factors which can decide how fast the iguana will grow and how healthy will it be. If you are assured that you are giving it proper food and yet is not convinced that it is growing well, get it checked once by the vet. If the vet agrees with you on the same point, then maybe the regular diet is not enough for the pet.
Protein is an important nutrient that is needed for the growth of iguana. Feed the iguana with more insects than vegetables and greens, and see if is helpful.
If your pet is not eating properly and getting underweight, then check if it has become gravid. In this condition, the legs will become thinner while the torso will remain unchanged. Other reasons for not eating properly can be stress and physical pain, which can be detected once you take it to the vet for a checkup.
There can be several physical problems like parasites, or blood count issues, which can be only diagnosed when the tests are done on the pet. These reasons can be proven vital when you are unsure of the reason for the undergrowth of your iguana.
If the regular food is not showing result in the growth of iguana, then you can use some vitamin and mineral supplement with its regular diet.
Check for the pet foods that contain a good amount of vitamin D3, but also check the number of such supplements, as too much of D3 can cause toxicity in the iguana. Also do not ever feed the iguana calcium with vitamin D3 as that may result in over-supplementing.
Giving a staple diet is also an important part of initiating the growth process of the iguana. A variety of colored vegetables like mustard green, collard, or turnip can be fed to the iguana. Do not feed too many pieces of fruits as there is oxalic acid present in them which prevents the absorption of minerals in their body.
Do not panic when you see a skinny juvenile iguana, as this reptile gains weight when it matures, and this is a normal scenario.
Cage size should be appropriate
This is not actually a direct or major cause responsible for the growth of iguana, but an undersized cage causes a bad impact on the growth of the reptile pet. The place where the iguana lives must be much bigger than the body size of it. Not only in horizontal space but should it also be wide enough in terms of vertical space.
The place should be spacious so the iguana can bask under the heating lamp or roam around the area. There are certain sized cages available, but when it comes to wide sizes, you can use the largest one to keep a mature iguana.
Note:
However, the cage size is not directly proportional to the size of the mature iguana, as the pet will increase up to the largest size depending upon the gene and species.
For a baby or juvenile iguana, however, a big cage is not a good idea. The emptiness of the space may threaten it or stress it out.
Make Use of UVB lamp thermostat
Iguana needs humidity and heat along with proper diet and space to get matured and fully grown. So you need to think of placing a thermostat and UVB lamp inside the cage of the pet to keep it healthy and hearty.
A natural dose of UVB and UVA light along with an ample amount of heat is necessary for the health of iguana. They are reptiles from arid and dry regions and thus you need to replicate the natural atmosphere inside the cage to make it feel at home.
Without the right amount of UVB and UVA light, the iguana will fall sick. The primary symptom will be a vitamin deficiency, which makes them lethargic.
Vitamin D3 is needed by the iguana for calcium absorption. This is only possible when the pet is outside for a long time, basking in the natural sunshine. Or else you need to arrange for the UVB and UVA light inside the terrarium to keep the iguana healthy.
One of the commonest diseases among iguana is bone decay, and that is caused by the calcium deficit. It may be true that you are feeding the iguana with calcium but that will not be absorbed if there is less amount of vitamin D3.
Bones become soft and fragile due to lack of calcium and that also stunts the growth of the iguana. So if you want your pet to grow at a high speed, make sure that there are enough UVB rays anigiguanauanad a thermostat to regular the heat and humidity within the enclosure.
Once the decay starts, it will be hard to reverse the process. You can see the iguana getting weaker and moving less and less. The vet can suggest you proper medication course to get the iguana cured, but if it is too late, you may not find the pet in its previous jolly form.
Regular exercise
When you are keeping a pet, you need to take care of its mental as well as physical needs. Adopting iguana also falls under this rule. While you make sure that you are feeding the pet good food, proper supplements, provide it with a nice and wide cage, and keep it clean and healthy with UVB light and good quality substrate, do you consider taking it out regularly for a walk?
Iguanas are wild reptiles and they are a naturally hard-working creature who needs to find their food in a certain adverse situation. You can offer it food and shelter, but when it will be able to move around the way it used to in your natural habitat, it will be happy.
Taking out the iguana by leashing it or putting a harness on it is a good practice. The freshness of the outer world makes the pet rejuvenated.
As most owners keep a single iguana in a cage, it is expected that the pet stays within the cage, or in the territory of the household moving about here and there. But the natural sunlight and the stimulus in the surrounding definitely helps it to stay active.
Iguana is not a very active pet by nature. So when it stays inactive for the most part of the day and moves barely from one corner of the cage to the other, it ought to get obese. If you can take it out for a walk twice a week, it will definitely help in the growth process.
Take it to a park or where there are chances to climb steps or some high areas. There could be high ramps or platforms where it will run through or climb up and down. It is good for their stomach as well, as exercise will make them hungry, which is a healthy sign.
Things to Avoid
As we have discussed some suggestions on how to help your iguana grow fast and grow big, we have not included the prohibitions. There are certain mistakes made by the pet owners which can act reversely in their growth. Like, feeding them with other pet's food is not acceptable.
The dog or cat food is high in protein, and a juvenile iguana may eat it out of habit. This kind of food makes them grow fast, as the protein combined in the processed food helps to build the muscles fast.
But this is not an adequate process of making an iguana grow big and large. It will damage their immunity system and eventually shorten their lives. There can be various complications caused by the feeding of such food, which can cause fatal consequences.
Myths about Iguana development
It is a myth that is conceptualised by the people that, captivity stunts the growth of the reptile. Staying in an enclosure might seem depressing for some, but it is not a great factor to shun the growth of the iguana.
In fact, this reptile quite enjoys life even in an enclosure, if provided with the right food, rest, and exercise.
Their natural life expectancy is 25 years or more. Even at some owner's place, the care is not so great but still, the iguanas manage to live a long life.
Natural protein-based food, like live insects, meat, fish, or eggs is also not suitable for the iguana. This creature is more dependent upon vegetables and thus will grow slowly, but if you feed it with too much protein in different forms, it may grow fast but will cause medical problems to the iguana.