The name of the dog breed American Eskimo is suggestive of their place of origin. Eskimos are usually a tribe living in cold regions and so is this dog breed. So you should not get amazed to know that cold weather is much more comfortable for the American Eskimo dogs.
How does the American Eskimo behave in the snow?
Snow is something very own and comfortable condition for American Eskimos. They feel joyous when they get to play in the snow. Most of the Eskimos love to stay in the snow and play around it. They can stay in the snow for hours without falling ill. They love a good amount of exercise and snow is the perfect spot for that activity.
Can you leave American Eskimos outside in cold weather?
The physical condition of American Eskimos is great for living an outdoor life. They can sustain a good amount of cold and can be left outdoor for hours during the cold season. Also, they love to play around and enjoy digging, running, or jumping in the cold.
But they are mentally attached to the human family and wish to have their company. You can keep them outside and then you have to give them entry inside as they would be mentally disturbed if prohibited to enter the house for too long. They can feel anxious, depressed, or can act withdrawn when left outside for too long.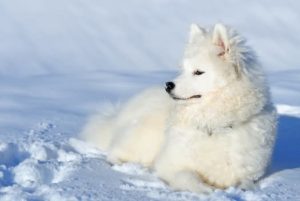 Does American Eskimo get cold?
American Eskimos can tolerate cold weather but their tolerance level depends upon their age, health, and nutrition level. Coat density also matters greatly when it comes to staying in the cold. The undercoat usually protects their body heat and does not let the cold enter their system. When it comes to the puppy of American Eskimos, they may not be able to survive long hours in freezing cold as that can harm their health.
Also, the nutrition level of the dog makes them ready for the cold weather. If their body is able to generate the heat to fight back the cold weather then the American Eskimo will be okay in cold weather. But an undernourished or sick dog should not be left outdoor or allowed to play for long hours in cold weather. It may catch a cold and that can be severe for its health.
Are American Eskimos good in snow?
American Eskimo dogs are of high spirit and they always stay in a happy mood. Snow is something that adds to their happiness. They usually love cold weather and when it comes to the snow, they love it more. American Eskimos are playful and they find snow as the best place to play. They love to jump on the surface or just dig into it.
Why does American Eskimo dog not get their feet frozen?
The dogs that are most comfortable and accommodated around in the snow do have a special physical feature. Their body provides the countercurrent of heat which allows their feet to not get too much cold. This way their toes are saved from the abrasion caused by the snow.
Their movement in the snow is also very specific. Their booties keep the snow out of their legs and thus their toes do not get stuck into the snow. So they can manage to keep their toes intact while moving on or playing in the snow.
What temperature can American Eskimo dogs stand?
We mentioned earlier in this guide that American Eskimos can withstand much cold weather. If it comes to measuring the temperature then we can safely say that -20 degrees Fahrenheit is the level of cold that they can bear with.
How do the American Eskimo dogs manage when the snow melts?
As American Eskimo dogs have two coats on their skin, the undercoat keeps them warm when the outside weather is freezing. When the snow starts melting and the surface become watery, then also it will not affect the American Eskimos.
The topcoat of their body is water resistant and it will not let them be wet from the melting snow. So there is no chance that they would get sick because of getting wet while playing outside.
Can the American Eskimo get frostbite?
As American Eskimos are adjusted to living in cold weather for long hours, there are few chances that they would get frostbite. They can play for long hours and yet can stay warm due to their physical condition and habit of staying cold.
But yes, the chance of getting frostbite is not impossible. Do not let them play for more than an hour in the snow as that will not be safe for the dogs. If your dog insists on playing around in the snow for long hours, or the area where you live is under snow for several days at a stretch, then you can make the dog wear booties or dog boots which will keep their paws warm while they will be in the snow.
How long can you keep your American Eskimo outside in cold weather?
The dogs that possess the double coat are less likely to get cold while they are left outside in cold weather. As American Eskimos fall under this category you can be assured that your pet can enjoy longer playing hours in the freezing cold. They can stay up to 1 hour outside in the frosty cold weather.
The double coats protect this breed of dog from the harsh cold weather and wind.  The extreme cold weather and low temperature are unable to affect the American Eskimos as they are protected physically by their specific features. Their staying outdoor does not harm them even if it is much cold for other dog breeds.
Can American Eskimos get hypothermia due to cold weather?
Hypothermia can develop into dogs when they are left for long hours in extreme cold weather. When it affects the dog, the body temperature of the creature drops drastically. This happens when the weather is colder than 99 degrees Fahrenheit. This is a severe condition and it can be lethal to dogs.
But there is less chance of getting affected by hypothermia in American Eskimos as they are safely protected from the cold weather by the double coat. You can be worry-free that your pet American Eskimo will be safe as long as you are allowing the dog to play in the snow for not more than an hour at a stretch.
Read more: