American Eskimo dogs are of medium size, because of which most apartment owners living in cold regions prefer to adopt this dog as their house pet. This dog is also a friendly natured one and thus it is pretty easy for dog lovers to own this breed of dog in the apartment. Now we will discuss if the dog species is happy and can live a content life in the apartment.
Can you leave the American Eskimo dogs alone in the apartment?
American Eskimo dogs prefer to live with the owner and his or her family and they love to stay wherever their family is. They get bored when they are left with no option but to live alone, so quite clearly they are not happy with the lonely hours. It needs constant attention and the company of people.
When left alone this type of dog becomes bored and depressed, which eventually makes them destructive. So if you are keeping the American Eskimo alone in the apartment then you may have to face huge destruction at the apartment.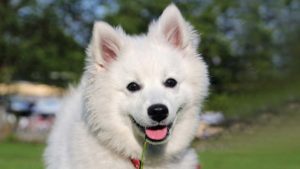 Does the American Eskimo dog suffer from separation anxiety in the apartment?
American Eskimo dogs suffer from huge separation anxiety. Unless you arrange for some playmates or some other people to look after the dog, it will not be able to live on its own in the apartment on a regular basis. You have to make sure of the arrangements like its food, toilet, and play items and yet it should be some human that should stay in the apartment to keep it company.
Are American Eskimos high maintenance for apartment owners?
Yes, American Eskimo dogs are high-maintenance ones. But it is not about money all the time. You have to take out time from your daily schedule to brush its coat and once in two to six weeks to give it a good bath. This dog comes with a thick fur coat and that means it is prone to having a bad odor on its coat. Without proper care and nourishment, the dog will not look as fluffy and fresh as you wish it to be.
They also need proper care in terms of grooming and training. Their need for nutrition should be taken care of, so if you are eligible of offering these many facilities to your pet dog, should you get one American Eskimo.
Is it possible to train the American Eskimo inside the apartment?
American Eskimos can be trained inside the apartment when you are teaching them some basic skills like common directions. You can make the dog follow commands like sit, fetch, run, leave, and quiet. But American Eskimo dogs love their share of exercise and they need to be taken out for at least 30 minutes a day and do the exercise.
So even if you keep the dog inside the house, then also you have to make sure that the dog should be taken out once in a while. Fresh air and the open sun are necessary for the good health of the American Eskimos.
Can your American Eskimo live healthy life inside an apartment?
An apartment is good for the American Eskimo dogs as they prefer to live with their parents and family. But if you plan to not take the dog at all in the open ground then it may not be a healthy thing for the dog. It may gather weight and become obese, which will lead to other various kinds of diseases.
Are American Eskimo dogs too noisy for apartment life?
American Eskimo dogs are infamous for being noisy. They often start barking for small or no reason. Their habit of barking may offend other apartment members, especially if there are senior persons who need a peaceful environment.
American Eskimo dogs can be trained to become peaceful and not bark without any reason. Barking is a common habit of the American Eskimos especially when they need the attention of their owners. Also, they bark when they feel depressed or aggressive.
Can you keep American Eskimo dogs in the apartment along with kids or seniors?
Kids are safe being left with American Eskimo dogs but seniors may not be safe with them unless they are properly trained. Apartment life is perfect for the American Eskimo dogs but they should be trained before leaving with the kids and seniors all along.
However, if the American Eskimo dogs are brought as puppies and they grow up with the seniors and kids in the same house then they start behaving normally with them. As American Eskimos love the company of their human family they would be comfortable in their present and would not bother to harm them.
Are American Eskimo dogs too aggressive for apartment life?
American Eskimo dogs are much whimsical and individualistic in nature when it comes to aggression. The same dog may react aggressively to some situations while under other conditions it may react perfectly peacefully. It has been viewed and recorded by some American Eskimo dog owners that their dogs may like some of their guests and then behave absolutely sweetly with them, but on the other hand, it shows bad temperament toward some other person.
Can the American Eskimo dogs become good guard dogs in the apartments?
American Eskimos are usually too much friendly with unknown guests or random intruders. They fail as guard dogs because of this nature. They are hard to be trained in a way to protect their owner or property from strangers as they often act too friendly with the humans they see around them.
In fact, some owners complain that the American Eskimos do not listen to their masters when they see some guests or random people approaching them. Thus they cannot be guard dogs even if they are kept in apartments.
Is the temperament of American Eskimo dogs suitable for apartment life?
Yes, the sweet-natured dog would be just perfect for the apartment life, if you can ignore the fact that they bark suddenly and sometimes for no reason. They are sober and docile, do not show aggression unless they are left alone, and can be managed to live within the small space of the apartment happily.
More: