Leopard geckos the small lizards that belong to the family of reptiles have been a very popular pet, as they are kept in many households. Even they are preferred pets by the beginners who hardly know how to pet a reptile or who are still learning how to do so. As a responsible owner, you should be careful with your pet lizard and should know what is right or wrong for them.
Nowadays pets are becoming a very important part of the family, so people do not like to keep them back and want them also to travel around. So in this article, we will discuss can a leopard gecko travel in a plane or not. This has been a very important question for the owners of the leopard gecko who do not want their pet lizard to stay at home while they are travelling.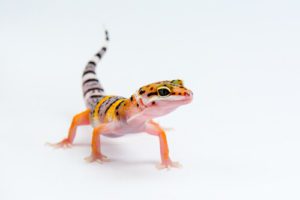 Can leopard gecko travel in a plane?
Many people have a doubt regarding this question, whether they can take their lovely pet lizard leopard gecko along with them on the plane or not. Well, the answer to this question is yes. Yes, your leopard gecko can definitely travel on the plane. But not all planes allows carrying pets or reptiles, especially in planes.
But some of the plane companies definitely allow it and that is good news for the owners of the leopard gecko. As they can take them along with them where they want to. But there are certain rules and regulations that needed to be followed while taking your leopard gecko on the plane.
How to travel by plane?
The airlines definitely take most of the reptiles including the leopard geckos with them but they will not travel with their owner instead they will be taken as cargo. While travelling by cargo you should use an airline-approved carrier for your leopard gecko. This travelling through cargo can be expensive but is worth it.
As your pet lizard will not be stressed and can travel comfortably on the plane and there will be no hassle. Even you will be tension free as they are not left alone at home but are travelling with you. With you in the plane does not mean that they will be in the passenger cabin instead they will travel in the cargo separately in the cargo that is approved by the airlines. All the rules and regulations or the guidelines that are mentioned by the airlines should be followed carefully for hassle-free transportation.
Whenever taking your leopard gecko on the plane remember the following points for hassle-free transportation:-
Appropriate carrier
While taking your leopard gecko on the plane keep in mind that you need to take the approved carrier by the airline for your leopard gecko because only then you will be able to make them travel through the plane.
The size of the carrier should also be appropriate for them or you can say spacious enough so that they can easily move inside and also they can breathe properly inside the carrier. Also do remember do not use a very large carrier because in this situation there are chances that they can get hurt so choose an appropriate size of the carrier for your leopard gecko.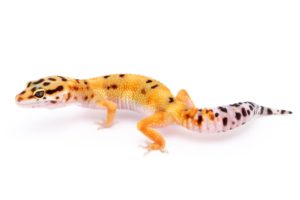 Proper labelling
The carrier that you are using should have proper labelling done on it. The important information such as live animal and keep it at room temperature should be carefully visible on it.
Also, another important detail should also be printed in large letters on to the carrier that you are suing for the leopard gecko. The details such as your contact number, address and contact details should also be mentioned so that if any problem occurs you can be contacted directly.
The temperature of the carrier
As we know that the leopard gecko needs a warm and cool region inside its enclosure so be sure that the temperature inside the carrier should be around 27 degree Celsius so there is no problem while travelling.
This temperature is the temperature that is in the middle of a warm zone and a cool zone which makes this temperature appropriate for the travelling purpose for your leopard gecko. The leopard gecko will be comfortable while travelling at this temperature and the chances of getting sick and even getting stressed will be low at this temperature.
Keep calm
While you are travelling do not panic keep your calm and be well organised as this will ensure hassle-free transportation of your leopard gecko. You will notice that your pet lizard will be stress while travelling through the plane, so be calm and make sure that they are comfortable inside the carrier.
While you are doing the packing, make sure to pack your pet in the end when you are ready to leave for the airport. Try to go for the flights that are direct and you do not have to switch flights as this will not stress your pet much and even you can travel peacefully without any issues. In this whole process of travelling, you need to be calm only then you can make this work and also help your pet not stress much and even if they are trying to understand their conditions and care for them.
These points should be kept in mind for safe travelling and also hassle-free travelling of your leopard gecko. Try to be well organised before taking your leopard gecko on to the plane and plan everything, so there is no problem at the time of travelling. Your leopard gecko will be safe if all these points are kept in mind and even you will be kind of stress-free.
Note: Prefer not to take your leopard gecko for many plane trips as this can be very dangerous. As they can get sick or in some cases you can even lose them. Try to avoid plane trips as much as possible and do not take them for long plane trips as this can stress them too much. You can take them for short trips like to visit a vet or if there is some sort of emergency and you cannot leave them alone or with someone else. So try to not force too much travelling on to your pet as this is a dangerous practice for them.
Conclusion:
As we know that the pets are an important part of the family so we make sure to take them along with us. So we need to make proper arrangements for the leopard gecko before taking them on a plane and also be aware of the fact whether that airline will allow your pet in it or not. Read all the information carefully before boarding the plane and make sure that your leopard gecko is healthy enough to travel on the plane. Make sure of every arrangement beforehand for hassle-free travelling. Take care of your leopard gecko after the travelling process is over because they are stressed out and they need your love and care to overcome this stress. You need to be supportive and try avoiding the plane travel for the leopard gecko as much as possible because it can sometimes be fatal too.
More:
Best 5 Leopard Gecko Cave and hideout
5 Best Thermometer / Hygrometer For Leopard Gecko