Anole is a lizard that belongs to the family of the reptile and are amazing pets even for the first timers and also for the children. The best thing about these green anoles is that they are small in size, easy to maintain and are inexpensive. These animals are sensitive so you need to handle it with care.
You need to take care of their terrarium or enclosure in which they live so that they are able to live a healthy, happy and a stress free life. So you need to be aware about everything regarding the green anole, as they are quite active animals.
We will discuss about the care guide in this article and would learn how to take care of the green anole, so they are healthy and active while they are living with you and the life span of the green anole is 4 years and they can live up to 8 years or even more if they are cared properly.
Green anole Housing
You can house the green anole easily in small tanks or the terrariums and you can use 10 gallon capacity tank for a single or the pair of green anoles. But if you can provide larger tanks that is even a better option because the green anoles are quite active in nature so they need lots of space to roam around.
You should never keep more than one male green anole in one tank as they will be territorial in nature and can hurt each other while females can be kept together because they can get well with each other provided the size of the tank should be large enough and there are lots of basking spots and also plenty of hiding places for them.
The tank or the terrarium should be closed properly because the green anole can easily get in and out through very small places just by squeezing through very small places.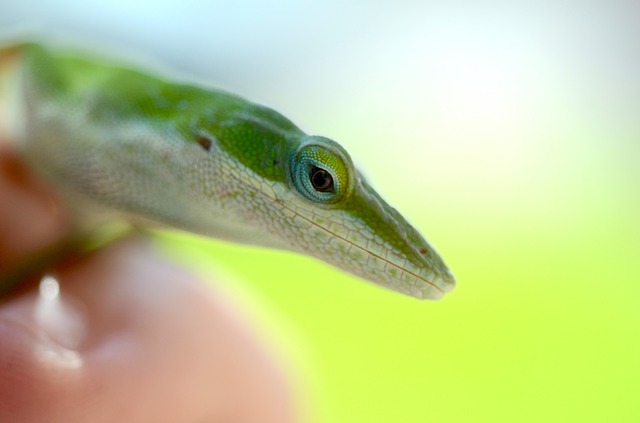 Everything inside the terrarium should be controlled like the humidity level, the temperature, heat and everything so they can live a comfortable life inside the terrarium.
It is recommended that the humidity level should be 60 to 70% and this can be easily achieved by misting inside the terrarium of the green anole. As we know that the green anoles are climbers so the height of the terrarium should be at least 18 inches so that they have enough space to climb inside the terrarium.
Basic facts about the green anole
The basic things that you should know about the green anole in order to take proper care of them are as follows:-
The green anole can even be pet by a person who is inexperienced in keeping a reptile as a pet.
The male green anole are dominant and territorial in nature as compared to female green anoles.
The green anoles are climbers and they love to climb, so you need to provide a proper height to their terrarium.
Anoles are known to change colours from bright green to brown, yellow or even grey and this depends on their mood, temperature and their surroundings.
The green anoles can live up to 4 years on an average but can even live up to 8 years or more depending up on the care that they are getting.
The green anoles can grow up to 20 cm. which is approximately 8 inches in length.
These are some common things that one should know about the green anole before keeping it as a pet, so that you should know what you are getting into and what type of pet you will take care of and bring home.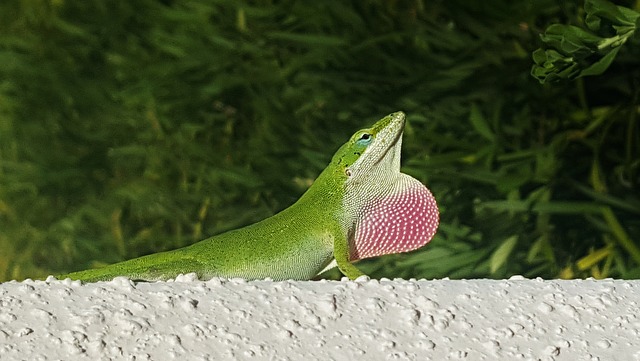 Substrate for terrarium of green anole
In the terrarium of the green anole you can use the substrate of peat moss and also the soil that can include or not include a layer of bark and this is considered as the best substrate for the green anole.
Do not ever use the substrate that is oily in nature or are scented like the wood shavings and all and also do not use the substrates that are quite dry in nature like the sand, they should be completely avoided. The live plants also be included in order to maintain the humidity inside the terrarium as the substrate is moss and that also needs moisture to stay fresh.
Eating habits of the green anole
Green anoles basically loves insects and are considered as insectivorous in nature. They crickets are generally included in their diet and meal worms, wax worms and other sorts of worms are given to them as treats once or twice a week.
You should feed 2 to 5 crickets on a regular basis depending up on the age of the green anole and it is advised that the insect which will be fed should not be more than the half as big as the head of the green anole. You should also dust the food for the anole with calcium supplement so that they are not calcium deficient and this should be done once a week.
Tips: Here is what to feed to anole
For water the green anole should be provided with a shallow dish as they drink water by licking it, so shallow dish is recommended and also you should change water daily and give them fresh water. As water not only quenches their thirst but it also helps in maintain the moisture in their body and also in the surrounding environment.
Heat and Lighting
For the green anole or rather in case of any reptile heating and lighting is very essential as this plays a very important part in the life of the green anoles.
The green anole has to perform various activities such as metabolic activities, digestive process and many other processes takes place under the presence of heat and lighting, so we need to provide appropriate amount of heat and lighting to the green anole inside their terrarium, so that they should live a happy and a healthy life.
We recommend a thermal gradient from 75 to 80 degree Fahrenheit during the day with a basking spot of 85 to 90 degree Fahrenheit. We recommend to read this guide on how to choose the best light bulb for anole.
So to maintain this temperature gradient under tank heating devices and basking lights need to be provided inside the terrarium of the green anole.at night the temperature gradient can drop than the required one so you can also use ceramic heating elements, heating lights, special night heat lights, etc. so that the appropriate temperature is maintained also during the night time inside the terrarium of the green anole and they are warm enough.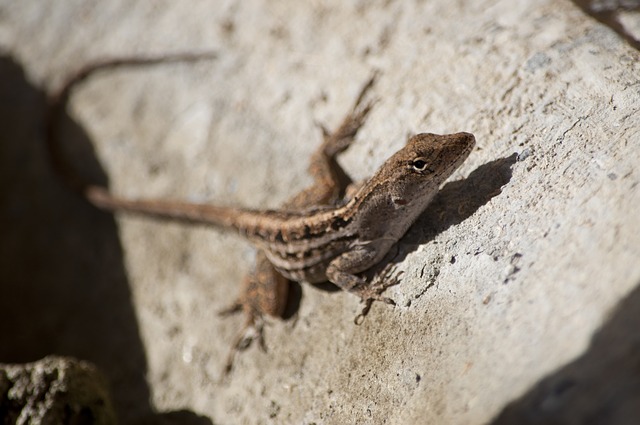 You can also provide basking lights that provides a full spectrum UVA/ UVB light for approximately 10 to 12 hours per day. These lighting will help them to absorb calcium and can prevent the green anole from developing metabolic bone disease which is caused due to the deficiency of calcium in the body of the green anole.
You should be careful about the lights as there should not be any sort of blocking in the path of the light and it the lights are not working fix it or change the bulbs. So be careful with all these things as you cannot take risk with the heat and light that needs to be provided inside the terrarium to the green anole for their well- being and comfortable life.
How to handle green anole?
The green anoles are sensitive and also quite active so we need to handle them gently and do not be rough with them while handling them. They love to climb on to the shoulder or the hand of the owner as they feel comfortable like this and they do not like tight human grips. It is also said that their tails are very sensitive and can even break easily if not handled properly or with care.
So it is recommended to handle the green anole quite less and even if you want to hold them the touch should be very gentle and soft so that they are comfortable in your grip and they do not try to escape away from you.
As in the process of escaping the grip can become tight and you can even hurt your lovely pet the green anole. After holding a green anole in your hand or some other person is holding it other than the owner so do wash your hands with the anti- bacterial soap.
Do not ever rush to handle the green anole if it is new to your place, give it some time to settle down and be familiar with the place and then try to handle it and try to build a bond with it and take time to understand your anole, only then you will be able to handle your anole nicely without anything to worry.
Tips for keeping the green anole healthy
The tips for keeping your green anole healthy and free from diseases that needs to be followed by any owner of the green anole are given as follows:-
Firstly you should know everything possible about the pet you are owning.
Try not to handle the green anole when it is new to its surrounding.
Do observe things like skin shedding, discolouration of skin.
Need to understand the reason behind the swollen joints, discharge from eyes, nose or even mouth.
Take immediate action when the green anole is having running droppings and that also more than 2 days, or is eating or drinking less which results in weight loss.
Do notice things like the green anole is avoiding the basking spot and is spending more time in the hidings, it needs your attention at that time.
If you have no idea about some unusual is happening to your green anole or something very serious has happened to it so it is recommended to contact a vet.
The unusual behaviour or there is some sort of body deformity in the green anole that is growing with time needs to be detected as early as possible so that you can treat them properly.
All this can be done while keeping the green anole under proper observations and understanding their body behaviour and be careful with everything that you are feeding the green anole with. Any disease is detected the best option is to contact the vet or you not understanding what to do in that case also the best option is to contact the vet.
As we know that the green anoles belong to the family of reptiles and are basically found in Southern United States and various other place. They usually prefer places with high humidity so we also need to provide an appropriate humid environment inside the terrarium of the green anole so that they can stay comfortably inside it and they feel that they are living in the natural environment.
The green anoles love climbing so it is recommended to introduce live plants that are non-toxic and harmless to the green anole inside their terrarium.
Summary
Keeping in mind what is a green anole and what your green anole needs, you will clearly understand how to take care of a green anole. As discussed above in this article the green anole, needs lots of care and attention from their owner in order to stay healthy and happy with a stress free environment.
You should be able to develop a bond with your green anole and once you will start understanding your green anole things will become simple to handle and even your green anole will not cause much problem to you.
The green anole is an inexpensive animal to be kept as a pet, but it needs a lot of care and attention so be sensitive towards its needs.
The green is friendly when it has developed a bond with you and they will not take you as a threat and they will love your presence and will even be comfortable by your handling. The terrarium should be spacious enough as they love to roam here and there and also with appropriate height should be given to the terrarium as they love to climb.