Green anoles and brown anoles are both small lizards that belong to the specie of reptiles. Both the anoles are known for perching on trees. But brown anoles are kind of more aggressive in nature as compared to the green anoles and that is why they bully the brown anoles.
Due to this bullying nature of brown anoles, the green anoles are found at a higher level of trees. Due to this reason, you cannot even house them together as brown anole will be bullying the green anole and the green anole will be stressed out because of this reason. Both the anoles are unique in their own way.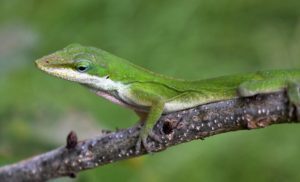 Green Anoles
The green anoles are small-sized lizards and also a love of beginners who know that they are easy to handle and inexpensive to maintain. You need to take care of their terrarium or enclosure in which they live so that they are able to live a healthy, happy and stress-free life. Green anoles are active in nature and the male green anole is dominant or territorial in nature.
The life span of the green anole is 4 years and they can live up to 8 years or even more if they have cared properly. The green anole is also known as the American chameleon as the green anole can change colour, but it is not actually a chameleon. The green anoles basically change colour due to the change in temperature, humidity mood and health.
The green anoles are found in South Eastern United States i.e. Southern Virginia, Florida, West and Central Texas and Oklahoma. Also, they have been introduced in Hawaii too. This means that green anoles live in places where the humidity is high and also be found in places like swampy areas, forests, beaches with woods and also the areas where there are trees. The green anoles love the warm and humid climate and that is the reason they are also found basking in the sun while perching on trees or small plants.
The green anoles are friendly in nature and they usually feed upon insects like crickets, worms, spiders, flies, moths, butterflies, slugs, termites and ants. They also eat fruits like apples, berries, pears, mangoes, etc. They enjoy their food and basically, they are insectivorous in nature. They drink water from dew or mist that is found on the leaves of the plants or trees. An overall green anole is a great option for keeping them as pets because of their low requirements.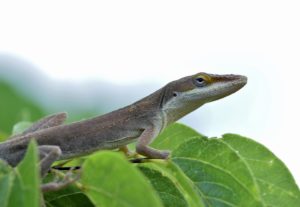 Brown anoles
The brown anoles are usually found in Southern Florida and also in coastal and Southern Georgia and are diurnal and terrestrial in nature. They are generally known for their calm nature and are not much aggressive. But like any other reptile pet brown anoles also need the care and love from their owners.
They are basically small in size and are brown or grey in colour. They can reach a length of 9 inches and the tail is comparatively longer than their body. Like the green anoles, brown anoles also do change colours. The brown anoles can live up to 5 years in their wild habitat and up to 8 years in captivity, as they get proper care and maintenance inside the captivity.
As the brown anoles are from the tropical region which means that the humidity required by them is quite high so the humidity inside their tank should be maintained at 70% or even above. You can do misting in the tank of the brown anole at least 2 to 3 times a day in order to maintain high levels of humidity inside the tank of the brown anoles. So the humidity is a very important factor in the life of a brown anole.
The brown anoles are insectivorous in nature they eat all sort of small insects like worms, spiders, eggs of other lizards, aquatic animals like fishes, etc. These are various food items that are eaten by the brown anoles. Brown anoles are calm but they are known for bullying the green anoles as they are territorial in nature. Brown anoles are also a good option for keeping them as pets because they are easy to handle and maintain.
The green anoles and the brown anoles are small lizards that are active in nature and also cute looking. They are similar in some conditions and also vary in some ways.
So the green anoles and the brown anoles are also the most preferred pets because they are easy to maintain and handle and also are inexpensive.
Green anoles and brown anoles love jumping and moving here and there and are found perching upon the trees as they have to bask in the sun so they find a high point in order to find the proper sun. The anoles should be handled with care and this is how they will trust you and enjoy your company.
More:
What Do Baby Brown Anoles Eat?
Why Do Green Anoles Climb Trees?