In this guide, we will discuss how to care for your brown anole as they do need love, support and attention from their owners. The brown anoles are active little lizards and to take care of them is not a difficult task you can handle them easily without any hassle.
How to handle the brown anole?
As we know that brown anoles are very active in nature which means that it is not easy to handle them. So hold them slowly and do not panic as they keep on jumping from one place to another. You need to first build trust and then they will let you touch themselves.
The brown anoles will then easily come closer to you and let you touch them and they will also feel comfortable in your presence. In some cases, they will even crawl through your shoulders, when they will be aware of the fact that you are harmless to them.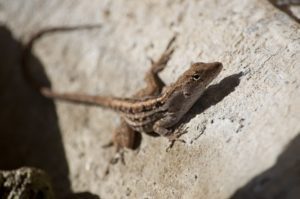 Housing for the brown anoles
The brown anoles are not too big in size so a tank or terrarium of a minimum of 10 gallons is sufficient for them. But if you want to house more than one brown anoles than you can increase the capacity of the tank by 5 gallons for every single brown anole that you will add up inside the tank.
The reason to increase the size of the tank is that so the brown anoles do not fight with each other and they have ample space to move around and also have personal space from themselves without being disturbed. The brown anoles are quite active in nature so that is why they need lots of space in order to live a happy and comfortable life.
What is the diet of the brown anoles?
The brown anoles should be fed with insects or worm because they love to have them and also it is healthy diet for them so without any sort of fear you can easily feed them with insects or worms.They are usually fed with crickets and mealworms. Refer here for the full guide on feeding.
In order to provide the brown anoles with lots of nutrients you can add supplement in their diet so that there is no deficiency of minerals or vitamins in their body. You can provide the supplements to the brown anoles in the following 2-methods that is easy to follow:-
Dusting: The dusting is one of the easiest method of adding supplements of vitamins and minerals to the diet of the brown anole because you have to just dust off them on the insects so that they can have it. This process of dusting is so simple you just have to sprinkle these supplements on to the insects or worms that you are about to feed to the brown anole so that they can eat it easily from the bowl itself. The dusting is the most common method that is followed by many people because of the ease that it offers.
Gut- Loading: The gut- loading is also the method that is used for adding supplements to the diet of the brown anoles. In this method you need to feed the insects with supplements 24 hours before you are about to feed it to the brown anole. This method provides more vitamins and minerals to the brown anole than the dusting method. It is a little bit time consuming but it is worth the try. Many people prefer this method because it provides lots of nutrients to the brown anole.
You need to feed the brown anole with lots of food when they are young because they need lots of energy to grow up.
When they grow up you should feed them a little and not so frequently as you feed the younger brown anoles. Make sure their diet is good and healthy so that they can also grow up in to a healthy living being.
The brown anole is an amazing pet and you do not need to take much care but rather you need to understand them and spend time with them for their well- being.
Also check How Long Can Anoles Go Without Eating?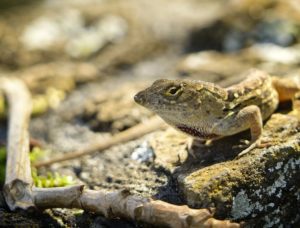 Substrate for the brown anole
You can use a substrate that is soft, non-irritant, non-toxic and does not hurt the brown anole in any way and also is easy to clean. So the paper towels, newspapers, soil used for potting and some commercially safe substrate for reptiles can be used.
Also do not ever use the harsh substrates like coconut fibres, wood chips, etc. as they can be very harmful to your brown anole if they will eat it by mistake. So be very careful while choosing the perfect substrate for them.
Heating and Lighting for brown anoles
You have to keep a temperature of 85 to 90 degree Fahrenheit at the top and the temperature of 75 to 85 degrees Fahrenheit at the bottom. We have listed the Best Light Bulb For Anole here.
Also, the temperature inside the whole tank at night should be around 65 to 75 degree Fahrenheit respectively. This is the apt temperature for the survival of the brown anole. You can use a heat bulb or a ceramic heat emitter in order to keep the appropriate temperature inside the terrarium of the brown anole.
As we know that the brown anoles are diurnal in nature which means they are active during the day time. So you need to install a UVA/ UVB bulb inside their tank to provide them with light similar to sunlight for at least 12 hours a day. During the night time, you can also use a night- specific bulb that will provide the appropriate amount of light to the tank of the brown anole without disturbing their sleep.
Humidity
As the brown anoles are from the tropical region which means that the humidity required by them is quite high so the humidity inside their tank should be maintained at 70% or even above.
You can do misting in the tank of the brown anole at least 2 to 3 times a day in order to maintain high levels of humidity inside the tank of the brown anoles. So in order to make your brown anole live a healthy and happy life inside the terrarium, you need to keep high levels of humidity inside their tank as this their natural requirement and is also one of the most important factors in the life of a brown anole.
How can you keep your anole healthy?
You can do various things to keep your anole healthy and comfortable inside their terrarium and some of the ways are listed as below:-
Do not try to over handle the brown anoles, especially the new ones, until they are used to you and also the place.
You need to supervise children and also people who do not have much knowledge of the brown anoles.
Do observe them carefully and watch out if there is some kind of behavioural change.
If your brown anole is too sick and you have tried everything to cure them and still they are not recovering, it is better that you consult a vet.
Provide them with a large spacious enclosure so that they have ample space to move around and they are not stressed because of small space.
Feed them with healthy food especially feed them with crickets as they are highly nutritious and also very healthy for your brown anole.
You should maintain an appropriate temperature and humidity inside the terrarium of the brown anole so that they are comfortable and also they will not have any sort of disease if they will get perfect temperature and humidity.
Do not disturb the brown anole much as they love the calm and quiet place.
Provide various plants inside the terrarium of the brown anole for the climbing purpose as they love climbing and also for hiding purpose.
You can use various bulbs, heating devices, misters, thermometers, etc. inside the tank of the brown anole to create a friendly environment for them inside their enclosure.
These are some of the ways that will help you to keep the brown anole healthy and happy.
Summary:
The brown anoles are cute little pets and do not require much care. As their care is less but as a responsible owner, you should provide them with all sorts of basic requirements. As caring for your brown anole will help in increasing the bond between you two and you will enjoy each other's company. You will love to see your brown anole is happy with you and is living a healthy life inside the enclosure.
More: