The crested gecko is also known as the eyelash gecko because they have eyelashes, unlike other geckos that do not have eyelashes. The crested geckos are nocturnal in nature which means they are active during the day and are inactive and are prefer to stay in hiding during the night time.
The crested geckos are arboreal which means they love to climb trees and also this leads to the fact they have a tendency to escape or to come out of their hide.
Therefore, they can even get lost if they are not kept under proper observations and also it can be a task for you to find a lost crested gecko. In this article, we will discuss how we can find a lost crested gecko and what steps we can follow to make our search worth it.
Where to start searching a Lost Crested Gecko?
To find a crested gecko can be a tough task and you can be confused about where to start. Sometimes you can get lucky and find the crested gecko easily and sometimes it can be too tiring and still you will not be able to find your pet lizard. So you can just start with the places where you have kept the crested gecko inside the enclosure and then you can go searching the nearby places.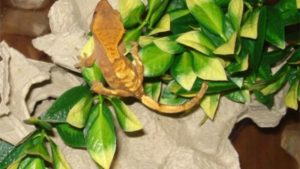 Search in specific areas
Once you are aware that you have lost your crested gecko or it has escaped from captivity so do not panic and start searching in places where the crested gecko has escaped. Try to minimize the area and also be specific in searching the crested gecko.
So the places where a lost crested gecko can go would be generally placed near to their terrariums, near to the vents, doors, windows and also various passages. Try searching for your pet in these areas first and then go on to looking in different places. You can also block the different escape passages for the crested gecko with different objects so that they do not go anywhere and everywhere in the house and it becomes difficult for you to search them.
Understanding with the crested gecko
You need to understand the behaviour of the crested gecko and then go according to their lifestyle, behaviour and also what type of preferences do they have for habitat. In this way, you can figure out the place where you will find your crested gecko according to their preferences.
They would usually go to places where they will be comfortable or where they will be able to escape. So be calm and patient and then try to search for your crested gecko.
Look for the signs
Try to follow the trail and observe the place carefully you can find clues such as gecko faeces, urates on the way and even skin shedding can be found. Look for these clues and follow the trail you can find your lost crested gecko somewhere near. Find the place properly where you can find the clues.
Also if there is some change in the location or the direction of the object that may be kept in their way then also you can locate them although it is a rare case as the crested gecko is not so big that they will move the objects, if sometimes it happens you can see for that too. Also, look for the path that the crested gecko is most likely to take for escaping or moving out of the cage and then follow that trail in this way you can search the crested gecko very fast.
Understand the behaviors
As we know that the crested geckos are nocturnal in nature and love climbing so we can be aware and also observant during the day as they are most active at this time and usually they will try to escape or will get lost at this time. You need to be careful with them during the day. If they just in case escape from the tank, try to see the walls carefully and check whether they are on the walls or even the ceilings.
They can also hide inside the cabins, bookshelves, kitchen cupboards or bathroom shelves. They are most likely to be found clinging vertically on something than on the floor. So be aware of these things and do not miss the curtains, cabins, panels, etc.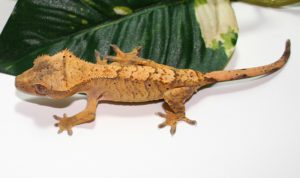 What to not Do while searching Lost Crested Gecko?
Whenever you are searching for your crested gecko please do not panic, try to be calm and figure out the way how you can search your crested gecko and what are the places where you can most likely search them. Try to clear the thoughts without being stressed.
Also when you are trying to capture the lost crested gecko do not hurt the pet and slowly and gently capture them. When you try to hold your lost pet it should be a soft and gentle touch so that your pet is not scared of you as this may even stress them. Try not to hurt them and be calm with them. Do not grab them from their tailor limbs as this can stress them and they can also get scared of you and they will try to run away from your grip. So always be careful while trying to find them so that it should not harm and also should not harm your pet.
Conclusion
The crested gecko is a small lizard so if once it is lost it is quite tough to find them. So be calm and also observant in order to figure out that where your crested gecko might have gone. Do not panic and follow the various steps that can help you in finding your lost crested gecko.
You need to understand the crested gecko and its behaviour as this will make searching the crested gecko easy. Also, be observant and look for the clues around and try to locate your crested gecko. You can find the crested gecko by being aware of them and their behaviour. You also need to be calm after you have found them and when you are trying to capture them again be gentle on them and do not hurt them not even by mistake.
More:
What Are Safe Fruits For Crested Geckos?