Crested geckos are one of the famous pets for the ones who love to adopt reptiles. These are some of the easily maintained and well-behaved pets that are loved and adored for their exotic look as well as simplistic lifestyle.
Keeping crested geckos at home does not only concern the pet owners regarding their diet and physical comfort like the best setting in their habitat etc. The nature of the creature and sometimes when it is not behaving the same way, also makes the owner equally tensed.
One such condition is, no movement of the crested gecko for a few minutes or longer time span. There are several reasons and consequences that make this condition happen, which we will discuss now.
Why my crested gecko is not moving from the floor?
Though crested gecko loves to climb the mesh-wired walls of the cage and often they climb upon any higher places like the basking rock or the artificial foliages, sometimes the owner suspiciously finds them lying on the floor for a long period.
This can be caused by the humidity. If the humidifier is not working in the terrarium or else the general weather outside is dry, then the crested gecko may lie down on the substrate on the floor to get some humidity. This is a natural instinct as they do this when they are in the wild. They find the ground to be more moister than the treetop, so lying down on the floor may provide them some humidity.
Why the crested gecko is staying still in a spot for some time?
This is actually the expression of hiding. Hiding is one of the favorite activities of the crested gecko. They hide in some secured spot in the wilderness when they are trying to catch some insect or they find some predator around them. They stop moving to keep themselves safe or to gather food for the day.
Also, crested gecko loves to stay hidden for some part of the day. They are quite private creatures and they wish to stay hidden when no one or even the owner will track it. Within the trapped enclosure, such options are rare, and thus they stay around the foliages or any corner of the terrarium, motionless.
Does crested gecko play dead?
No, it is not a very normal situation. Though this is a common habit among various other reptiles, playing dead is not the usual habit of the crested gecko.
Usually, this playing dead is a kind of defense mechanism which we see in some reptiles. When they are in their natural habitat, they act like the dead when faced with some predators. They get saved this way many times as the attacker thinks that this creature is dead and then it does not touch the reptile.
But this system does not work for the crested gecko. They try other methods like hiding but never play dead. What can cause confusion is their state of lying down with their eyes open. This situation seems pretty threatening for the owners who are adopting crested geckos for the first time.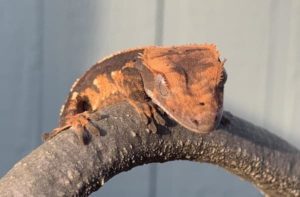 How do you know that the crested gecko is dying?
Do not be frightened if the crested gecko is not moving for some time. But it can be somewhat serious when it is not even responding to your touches. After you see it not moving for some minutes you can open the terrarium top and try to touch the creature. If it does not move or respond anyway to the touches then it can be in some serious condition.
Other symptoms like dull eyes and dilated pupils may indicate that your crested gecko is not very healthy. You should keep a check on the pet when it is showing such a condition. If the crested gecko lays still after all these symptoms are seen in it, then you must be cautious about its condition.
Can a crested gecko stay still if it is dehydrated?
When you find your gecko is undergoing the phase of dehydration, then you must take special care of the creature. Also at this condition, if it stops moving then you must take it to the vet to get it treated.
Now we may like to inform you about how you will decide that the gecko's skin seems to be wrinkled and you can feel its skin be dry and dull when touching or petting it.
Along with that, its eyes seem to be sunken and the gecko always seems to be lethargic, not moving the wall at all. These are the symptoms of dehydration and it may lethal when you see the gecko lying still in this condition.
Also read: Crested Gecko: Humidity Too High?
Is your crested gecko hiding and staying still for too long in the terrarium?
If your crested gecko is not seen for an hour or so and then this habit is repeated once in a few days then do not panic. If it is eating its diet in regular time and in regular amount, and pooping usually then it may be its habit to stay hidden for some times.
Sleeping through a long part of the day or just relaxing in some unseen part of the terrarium is much normal for the crested gecko. They do not like much company and thus they will not find it exciting if you enter your hand again and again inside the terrarium to find it.
Can anxiety cause the crested gecko to not move for some time?
Getting stressed easily and often is one common problem for crested gecko owners. Those who have experience in adopting crested gecko know that this little creature may find quite a few things to intrigue them and they react in a morose way.
The change of atmosphere, which is often caused by the lack of good temperature, uncomfortable substrate, poor or different food, presence of some other pets or another crested gecko near its terrarium or within it, sudden and loud sound or light, and many more other reasons.
These are pretty sensitive and peace-loving creatures that need their own space. If the surrounding changes to some extent then it can feel stressed and eventually it will lie down on the substrate for some time, without any movement. You need to give it some time and it will move on its own. If the time gap gets too long, then you can try to touch it by entering the terrarium.
Is sickness a reason for the crested gecko's lack of movement?
Yes, sickness can be very much the reason that the crested gecko is not moving for some time. If the owner is not much vigilant of the pet, then he or she may not be able to locate the symptoms of its various illnesses. The glisten of the skin and eye, as well as the movement of limbs, may become slow, and that will indicate that the crested gecko is suffering from some illness for some days.
Only after a period of such symptoms, may you see that the crested gecko is lying motionless on the floor of the cage. If the behavior is repeated for some days consecutively and time is getting lengthened then you must get the pet checked by a vet, to cure it of the severe condition it is going through.