To keep a pet, you need to be aware of its habits and be alert of its sicknesses. Anoles are generally found in tropical regions where the food is ample and they search for food on their own.
Anoles are a cute small species of reptiles which are pretty famous for being an excellent pet. There are mostly two kinds of anoles are available which are brown and green. Both the types are famous among pet owners and they are easy to maintain.
When you are keeping one at home, you need to be sure, that if the anole is not eating properly what dangerous outcomes can be faced by the little creature. Comforting it out of its ailment is another part of its looking after the procedure. So here we will be discussing all the necessary things that you should know about the food habit of anoles'.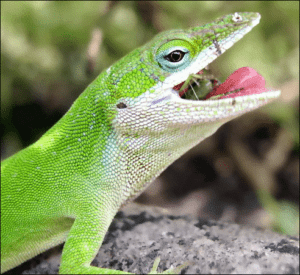 What is anole's food?
This reptile is insectivorous so anoles love to have insects. Crickets are their favourite insect and these are easily available too. Multivitamin powder and calcium supplement should be dusted on the crickets to make it nutrient-rich and keep the anoles healthy.
Mealworms and wax worms are also available from the pet supply and you can provide them as treat to your anole. The regular meal should not consist of these worms as they contain a good amount of fat which will harm the anoles in the long run.
Do not feed stray insects randomly as they can contain pesticides if you apply it on your garden. Also, insects that roam in the open area may contain mites or bacteria which can harm the anole. You should get the insects from pet supply to make sure that your pet is having the best quality food.
Keeping a water dish inside their terrarium is required. This will help the anole to drink water when they feel the need for drinking.
Do anoles only eat live food?
Anoles are hunting creatures and they live on the prey insects. So you must arrange for live insects like crickets. They do not usually like frozen or dried insects. You can gut load the crickets or dust them with calcium powder to make them more beneficial for the anoles.
Why did anole stop eating?
While you are busy with your hectic schedule, you must know that the anole is eating its food or not. It is not possible for a pet owner to keep an eye on the anole always, but when you are removing the uneaten food, you must make sure that the amount is really less.
If you find the amount of uneaten food is very much similar to the amount that you have given in, then there is something wrong with the anole's health. With the loss of appetite, there can be more problematic symptoms. If it is continuing with the starving process, getting lethargic or not moving at all, then you should check it with a vet.
Non-eating of food also happens when the anole is stressed due to some reason. The stress can be triggered by various actions.  When it is brought newly to a place, or it is being handled by too many people, it can get stressed.
Also when the weather is too cold, or the temperature within the terrarium is not right, then it will get stressed and stop movements as well as eating food. Not only because of cold, because of too much heat, but it can also get stressed and may feel unwell.
Humidity also plays a role in the well being of the anole. When the air is too humid or too dry it can cause difficulty and the anole can stop eating.
When the environment is too harsh for the anole, it will impact the reptile and its hunger will decrease. The terrarium should be kept in a stable position and the place should not be changed frequently. The constant movement of the terrarium or shaking of the cage will result in the stress of the anole.
When you have started the anole a new diet then also it will feel stressed and may not like to eat the new kind of food. This is another occasion the anole will stop eating. This is a common incident for the anole owners as to when they try to feed the anole packaged food, it goes through a hard time, as anoles do not take any change in their diet easily.
During the period of brumation, anoles eat less, but for some anole's case, they may stop eating. This is not a freaking situation as this gets over when the brumation period is finished.
How many times do you feed anole in a day?
Anoles need to be fed once to twice depending upon the amount of food it can intake every single time.  There should be two to five live crickets in their daily diet. You should try to give them the food in the evening as they are nocturnal creatures and the food eaten in the evening will keep them energized.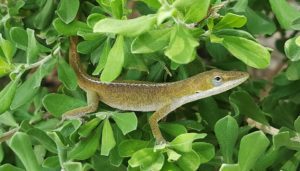 How long does anole survive without food?
The period length of survival of the anole without any food depends upon the size and maturity of this reptile. Also, the health condition of the creature plays an important role in this time. A mature anole will do better at surviving without food than a baby anole.
It has been seen that a healthy and matured anole can manage to survive without food for nearly two months, which sums up to 8 weeks. This is actually an amazing incident but it is possible due to the certain physiological changes in the body of the anole.
The anole can adapt to different situations. When it is not getting food, the metabolism of the anole reduces in the large amount. It vents the least amount of energy. The stored fat in their body starts getting used to fulfil the need of energy due to the catabolic process.
So these two physiological processes help the anole to stay alive for days without food.
Why a mature anole can survive better without food?
The reason that a mature anole can survive longer than a baby one is that they have the fat deposited on their body. The stored fat makes their body look huge and also it provides them with energy when they are not eating on regular basis.
Also, the immunity system of a mature anole is much stronger than that of a baby anole. Immunity system lets the anole live healthily without eating the food. A baby anole takes time to get that much immunity in it.
Conclusion
Anoles are docile creatures and you will never see them attacking unless you are keeping tow male anoles in the same terrarium. Keeping them in good health is our responsibility. While keeping pets, we often forget that they have their share of mood swings, likings and disliking, good days and bad days. So keeping them healthy as well as happy and stress-free is a mandatory thing.
They are wild creatures and they are used to with living a free life. When you are keeping them in the enclosure, all the parameters like good environment, good food and adequate temperature are required to be maintained. This way an anole can live a healthy and long life in the terrarium.
Want to read More?