The crested gecko is a small lizard that can be handled easily without much hassle, but still, you need to be careful while handling them so that they can be comfortable in their captivity.
So in order to handle them carefully, you need to approach them in a certain way in order to make your crested gecko comfortable and also so that they can trust you. In this article, we would discuss how we can handle the crested gecko and also all the things we should keep in mind while handling them. The crested gecko is one of the amazing lizards from the family of reptiles that have a unique feature of eyelashes.
How to handle the crested gecko?
The crested gecko should not be suddenly approached before handling because they can get scared and will not be interested to come to you and neither they will be comfortable coming near to you.
If the crested gecko is new to its captivity so let them settle down and it will take around 2 weeks to adjust to their surroundings, the things around and even the humans. So do not force yourself on them and be calm with them. When they have been quite familiar with their surroundings then also handle them only once a week and that too while cleaning their tank.
Rest do not try to touch them not even by forcing yourself on them. Once you feel that they are completely comfortable inside the tank and are also eating properly and is growing and gaining appropriate weight you can then try to handle them. But still, be careful and handle them slowly not suddenly because this may stress them a lot and in some cases, they can also hurt themselves because they can get too scared.
Steps of handling the crested gecko
The steps that are involved in handling the crested gecko are easy and you can follow them so that you can easily handle them and even they feel comfortable while you are trying to handle them. The steps that are needed in order to handle the crested gecko are as follows:-
The first and the most important thing is that you should let your new crested gecko adjust to its new place and this might take some time. (a few weeks)
Babies should not be handle until they have grown more than 3 inches long.
You should place the tank of the crested gecko in the room that is enclosed so that you can prevent escaping of the crested gecko. There should not be any sort of noise in the room and the room should be calm and not many obstacles should be on the floor of the room.
Whenever you want to open the tank of the crested gecko do that slowly and do not drop the lid of the tank or make any sort of much noise while opening the tank. As your sudden movements may scare them and stress them and this may even lead to biting your finger.
Now after slowly opening the door you can now lower your hand in front of the crested gecko. Move slowly towards the crested gecko and do not make any swift movements as they will see these movements as a threat to them.
After observing for some time they will trust you and will believe that you are not any sort of threat to them and they will slowly come to your hand.
Do not forcefully grab them they will be very scared and in some cases they will drop off their tail and their tail cannot grow back so try to avoid such situations.
Now when the crested gecko has come on to your hand try to pick them carefully without dropping them and then take them out of their tank.
You can slowly keep the gecko back to the tank after cleaning the tank without any swift movements, just do all the things slowly and peacefully without any hassle.
Try to be very calm and patient while handling your crested gecko because it might take time for them to understand you and your gestures.
These are the various steps that will help you to handle your crested gecko properly without much problem or hassle as these steps are easy to follow and the only thing that you have to do is be calm and patient as handling crested gecko takes time and you should not panic while handling them.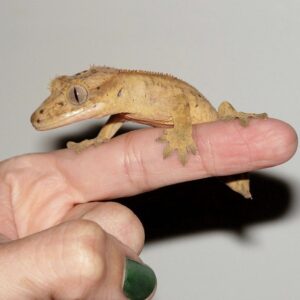 Things that you should keep in mind
There are certain thing that you should keep in mind while handling crested gecko so that no problem is created and those things are listed below:-
It is recommended to handle the crested gecko during the day when they are not much active because at this time handling would be easy.
Sit on the ground or the bed when the crested gecko tries to leap away as this will give you room to handle them nicely.
Also while you are handling the crested gecko make sure that you even check their health and weight and even see whether anything is wrong with them or not.
Approach the crested gecko slowly without any sudden movements.
Be calm and patient while handling them as they may take some time to get used to your handling.
These points are important and should be kept in mind so that you can handle the crested gecko easily and make them comfortable when they are with you and you both enjoy each other's company.
Things that should be avoided
The things that should be avoided while handling the crested gecko should be known beforehand so that you do not hurt them and these things are listed as below:-
Do not force handle your crested gecko as they will stress themselves.
Never let them fall over a height or on the hard surface as it can hurt them.
Do not be afraid when you are handling the crested gecko as they are rarely known for biting.
Do not make any sort of scary or sudden noises when you are around the crested gecko as this might scare them off.
These various points should be kept in mind so that you do not create any sort of problem for yourself or for the crested gecko because they can get scared quite quickly as they are kind of sensitive and can get hurt and sometimes they can get scared to death.
Conclusion:
The crested gecko is a sensitive animal so that is why they need proper handling and also so that no mishandling or problem occurs for any of you.
You can try to build a bond with your crested gecko so they are not scared of you and they can easily come to you and trust you. You should also be providing them with all sorts of things and care that they need because they are completely dependent on their owners. The crested gecko will be happy and satisfied if they are kept nicely inside the captivity and also they will be healthy if they are handled properly with keeping all the points and steps in mind that are discussed above.
More: