Guinea pigs are very vocal pets and can produce a wide variety of noises in different situations. But if you notice excessive noises from the guinea pig then there may be indications of some kind of problem in the cage or an impending health issue that a guinea pig is suffering. A guinea pig owner can get to know about their pet's feelings through their teeth also.
If a guinea pig is excited and in a happy mood, it will start chattering its teeth which signifies the enjoyment of the pet. But if a guinea pig is grinding his teeth, then it is an indication of something wrong is there with your pet. But what is wrong?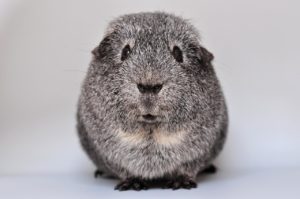 Grinding of teeth by guinea pigs is simply a sign of pain. They will show their discomfort by grinding their teeth if a guinea pig is suffering from any pain or dental issue. Another possible reason that could be possible behind grinding teeth is annoyance by the cage mate. The noise of grinding teeth is louder compared to other animals. One of the common reasons behind grinding is:
Ever Growing Teeth:
A guinea pig's teeth are unique as they don't stop growing especially their front teeth will continue to elongate I not properly checked. Their teeth grow and grow just like our nails, so it is important to have ways to keep their teeth at a reasonable length and grinding is the most common way. Grinding of teeth is common in guinea pigs but if this grinding goes severe ad loud then there would be problems behind this.
Reasons behind Grinding Teeth by Guinea Pigs
There may be several possible reasons behind the grinding of teeth by the guinea pigs. They may be due to health issues or due to discomfort in the cage. Here we will discuss every possible reason behind grinding.
1. Guinea pig grinding due to pain
First of all, you need to identify the pain that your pet is suffering from and cure the problem. To identify the type of pain you can identify by doing several tests. In such cases, you should wear a glove and be careful because the pig will not allow you to touch him due to pain and you have to handle him carefully as they may nip or bite you.
To check tooth pain: To check whether a guinea pig is suffering from any dental problem, offer him his favorite food. If he refuses to eat the food then there is the possibility of any teeth-related problem. Sugary treats are not refused by guinea pigs ever. Try to give them any sugary product.
To check the impact of muscle pain or injuries: For this, you have to check the limbs of the pet but he will not allow you to touch them anywhere. Make sure when they get relaxed try to make a move on their limbs and start by petting their head and back so they get relaxed. If they get any kind of finch and fleas then you may get your answer.
To check the possibility of urinary infection: There may also be the possibility of urine infection so in case you need to pay close attention to their waste. You have to test their urine for blood specks. Most of the time antibiotics give to cure the infection and sometimes oral pain killers are offered by the doctors.
Problems such as arthritis, and limb pain require long-term care and time so you should provide them supplements that will make them comfortable and keep them healthy at the same time.
Encourage your guinea pig to chew a good amount of hay and other things as this will help to keep their teeth trimmed naturally. Otherwise only a doctor can cure dental problems with their professional pieces of equipment.
2. Grinding due to stress
Stress can also lead to teeth grinding in the guinea pigs or maybe guinea pigs suffering from anxiety at the physical or mental level. If a guinea pig is stressed then it may get irritated from many small things like:
To be alone
Unexpected and loud noises neat to them
Presence of any predator animal
Any change in their routine will change their playing and feeding time
Unhygienic surrounding
Spending maximum time in the enclosure
Too much blazing light
Cramped temperature and insufficient light at their place
Boredom due to health problems
Excessive handling by humans
Dominance by other cage-mates
3. Grinding Teeth and not Eating Food
Many reasons are behind the grinding of teeth by guinea pigs but not eating food at the same time hints at many other problems like:
Bacterial Infection: A sick guinea pig refuses to eat food because its immune system gets weak due to a microorganism infection. In case they are not eating or drinking, they require intravenous fluids and syringe feeding.
Gastric Blockages: Guinea pigs also refuse to consume food and start grinding their teeth because of gastric as they are not able to digest their food.
Overgrown teeth: The growth of guinea pig's teeth continues till their life so they have to grind or chew something to keep their teeth at the desired length. In such cases, they have to grind their teeth regularly. If the teeth of the upper and lower row overlap then they may not be able to eat and suffer from pain too.
4. Grinding Teeth While Sleeping
Many guinea pigs grind their teeth while sleeping. This is the indication that they are self-pampering themselves and are very soothing and relaxed. This means that they are expressing their satisfaction and happiness enough to sleep lightly.
While the guinea pig suddenly drops down and falls asleep on the spot immediately, this indicates that they are murmuring.
5. Grinding Due to Pain Caused by any Surgery
Surgery can leave your guinea pig in pain for several days and, normally, guinea pigs grind their teeth whenever they are in pain. So it is okay if a guinea pig continuously grinds their teeth after two or three days of major surgery.
Health Issues due to Grinding Teeth
There may be an impact of grinding on the health of guinea pigs due to grinding teeth continuously. Following are some possible issues that may occur in your pet.
Lethargy: They become very lazy and dull and are unwilling to do the exercises, especially in the morning when a guinea pig is full of energy and enthusiasm.
Loss of appetite: In such a condition, guinea is refusing o eat and drink anything and it becomes a difficult task to feed your pet properly.
Lack of grooming: Guinea pigs are very clean animals but they refuse to groom themselves due to dullness and lethargy in them.
Avoid sleep: If guinea pigs are in pain they refuse to sleep properly and are awake most of the time. If they didn't take proper rest, they are incapable of dozing off.
Biting and Nipping frequently: As biting and nipping become frequent when they are handled by others because they can get aggressive easily and are less tolerant than before.
Avoid engagement with others: Guinea pigs are very social and friendly animals and love to play with their owners and cage-mates. In such a situation, they refuse to get engaged with humans and other pets.
Concluding Lines
Guinea pigs are very docile and friendly animals. Grinding is good for them as their teeth continue to grow throughout their life so they have to do the grinding to maintain the desired size of their teeth. But there are also several reasons behind the teeth grinding of guinea pigs. So it is necessary to take care and pay attention while the noise of teeth grinding going to increase as there may be many problems that a pet is suffering from.
More:
How To Protect Your Guinea Pigs From Mites?
Are Guinea Pigs Good Pets For Kids?