Akita is an amazing dog that is known for its power and intelligence and also that is independent in nature. The Akita is quite tough to handle and train so you need to be quite experienced with dogs so that you can train them accordingly. Akita is an aggressive dog that is why there is a need to handle them properly.
Shedding of hair is a natural process for any dog and similar is the case of the Akita and Akita also sheds a lot as compared to many other dogs. In this article, we will discuss, the shedding of the Akita, and we will understand their shedding process and also how much they shed, and everything related to that.
Do Akita shed a lot?
The Akita has a double coat that is quite thick and that leads to heavy shedding in them and yes, Akita do shed a lot. Depending upon the various seasons their shedding takes place it can be a lot sometimes and sometimes it can be normal and the hair shedding can create a lot of mess. But you can easily brush their hair coat in order to control their hair shedding. Akita does not shed only some times in a year, but the shedding takes place throughout the year, only there is the variation in the intensity of shedding. Sometimes they shed a lot and sometimes they shed a little which is not so visible as compared to their times.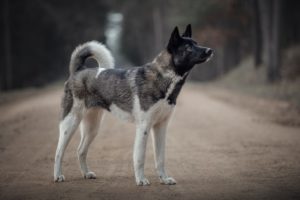 Shedding guide for Akita
The reason why Akita shed so much is that because they have thick and dense hair coat that is double layered. The double-layer means that they have an outer coat and also an undercoat that helps them to keep cool in the summers and stay warm during the winter times.
The double-layered hair coat is heavy shed and basically, it depends upon the weather changes that take place throughout the year.
So it is clear when it is summers Akita sheds off their winter coat and this helps in making way for the summer coat and when the winter arrives the Akita sheds off their summer coat to make way for the winter coat respectively. This is the natural process of shedding hair in Akita and sometimes yes it leads to lots of mess at your home because hair strands are seen scattered here and there.
So definitely you need to groom an Akita so that their shedding can be controlled and it does not create a mess for you or any other in the house.
It is also recommended if you cannot stand the hair all around and do not have much time for cleaning purposes, that the Akita dog breed is not suitable for you.
As you will notice that the dead hair of Akita is everywhere like on the couch, on the floor, stuck to the clothes, car, etc. wherever they go their hair will definitely be found. There are also some people who are allergic to animal hair for them also petting an Akita is not a great idea. As we know that Akita sheds a lot of hair and that also throughout the year, from which you cannot even escape or ignore the shedding.
Can Shedding be stopped?
As we know that shedding of hair is a natural process and it is not possible that we can completely stop the shedding of hair in Akita. This is a normal phenomenon and the only difference is that some dogs shed less hair and some shed a lot of hair and the Akita is one of those who shed a lot of hair, due to their thick and dense double hair coat layer. The old hair sheds to give way to the new hair and that is why no one can ignore or completely stop the shedding process.
But yes, you can reduce the amount of shedding in your dog by handling them properly and also by grooming them in a proper way so that less and less hair sheds.
You need to groom them regularly in order to prevent shedding in Akita.
By brushing your Akita you will not only remove the dead hair from the body of Akita, but it will also help in reducing the time that you will spend on cleaning because most of the hair will be removed by brushing and you do not have to clean lots of hair and will also notice that there is the reduction in the hair fall of the Akita.
Excessive shedding can be controlled by proper grooming, by just brushing the hair of Akita. But due to this also you cannot completely stop the shedding process in your dogs, as still there will be hair shedding that will definitely take place.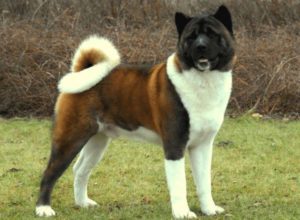 Grooming of Akita
As we know when we are keeping a pet it is very important to groom them as keeping them neat and clean is a must. In the case of Akita, we do not need too much grooming but still, we need to groom them at least once a week.
They have a double coat that needs to be groomed at least once a week so that the hair not falling over the place. So you need to get rid of the dead hair coat and this will prevent the falling of hair everywhere in the house. You should also trim the nails of Akita on a regular basis because long nails can cause problems to your pet dog, it can hurt them and in some cases, even diseases can also be caused to your Akita.
There is also seasonal shedding of the hair coat of Akita and so you need to take care of their hair coat at that time and do regular grooming.
You need to take care of the dog and groom them properly so that they can live happy and a healthy life and do not have to face any sort of disease.
You need to maintain the hygiene of your dog so that even there is a healthy environment at home and both the owner and the dog live a healthy and comfortable lifestyle. So make sure that you take care of them and also groom them properly so that no disease due to shedding takes place in your Akita and they live happily and comfortable with their owner and even the owners should not be hesitant to clean up the mess created due to the shedding as the clean environment is also a must so that Akita is healthy and it the part of their grooming.
Reasons why Akita should shed more?
There are various reasons that are related to the health of Akita telling us that an Akita should shed more. The reasons are listed as below:
As we know that pets hair is an amazing place for the parasites like ticks, mites, fleas, etc. and due to the shedding of a hair and also by brushing their hair we can prevent their growth onto the hair of Akita and in some cases, you need to take your Akita to the vet also.
To give way to the new hair, shedding is very important in Akita. As we know that new hair is always better than the older one, so for that to happen, your pet needs to shed so that new hair grows on their body, while the older one sheds off so that they can have new and healthy hair on their body which helps them to keep their body healthy and also free from many diseases.
Many infections can occur to the body of Akita could be on the skin or on the hair, shedding of old hair also lets go of this infection and also notifies you if there is any sort of infection on the body of the Akita. If the infection is too much and it does not get cured up in few days, then you need to take your Akita to the vet in order to give them the medical attention.
As we know that Akita has a double layer of hair and the reason is that it keeps the dog cool during the summers and warm during the winters. So the shedding is important in Akita so that they can replace the coat hair according to the seasons and can get the new hair coat in order to suit the season that is going on which will help them stay comfortable in the ongoing seasons.
Shedding is a natural process so it is not harmful to your dog, you need to understand them and make sure that they do not stop shedding because this will not be a good sign and also it is very important that shedding should take place and it will not harm your dog in any way.
These are the various reason why shedding is so important for the Akita and you should not worry if excessive shedding takes place as this is a natural process and it is fine if shedding takes place.
Conclusion:
Akita is an awesome dog and you need to take care of them and also train them in such a manner so that they are able to live happily and stay comfortable with their owners.
Shedding is a natural process that takes place in an Akita and you do not need to worry if Akita sheds heavily because that is how they shed naturally.
You just need to take care of your dog and give them what they want in order to make them comfortable. Akita is an intelligent dog the only thing you need to keep in mind is that you should be able to train them properly so that you can make them do what you want and this will help in improving the bonding between you two and also you both will not create any sort of problem for one another.
More: