Bluetick coonhounds are always portrayed as loveable and adored pet dogs which can be a great friends of humans. They are welcomed by people of every age due to their sweet nature. They are homely and playful so the dog lovers with kids in their family often consider this breed to bring home. Also for the seniors, this breed is counted as safe. But are they aggressive sometimes? Let us discuss the matter.
Are Bluetick Coonhounds Aggressive?
Bluetick coonhounds are medium-sized dogs that are mostly happy in nature. If the possible dog owners want to discuss the flaws of this breed, then they can find out that this breed of dog is much more vocal.  For the families where there are seriously ill persons at home, it will be difficult to manage the first few months with the newly brought bluetick coonhound.
Does barking show the aggression of the bluetick coonhound?
Barking is an expression of some of the bluetick coonhound to call for attention. It does not mean that the dog is acting aggressively. You can handle and reduce the barking habit of bluetick coonhound by properly guiding and grooming it.
Bluetick coonhounds' are basically a friendly kind of dog that loves to stay near their humans. However, they sometimes act independently and that is why they seem stubborn and obstinate at times.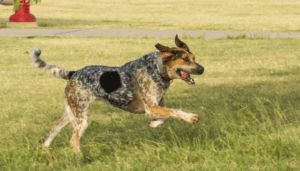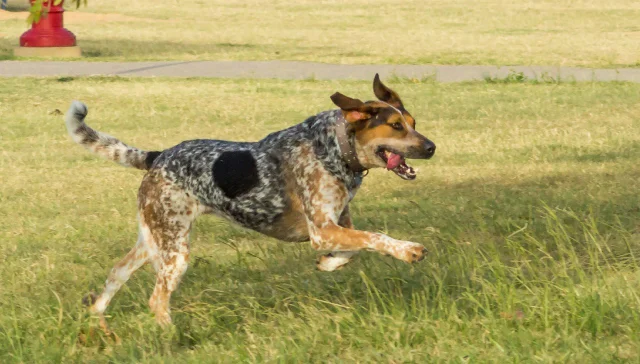 Are young bluetick coonhounds aggressive?
Bluetick coonhounds act sometimes with much enthusiasm when they are at the puppy stage. Their nature changes with time and they calm down after they reach the age of 2 years. Before this age, they remain much energetic and that can be reflected in their body movements and chaotic nature. But this is not a sign of aggression and you can keep the young bluetick coonhound puppy with other pets at the same house.
Are bluetick coonhounds aggressive towards other small pets?
Often owners get concerned about bringing new pets like bluetick coonhounds home if other small pets like rabbits, guinea pigs, lizards, or cats exist previously in the house. The reason is, often some dogs, especially the ones from the hound breed, act much aggressively with the small pets.
However, this is not true for the bluetick coonhounds. As they are much friendly in nature, they do not start attacking the small creatures after seeing them for the first time. If the dog is brought much early like at the age of a few days, then they grow up in the same area thinking other pets to be its family members.
Can bluetick coonhounds act aggressively towards strangers?
Bluetick coonhounds can be called smart, if not intelligent. They are not social from the beginning but they are much loyal to their owners. They can learn to act socially when trained in the proper way. Their grooming needs proper timing and process and then they can act socially.
However, they are not particularly aggressive by nature and they cannot be worked as guard dogs. They will not act aggressively with strangers but can act with shyness and avoid strangers. This way they may not be able to protect the owner and family from strangers. To make the dog get along well with guests and friends you can groom and teach the bluetick coonhound to become friendly.
How will you make the aggressive bluetick coonhound calm?
As we say aggressiveness is not an integral part of the nature of bluetick coonhounds, yet they are individualistic breeds of dogs. Some of the dogs can act aggressively for some reason, or for just no reason.
If you find that the one you have adopted is quite aggressive in nature then you need to groom it properly. But before that, you have to exercise the dog in a good way. When they become exhausted by regular exercising then the tired dog will be calmed down. It will not act aggressively with other pets or family members in the house.
Are bluetick coonhounds aggressive with kids?
Bluetick coonhounds are usually much friendly with the kids and they also love to play with them. However, we are talking about kids of age groups 5-10. But kids younger than that may sometimes cause problems to bluetick coonhounds.
If the toddlers and another young group of kids irritate or annoy the bluetick coonhounds or hurt the dog anyway, then it can cause accidents.  You need to keep away the very young kids from where the dog is kept. Also, the young kids should not be left alone with the dog, and some adults should be present there at the time of playing.
Are bluetick coonhounds aggressive with the seniors?
Bluetick coonhounds can be kept along with seniors if they are not showing any agitation. They are likely to keep company with the senior ones. They can be good watchdogs but not perfect guard dogs as they mostly shy away from strangers. So that way they act more calmly than is necessary with the strangers.
Why do some bluetick coonhounds act aggressively?
When you adopt a dog you get to know its nature and its habit after spending a month or two with it. However, nature changes with age. But aggressiveness is not the usual trait of the bluetick coonhounds and so, if you find that your matured bluetick coonhound is showing aggression then there must be some reason behind it.
When they are heated then they may act aggressively. This happens more with the male bluetick coonhound dogs. In the case of female bluetick coonhounds, the aggression may show up when they have become pregnant or their puppies are just born. Their aggressiveness is part of their protective nature.
If they are unwell and there are some problems with their health then also they can act aggressively. This kind of situation takes place when some of their body parts pain or hurt. At that point, they may show aggression when the owner tries to catch them or touch the affected part. In such cases, you should take special care and pay attention to the affected part of the dog when it is sleeping.
If the bluetick coonhound is stressed for some reason then their anxiety can cause them to act aggressively. This can happen when something threatening appears in their vicinity. It can be some other bigger pets, some people's appearance, harsh light, or sudden loud sound. You may need to comfort the dog by offering treats or keeping it close to yourself until the phase passes.
More:
Best 6 Types Of Coonhounds | Which One Should I Choose?
Are Black and Tan Coonhound Good With Cats?
Do Black and Tan Coonhounds Bark A Lot?