Coonhounds are a pretty decent dog breed that is loved by sports lover people. These dogs are actually counted as one of the aristocrat dog breeds which have been adored by dog owners for many years. These dogs were earlier tamed and used by mountain people when they needed to get rid of raccoons.
Coonhounds are much good as hunting dogs. They are very determined and hard-working. They can follow the trails by smelling and they are outstanding at following the sound of shot before they find the dead creature.
These breeds are commonly found in black and tan color. They have a stubborn look and muscular body. When the name coonhound is suggested then only this black and tan species comes to mind.
Does black and tan coonhound make good pets?
Coonhounds are quite friendly in nature, which is quite contrary to their look. They are outgoing and they love to spend most part of the day outside. Though there is much confusion regarding their presence at home and in a family with kids, the coonhounds are much loveable and adore the kids at home.
They can make good pets and do not have any temperamental problems with family members. With very young kids and small pets, they are not always trusted, but if they are brought up with young kids, that will not be a problem. They will learn to cohabit with them with time.
What is the usual cost of a black and tan coonhound puppy?
Adopting the black and tan coonhound will cost you 300 USD. However this may not be the cost of the puppy. If you go for adoption then you have to spend this amount to make up for the cost of looking after and caring for the dog since it was brought to the shelter.
Is shedding of the black and tan coonhound a big problem?
Shedding is a common problem with almost all breeds of dogs. But the dogs with short and dense fur coat tends to shed less. Black and tan coonhound falls in this category. They shed at some particular time of the year but as they have short fur coats, the grooming is easy for the owners.
Brushing two to three times a week will be enough to keep the coat well-groomed and maintained. Use the rubber curry brush or some hound mitt to take care of it.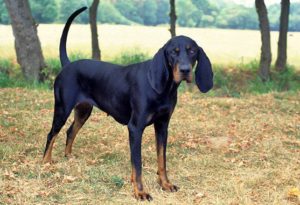 Can black and tan coonhound cuddle?
Coonhounds are good at hunting and they are bred that way. But yes, when they are kept at home, they also love to be cuddled and pampered. This is not a regular thing for them but when you are exercising the dog for too long or taking the dog for a long walk, then you may hug or cuddle it. This gesture will be appreciated and loved by your coonhound.
How big can a black and tan coonhound become?
Coonhounds have six breeds but the black and tan version usually grows up to 25 inches in height. There is a subtle difference between males and females. When they become adults their body weighs around 100 pounds.
Is obesity a problem with the coonhounds?
Though the black and tan coonhounds are quite muscular and look fit and lean, when they are not given proper exercising time and opportunity they may tend to become overweight. Their body weight will increase gradually but steadily when they are not taken for regular walking or jogging sessions.
Is it easy to train the black and tan coonhounds?
This breed of dog is much stubborn and can become independent when not properly trained from the puppy stage. Their training period should start from the tender age and they will be able to get groomed when they will be trained for at least 6 months without any break.
They need to be handled with much care and no spanking will be ideal when they are getting trained. Their training session should include some treats and some authoritative directions and that will be all for a well trained black and tan coonhound.
Does the black and tan coonhound bark a lot?
The black and tan coonhound usually does not have much of a barking habit, but they bark a lot when they are bored or does not get enough workout. The key to keeping the black and tan coonhound is exercising them well and keeping them outdoor for long hours. They are not apartment dogs and need to be in sun and fresh air. For complete guide, read more about Black and Tan Coonhounds Barking here.
From where should you buy the black and tan coonhound?
Buying a puppy of black and tan coonhound is not an easy task. A puppy broker or pet store is not the ideal place or person that can sell you the right breed of coonhound. Middleman will not be able to provide you with the information regarding the pedigree of the coonhounds. Also, you have to be aware of the various diseases and issues of the coonhounds if any.
There should be some references regarding the parents of the coonhound puppy and you should get the information if the parents are screened for the genetic diseases as well. Always ask the previous buyers regarding the puppies they have bought from the particular seller you will be approaching and get information about their experience. Making sure that the coonhound comes from a healthy background ensures its long and healthy life at your residence.
For which occasion's coonhound is best fitted?
Coonhound is a perfect dog for athletic people. You can see the dog enjoying the morning walk or regular jogging schedule. Also, you may enjoy the hunting sessions if possible. They do not like to stay inside the apartments and are not indoor ones. He needs to have scritches, pats, and treats once in a while. These will be good for the coonhound puppies to stay in good health.
Sniffing is an important part of their daily schedule and they get distracted or entertained by the various kinds of smells around them. They need to have some different and exciting smells which will let them stay happy all day.
How distinct do the black and tan coonhounds look like?
Black and tan coonhounds look sweet when you look into their eyes. They have hazelnut or honey-colored eyes and that makes them look angelic. With sturdy bodies, their eyes provide a contrasting look and liveliness. Most of them have tan eyebrows which accentuate their eyes. They have slight wrinkles on their face and the layers in their soft velvety furry face keep them looking aristocratic.
They are pretty handsome looking and have droopy ears that droop down, making them look innocent and adorable. As their ears, so are their paws, which are oversized for their lean body. They look clumsy when they are at the puppy stage, due to their oversized ears and paws. But when they grow up, they become supremely beautiful with the grandeur of a hunting dog.
What is the general temperament of the black and tan coonhounds?
Black and tan coonhounds are individualistic by nature and they can become laid back when they are not working. They are pretty friendly and love the company of people if well-groomed. If the owner lets them stay alone for a long time then they get excited when faced with lots of people. Saying that coonhounds can be quite family-loving dogs when given the opportunity to mix with different kinds of people. They love to explore new smells so when they do not get any chance to explore new areas or new smells they get restless and bored.
How good are coonhounds with the small pets at home?
Due to their high prey drive, coonhounds usually do not get along with the small pets at home. If you plan to keep coonhound along with pocket pets like rabbits, guinea pigs, cats, or other small dogs then you have to be cautious beforehand. They need to be trained to not come near the coonhound and the dog also needs to be meeting the small pets for the firsts few times in the presence of the owners or other family members.
How do coonhounds behave with strangers or guests?
Though the coonhounds are much friendly with the household members, they act shyly with the people whom they do not know or have not seen earlier. They do not have a history of being aggressive when facing strangers, as they are not particularly guard dog types. But their coyness is prominent from the behavior when they face some unknown people at the house. They prefer to stay out of his or her way and remain aloof to their presence.
When do the black and tan coonhounds get matured?
Unlike regular dogs, black and tan coonhounds take really long time to become mature. Even when at the age of 2, the coonhounds behave in a much puppy-like way, whereas after 1 year of age, most of the dog breeds behave pretty maturely. Their puppy phase is a longer period and they get mentally longer to become adults, though physically they become mature after the age of 1.5 years.
What cautions should be taken when keeping a black and tan coonhound at home?
You should adopt a coonhound when you have a spacious house and a wide backyard. Your house should be naturally lighted and there should be ample space to roam inside. Coonhounds prefer to go outside and stay in the sun for most of the time so the backyard should be moderate as well.
Remember to keep the backyard well fenced, as coonhounds are too sensitive and motivated by new smells. When they will sniff some interesting smell, they will get out of the yard and start running to find the source of this smell. They also have the habit of going straight by following the trail for 1 hour or more, before realizing that they have been away from home for long. So to maintain their security, you must check the fence height and strength.
Can you leave your coonhound alone for long days?
Coonhounds can be independent but they need to be attended by the family members when they are adopted. They do not seek human attention by whining but they can start barking or howling when left alone for too long. They need the presence of family members if not owners in the house and they are not okay with the long hours of aloneness. So if you are living alone and wish to adopt a coonhound, think about the working hours when you have to leave the house with the dog inside.
The reason behind this behavior is, coonhounds are pack animals and they need to be attended to by other animals or humans. They act pretty well when they are kept in kennels, so that can be another option for the working people when they will bring home a dog of this breed. This breed is just great for dog lovers who have got an adventurous spirit.
More: