The Bluetick coonhound dog belongs to the coonhound breed and they are popular because of their unique coat. They are so amazing-looking and attractive dog species that you can easily find them in the group of dogs. They are highly sensitive and also have affectionate behavior. You need to train them properly, especially for socialization purposes, and then they are good with the kids. As the Bluetick coonhound dog is a high on energy pet which needs lots of exercise to utilize its excessive energy.
But these dogs are not meant for apartments because they need space to move around and exercise which is why the apartments are quite restrictive for them. The Bluetick coonhound dog breed is an awesome dog which is why you need to take proper care of them. So in this guide of Bluetick coonhound, we will discuss the topic of Bluetick coonhound dog breed and everything about them so that we can understand them in a proper manner. The better you understand them the better you can take care of them.
Physical characteristics of Bluetick coonhound
The Bluetick coonhound is a big dog because it has a height of 51 to 69 cm of males and 51 to 64 cm of females while standing. You will also notice that this dog breed is strong and muscular which also leads to the fact that they are high-energy level dog breeds. The male Bluetick coonhound has a weight around 25 to 36 kg of males and the females weigh around 20 to 29 kg respectively.
The Bluetick coonhound has features like brown eyes, an elongated head, a powerful chest, the tail is thick and strong, ears are pendulous and a beautiful hair coat they make up for a perfect-looking dog. Their hair is made up of three colors that are shiny and straight. The base of the coat is of light color and it has fawn and dark blue speckles on it that make the hair coat appear amazing and beautiful. They are famous for their dark blue speckles which are why people love them and want to keep them as a pet. You need to take proper care of them so that you can maintain them and help them to live a safe and comfortable life.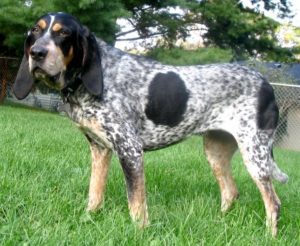 Nature of Bluetick coonhound
The Bluetick coonhound is a highly energetic dog that is why they need lots of physical training and exercising. They are well-behaved and affectionate pets if the owners train them in a proper manner. Once they bond with their owner there is no way that they will never leave their side and will be loyal to them. Both the owner and the Bluetick coonhound will make the best of the companions. Also, they get well with the children in the house if they are raised with them and will also help in supervising them because these dogs are intelligent and smart in nature. But as these dogs have hunting instincts they do not go well with small animals and there are chances that they will chase them by running after their life.
But also the Bluetick coonhound bark a lot which is why they are not good for the people who have restricted house spaces, small houses, neighbors nearby or there is some patient in the house. But they are loyal and as they are vocal enough they are a threat to the thieves and other suspicious people, which is why they also make a good guard dog.
The Bluetick coonhounds are known to be strong and rough dogs so they can go out in any weather and they are not scared of any tough weather. So it is very important to know that the nature of the Bluetick coonhound will mainly depend upon the training that you give them. The better you train them the better they will become and also they will obey your commands and will become loyal towards their owners and their family.
Training of Bluetick Coonhound
As we know that the Bluetick coonhound is a high-spirited dog then it is not so easy to train them, it is a challenge when it comes to training them.
These dog breeds can easily get distracted by the smells around them, so it becomes quite tough to keep them focused throughout the whole training session. As they are strong and also not so easy to train, then the best thing so that they can learn things at a faster pace should be to start from an early age.
When they are small they are quite flexible to changes so then it becomes easy for the owners to train them and mold them accordingly and at this age, they will respond in a positive manner to whatever they are being taught. These Bluetick coonhounds are sensitive dogs and that is why they need to be trained and taken care of in a proper manner so that it does not create any problem in the long run.
Most importantly the trainers should be patient with them so that they can train the Bluetick coonhound in a better way. The training might take some time and that is why it is recommended to be patient during the whole session. The trainers should behave well with them and also give them treats or reward them when they fulfill any task. This will help in motivating them and also help in channelizing their energy in a positive manner. Try not to be strict with them in the beginning because they can become stubborn because of that. Take out some ways in which you can punish them and also they are able to understand it by not repeating the same mistakes.
If the owners are not able to train their dogs or they do not have time for training them. You can also hire professional trainers, this will definitely be an expensive thing but it will be worth the price that you will spend on them. The reason is that these professional trainers are experienced enough and also they know how to deal with any dog breed. So this will help the training process go quite smooth for the owners. If possible you can even be part of the session so that the dog can bond with you and also understand you. Training plays a major role in the life of a dog because it will help in molding the nature of the dog.
Food and water
Food for any living being is important as it is an essential part of their life. So the food that you should feed to the Bluetick coonhound should be fresh, safe, and non-toxic so that they can live a happy and healthy life. The Bluetick coonhound is omnivorous in nature which means that they can eat vegetarian and non-vegetarian food. The food that you provide to them should be fresh and organic which means it should not be treated with any type of chemicals because that can be harmful to the health of the Bluetick coonhound.
Also whatever you feed them should be healthy as it should contain all sorts of important nutrients in it which is important for their well- being and also that keep them away from any sort of disease. You should also be aware of the food- items that are toxic for them so that you do not give them and they do not have to face any type of health issue. So a responsible owner will always give a balanced diet to their dog so that they can grow up into a healthy and strong dog.
The water is also important and you should make sure that you should provide them with 24 X 7 water supplies so that they can drink water whenever they feel like it. The water that is provided to them should be clean, fresh and there should not be any type of chemicals in it. You need to clean the water bowl daily so that they do not have to face any type of infection or health issues. The water helps in keeping the Bluetick hydrated throughout the day and also in this way they can stay healthy and even fresh.
So it is the duty of the owners to take proper care of foot and water both and only then they will stay healthy and also their immunity will be stronger which will help in fighting various infections and diseases in your Bluetick coonhound. As the food and water contain various nutrients which help in the development of the dog that is why special attention should be given to the Bluetick coonhound.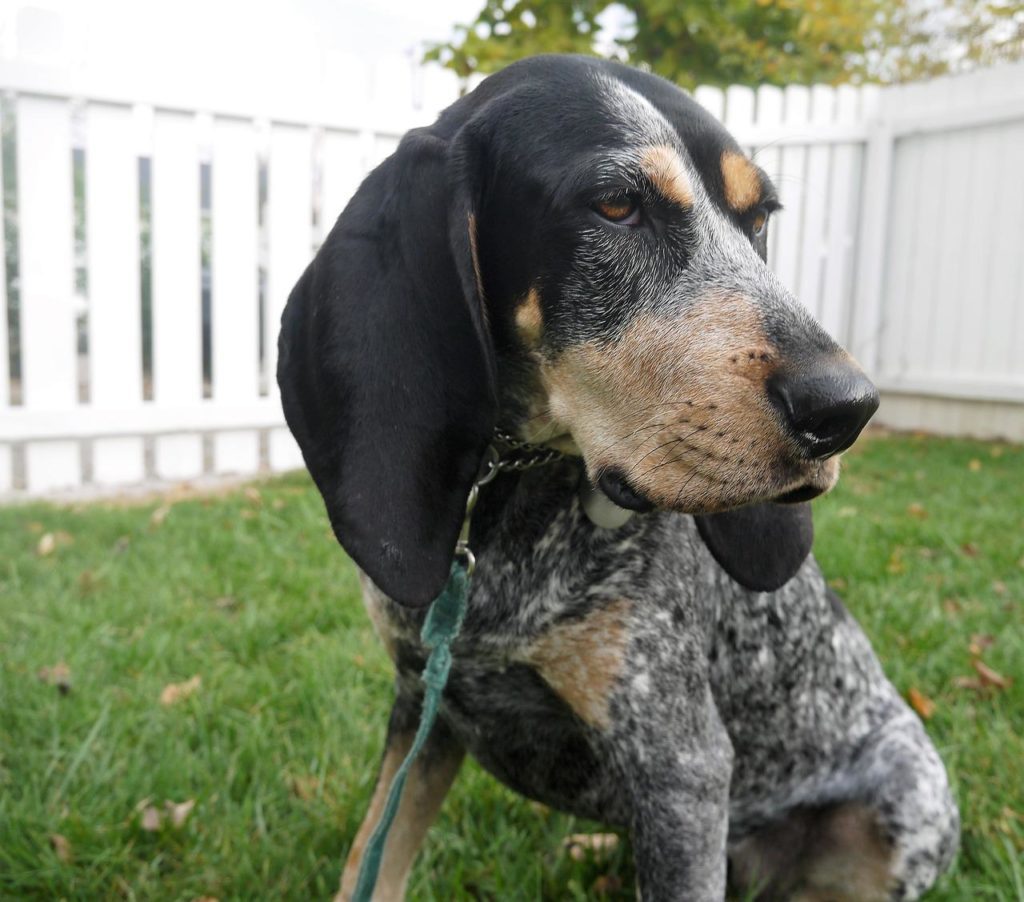 Grooming of Bluetick coonhound
The Bluetick coonhound does not need daily grooming as they have low maintenance hair coats and also that do not need any extra or some special care which is why it makes for a perfect dog. But this dog sheds a lot which is a huge problem for the owners.
So if you have allergy issues or breathing problems then the Bluetick coonhound is not a dog for them. But definitely, you need to wash them whenever needed or at least once a month. Also, you need to cut their claws in order to maintain proper hygiene as there can be dirt in their claws that needed to be removed. Even you need to check their ears in order to get rid of the excess wax from their ears.
Proper hygiene should be maintained for your dog because they are totally dependent on their owners and that is why the owners need to keep them clean so that they do not have to face any kind of health issue and also the cleaner they will be they will not be any disease carrier too. The cleaner dog will even help to keep the surroundings clean and even the owners will not face any type of health problems. So it is better that you groom the Bluetick coonhound in a better way which helps to keep your dog not only clean but also safe from the various diseases and the infections which can be dangerous for them.
Health of Bluetick coonhound
The health of the Bluetick coonhound also depends upon their owners, the more you will take care of the Bluetick coonhound the better life they will live. The life span of the Bluetick coonhound is around 10 to 12 years if they live a healthy life. But still, there are some diseases or health issues that are common with the Bluetick coonhound are listed as below:-
Ear infections
Hip Dysplasia
Bloating of stomach
Coonhound Paralysis
Various other infections
These are some of the common health issues that the Bluetick coonhound suffers from and as an owner, you need to take proper care of them so that they do not face such health problems. Also if you want that your dog does not face such issues it is recommended that you take them to the vet so that they can look into any kind of health problem and it can be prevented at an early age. Make sure that you take them regularly to the vet, even if they are not suffering from any disease as this will help in keeping the dog fit and healthy.
You can even keep them fit by exercising them on a daily basis as the Bluetick coonhound are strong and muscular dogs that need lots of exercises and also a healthy diet in order to live a comfortable and disease-free life. You need to provide the Bluetick with a life that they deserve by taking proper care of them.
Final thoughts:
The Bluetick coonhound is a pet that is very good and affectionate towards its family members and also very loyal to them. But you need to make sure that you provide them with the best of everything so that they do not face any issues when they are living with their owners.
As an owner, you should also spend time with them as much as possible so that both of you can bond with each other and live comfortably without causing any troubles for one another and enjoying life in each other's company.