Iguanas are from the family of lizards but are herbivores in nature. The length of an iguana can range from 1.5 to 1.8 metres which are 5 to 6 ft. including the tail in this length.
Their bodies are covering their different body parts with scales. Iguanas are known for good vision and are said that they can see shapes, colours, shadows and also movement at quite long distances.
The ability of this vision helps them to locate food in various parts of the crowded jungle. Iguanas are solitary creatures which means they prefer being alone. It has been always a risk to keep more than one iguana or a pair together.
There are many questions that arise in the mind of the owners regarding the iguanas whether to keep two iguanas or not.
Is it possible to keep two Iguanas together or in pair?
As many owners think that their iguana will feel lonely and they want another iguana as a company for the older one, but they don't know the possible outcomes of this and in this article, we will discuss this only that what challenges they can face regarding the iguanas.
Commonly it is believed that keeping two iguanas together is not a good idea because they are territorial in nature and due to this nature they can cause stress for each other and may attack one another.
Sometimes the iguanas who are smaller in size will lay on top of each other it basically means the sign of dominance as the higher the iguana is the best sun exposure they will get and that is the reason they compete for each other and this causes stress in both of the iguanas.
However, there are several advantages to keeping the two iguanas.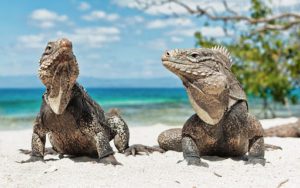 Advantages of keeping two Iguanas at your place
The advantages are listed below of keeping two iguanas:
A very good option for those who always want to keep various lizards, you can enjoy the feeling of fulfilment when you keep two iguanas and pet them at your place.
As we know every animal has its own personality same is the case of the iguana you can interact with them enjoy their company and bond with them. It is a completely new feeling of petting two iguanas.
You can learn a lot of things about the iguanas and it will be a completely new experience for you and a memorable one.
But as we know that iguanas are solitary creatures they love to stay alone, so there are many risks to keep two iguanas or a pair together.
Disadvantages of keeping two Iguanas together or in pair at your place
The disadvantages of keeping them together are listed below:
When the iguanas reach the age of sexual maturity they become quite aggressive towards each other and then they can attack each other.
If you keep two iguanas in the same cage due to their territorial nature after giving them full space they will still fight for the territory and this will cause stress in them.
Even when the two iguanas have lived quite well together before, do not assume that they will not fight or injure each other. They can suddenly attack and cause some serious injuries so even this condition is not reliable.
Even if one of the Iguanas is silent and is not fighting the dominating one, it will undergo some stress which will lead to the weakening of their immune system and that further on leads to infections and diseases and in the end the silent one dies.
Not only males but the female's iguanas also fight for their territory when kept in pairs and even if opposite sex iguanas are kept together they will not show any mercy and they will definitely snap at each other anytime.
Why do iguanas get aggressive when kept together?
The reasons that make the iguanas aggressive when kept together or in pair are the best spot in the cage, the higher basking spot in order to get the most of the sun exposure.
They get aggressive because they want food all for themselves, the urge to dominate and get the territory makes them very aggressive. When they get aggressive they start attacking each other and causes serious injuries to one another.
There are some cases that due to this aggressive nature of iguana they have killed each other. Also read more on How to Calm Down an Iguana?
If you still want two Iguanas then what to do?
Keep in separate cages
After knowing all the risks and disadvantages, you still want to keep two iguanas you can just keep them in separate cages as this will not lead to any attacks and stress and both the iguanas can leave in peace.
Large enclosures
If you do not want to separate cages or enclosure for them then you need to have very large enclosure so that both the iguanas can have their own space which also includes their own heating sources, feeding stations, lighting and water dishes. The reason is that they should not fight for anything and can live in peace in a large enclosure and their own space.
What sex of iguana to be preferred for pairing up?
Never ever pair two male iguanas together as this will increase the risks of attacks and will cause maximum injuries to each other in order to gain dominance.
The pair of female iguanas is less risky than the male iguanas especially if they are from the same species as they do not usually fight over territory or food but can sometimes attack each other, so make sure that they have their own space in the enclosure in order to maintain the peace and no stress is caused.
If you will place the iguanas of the opposite sex then you should be aware that you will introduce the potential for mating and you should also be prepared to deal with consequences after that and in such cases, the female iguanas are stressed and they stop eating. As there are times that the male iguana will try to mate even if she is not interested. So if you are ready to deal with the gravid female iguana only then go for this option, otherwise do not try this combination.
So you should be careful by choosing any of the above pair as you need to maintain the balance in any of the cases that you will choose. So try to understand your iguanas and then introduce them into their new habitat. Try not to stress them out as this may cost you the life of the iguana.
Keeping an iguana is always a challenging task as we know iguanas do not like touching and all and they can sense the presence of another living being from far due to their smelling sense. Also to understand an iguana it can take time and get used to them also takes time, so you have to patient while dealing with them and enjoy every moment spent with them.
An important note
As an owner, you should never introduce a new male iguana in your household during the breeding season. Even if the iguanas are not able to see each other but still they can sense one another. As this can make them aggressive as they have a strong sense of smell and they can feel the presence of another iguana with the power of the smell.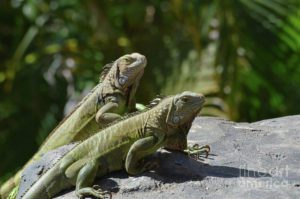 Can Iguana stay with other reptiles?
The answer to this question is no, the iguana does not want any sort of disturbance from any animal to be it any iguana or some other reptile species. They want to stay alone and they are happy in that way. They do not want any type of stress related to their territory, food or basking point.
They want to live all alone in peace. But it is also true that in some cases or you could say some lucky cases they might stay with other reptile species such as bearded dragons, geckos, etc. But it is a complete risk, if you do not want any type of injuries to occur to any of your pet then keeping the iguana alone is the best option that you should follow.
Summary:
Keeping an iguana with another iguana together or in pair is not a risk-free option it is a very challenging path, where the owner has to be careful with both of the pets. As one of the iguanas will be the dominating one and another will be silent and stressed.
This stress can also kill an iguana because of the weak immune system, which causes various diseases and infections to your iguana. Also, you will see lots of aggression in the enclosures it will not be happening in first few days but after someday when the iguana want to get their territory they will suddenly start attacking each other to get the dominating factor inside the enclosure and also this creates lots of injuries.
If you still want to introduce the new iguana to your household try to keep them in a different cage though in the same room.
This will even keep them in peace and also keep you in peace. You can enjoy their company and try introducing each other in their enclosures for some time.
In this manner, both the iguana will live a happy and peaceful life. They will not interfere in each other's territory and no aggression will be there. For you also it will become easy to handle both the iguanas without much hassle and can enjoy the company of your pets.
More: The Best 5 Iguana cages