When you get your iguana it might be friendly with you. But in some situations, it might not be friendly at the start and might show its unwillingness to come closer to you. This is absolutely normal as these animals live in the wild and are not good with interactions. But within a matter of time and with patience you can enjoy its company and have fun with your pet.
How To Tame And Bond With Your Iguana?
The little things that you need to do to bond with your pet are given below. Go through these and you will know exactly how you can be friendly with them and let them enjoy your company as well.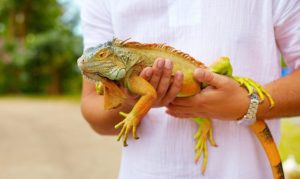 Adjustment
The first thing you need to know when you bring your pet home for the first time is that you need not hold it or pick it up as soon as you reach home. Your pet is new to your home and will take a certain time to adjust in these surroundings. So try giving him a week or so to adjust and then you can make your presence often and have fun with it.
keep your pet calm
You need to do everything you can to keep your pet calm. The most important thing for this that you should do is to not scare it. Try not to make a loud noise or sudden movements. Try to pick your pet up when you are near it. You too need to remain calm when you are around your pet as it can immediately sense if you are freaked out or scared.
Feed your iguana with hand
If you feed your iguana with hand then it makes your pet feel comfortable.
You can feed the good iguana foods that are safe and feed it on your own. Even if your pet does not eat it, it will slowly get used to these gestures.
It will take a little time for your pet to accept food from you as it has never ever gone through these situations. But once your pet will start trusting you it will love to eat from you.
Picking your iguana
Whenever you go near your pet's cage try not to pick it immediately. Pet him sometimes by placing your hand inside the cage. Make sure you put it in the same direction if its scales. Otherwise, you will be making it unpleasant for your pet. This will help your pet feel comfortable and also maintain safety.
While picking your iguana don't forget to give support from the belly. If you lift your pet from the above it can scare it. Try avoiding any injuries from the claws.
Freedom
Bring your pet out of the cage for some time. Make sure that you free your pet in a small room at first. Because large rooms will appear to be very huge for your pet as compared to the habitat. Your room should be such that it does not hurt or trap your iguana. Check the high and low dangers for the climbers as well.
You can begin by holding your pet and leaving it in your room. He can explore and wander around. When your pet comes around to explore you need to keep an eye on it. Also, make sure the iguana cage is comfortable.
Persistence
Handle your pet daily maybe for a few minutes. If you are persistent then you can easily tame your pet. It just needs handling and giving some freedom to your pet.
Your pet can be friendly eventually and will also like some attention.
Necessary preparations
When you are placing the cage try not to place it in the living room where there are loud noises. The best thing that you can do is to keep your iguana in a separate room.
If you feel that the room where you have placed the cage is busy and there are many disturbances there then you can cover it with a blanket.
This will help your pet to relax from the disturbances that are around.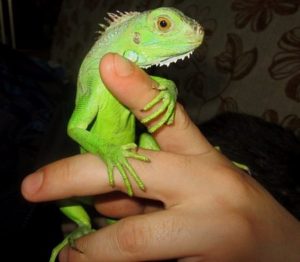 Bringing iguana home
The first step is to bring your iguana home. Now, you need to give it some time to get used to the surroundings before you start taming it and bonding with it. Give about 2-4 weeks to your pet and let it relax with the surroundings first.
Do not touch your pet at this stage. Let us observe you and move the cage only when you are cleaning it. Let your pet see what you are doing. A good sign that your pet is getting used to the surroundings is that it eats regularly.
Your iguana will seem to be calm during the first few weeks. This might be because of stress. After some days you will see the real personality. So, try not to disturb your pet from the beginning.
Iguanas get stressed even if there are small changes. So if you are a new owner then it will stress your per. Keep distance from your pet at first and don't touch it.
Ensure that your pet notices you
When you are bringing food for your iguana or cleaning its cage. Give your food to your iguana slowly, clean the cage to keep the surroundings of your pet clean.
Speak with your iguana in a low voice and softly.
The best thing that will be suitable at this stage would be to keep your iguana in the cage only. Also, try learning about some common iguana behaviour and what their actions mean. This would help you develop a bond with your pet.
Communication with your pet
After about 2-4 weeks if bringing your pet home your pet will feel more comfortable and relaxed. If you find that still your pet is stressed and is not eating fully then give it some more time to adapt.
Check all the conditions in your pets tank and feeding requirements too. Try feeding your pet with the hand it is always the best option.
If you find that your pet is comfortable then start with small interactions.
Approach your pet's cage slowly and increase the number of times. Don't make any sudden moves or noises that can scare your iguana.
Put your hands in the tank but only from the sides. If you put the hands from the top it might scare your pet. So try buying cages that have a front opening.
Sit near your pet for a few hours in a day. Read a book or do your work. Slowly your pet will get used to you and your presence.
Feed your iguana with hands. If you do not know which food you should feed then go for veggies, flowers and fruits. They love this food. If you do hand-feeding then it will sooner develop a bond and trust between your pet and you.
You can also give your pet some treats. This will help your pet to trust you more.
This stage might take a few weeks. Once in a day, you can try bonding with your pet in the beginning. If you do more times then your pet will get used to hand-feedings and will not eat from the bowl. This will make situations difficult for you.
Iguanas also love licking. You don't need to freak out when you are going near your pet. They might even bite you and they luck everything to get more knowledge about what they are touching.
Start interacting with your pet by gently stroking on the head and talking softly. If you feel that your pet is freaking then try more. Do wear gloves while stroking your pet.
How to handle your pet correctly?
It is important that you handle your pet correctly so that you can bond and tame your pet.
Handle your pet nicely and once you feel it is comfortable with your presence. Place your hands and palms below its belly to provide balance and comfort to the iguana.
When you are handling your iguana you need to be soft with it and handle it with care.
Go towards the tank slowly, and without looking at it gently open the door of the tank. Take your iguana out but be sure that he claws are unstuck.
When you take your iguana out you need to be very quick. This is because inside the tank the iguana is very protective and it won't get much time to react outside.
Don't look scared if your iguana threatens you if you speak loudly or put your hand forward them it might get scared. Never run from your iguana as it will run after you.
You can give your arm to your pet to take rest. Also, you can let your pet walk on your arms. Put it close to your body so that it can feel the heat
Do not handle your iguana from above or try holding it from the top. Always try holding your iguana from the bottom, this will help it to stay calm.
If your pet is trying to run then you need not panic or hold it. Don't leave it open in the room straight away, try to keep a check on. It for some time and start with a small room.
Before leaving your iguana open in the room make sure that the room is safe and there are no harmful objects present.
Unless you iguana is calm do not send it back into the café. You need to see that your iguana needs to feel calm. Dor this you need to be calm too and maintain your trust with the pet.
Sit and handle your iguana. This way you won't drop it to hurt it. Your pet will feel safe too.
Handle your pet for about 15-20 minutes every day. When it starts to feel comfortable with you then you should begin giving it baths once or maybe twice in a week.
Start Taming your pet
The best tip, while you are taming and handling your pet, is that if you feel that it is scared, then do not leave it immediately. Keep some distance and try again. Leave when you feel your iguana is calm.
If you give any scared reaction or back off then it appears to the pet by this way you will leave it alone. So it will try doing it again and again. So encourage your pet to be calm with you and do not leave it.
If you are scared that your pet will bite you, you can surely use the gloves. The best gloves that you will find are the Mig thick welding gloves.
Conclusion:
We see that handling your pet isn't difficult. You just need to give your nee pet a little time to adjust with the surroundings and then tame it and make it comfortable with you.
Avoid noises and stuff that the iguana won't like. Do check out the foods that you should feed your pet.