For those who own iguanas or lizards will know that there are a lot of different behaviors that your pet will show. Once you start to get your pet you will understand what different traits you can expect. You will learn soon how many different behaviors are there and how you can understand them.
If you understand your iguana then you will create a strong bond with it and this will help avoiding stress. But you need to know that every iguana is different and it will exhibit different personality traits.
Iguanas are very smart lizards and they communicate in their own ways through postures, the way they react or the movements.
How to identify if your iguana is stressed or not?
If your iguana licks you then it means that your iguana is trying to know you and learn more about you. The iguanas have an organ which is called the Jacobson's organ. This helps the iguanas to get information regarding the smell or taste.
Through this they can know about their surroundings and the people that are present around them. If your iguana happens to lick you then it is a good sign and you should stay calm.
Bobing head
Iguanas bob their head for a number of reasons. These might be to say thank you or to be friendly or in order to show their dominance. It might be in order to greet also.
It might happen that your iguana bobs its head when the breeding season is there. Most probably the male iguanas nob their head as compared to the female iguanas.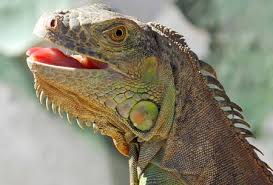 Dominating position
If your pet is appearing to look more big or powerful then you should know that it is trying to show dominance over the other pets that are there in the house.
Communication
The iguanas use mostly physical communication to let their owners know what they are upto. It involves posture and body movements. They might even use the three dimensional space to communicate with you. Stylizes walking or seeking height are all part of this only.
Iguanas do not have a vast vocabulary or human terms that it can use to express its emotions or feelings. So to communicate they prefer using their body and the sounds. Iguanas do learn the words that we speak to them and the sounds that we make.
This might include the names you call you iguana or any other thing that it can easily catch up to. They can make use of only that language that they feel is best and you need to understand that by reading their signs or the movements they make. You need to have knowledge regarding what their signs mean and what action has what meaning so that you could easily know what your pet is trying to say or what it feels.
Posture
Your iguana is similar to a dog when it is in rest position. This is because it might be at rest but it is alert. It rests with its body flat on a surface and keeping the head raised.
The iguanas find this posture easy to sleep. Sometimes your pet might sleep keeping its head up, but most probably you are going to notice your pet resting its head on some object or something they are lying on. While they are sleeping their legs might extend, or in some cases they might even rest their legs on their tail.
How to know if your iguana is mad?
You can know that your pet is mad at something when it lifts its body while walking. Also, when your pet wags its tail, extends the dewlap, fixes its eyes at the threat then you should know that there is something wrong and your iguana is mad at something.
How to calm your pet?
There are various ways that can be used to calm down your pet. First, you need to see that if it can calm down by itself. If your iguana is stressed for some reason then it might hide itself or run.
But if you are somewhere near then your mad iguana can even bite you. So don't come close or move. Now, if you don't find that your pet is calming down on its own then you need you bend down. This is because anything higher then your pet is noticed ass a threat. Or you can even cover its head so that it cannot see anything.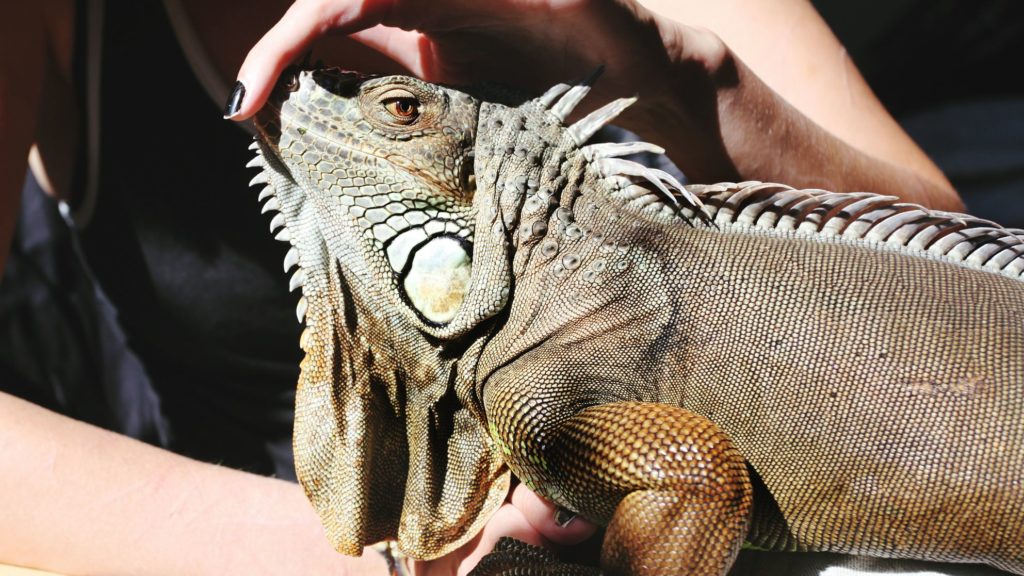 Also, when you are trying to calm your pet you need to notice that you are not staring at it. Because if you do you will make it stressed even more.
Dewlap
This is part of your pets communication system. It is somewhat like a solar heater. When the dewlap is ticked tight or is out then you can know about your pet is up to.
If the dewlap is tucked under the chin then your pet is in the state of non aggression. The baby iguana does the sane thing if it wants to communicate non aggressive profile.
If the dewlaps are relaxed they hand down and sway in case of movements. In the iguanas which are large the dewlaps are silky and long.
If the dewlap is extended then it might indicate two conditions that is offensive and defensive. If it is for the offensive signal then you need to know that your iguana wants to tell that it should not be messed up with. It is like a warning signal. This is mostly noticed of there is something new or a new person is there around the iguana. So, when your pet is unsure about who the person is or the thing that is in its environment then it might show this behavior.
If your iguana is somewhere higher than the object then it is trying to say that they have full swap over the object. Also, if the iguanas lean on the floor and you lean on them in that case they will lean until they can flip right over you.
Swagger
This is a male signal or something that is done by them to threaten a human or any other pet or iguana they are mad at. When they walk, the swagger would involve the body in compressed state with lizard standing on straightened legs.
While walking the lizard will arch its tail and swish it from side to side. The dewlap here will be fully extended in the downward direction.  If you approach the iguanas then it would try to lean over you and attempt to threaten you.
Twitching the tail
This might also be part of the swagger look or the actions that your pet does while it means to threaten you or some other pet. The iguana does it when it is in standstill position and the last half of the tail twitches itself. This would signify the mixed reactions of your pet. For example if your male iguana is interested to attach your female human or female iguanas.
Eyes
Whether they keep there eyes shut or open they are quite expressive. The one most common look of your pet iguana is that stink eye or the iguana glade. By giving this glare the pet is trying to keep their annoying keepers in a place better as they want to.
They even talk with their eyes closed. If the one eye is closed and the other is open it tries to complement you. It indicates that it is happy and comfortable with you.
In the starting, when you get your pet it will keep its eyes mostly closed in your presence. This might be its way to escape or to deal with the stress it is facing in the new environment.
All the iguanas get stressed while they are shifted to a new environment or around new people, smells or even routines. So the iguana shuts both its eyes to stay away from the overload and reduce its stimuli.
Now when your pet will be used to the surroundings and everything around it then you will notice this happen very rarely.
Also if you are indulged in petting session then your pet might close eyes indicated a relaxed posture.
Summary
There are a lot of actions and behaviors that are used by your pet to indicate its emotions to you. Eyes mostly say it all along with its posture. You need to be aware of what it means to deal with it.
Learn more: